Do you have a need for speed? What about a delight for height? If you're the kind of person who daydreams about flying through the air and white-knuckling some handlebars, then Central Oregon is the place for you. From skydiving and paragliding to dirt biking and even some high speed go-karting, Central Oregon has the people, places and passion to help you scratch that adrenaline itch.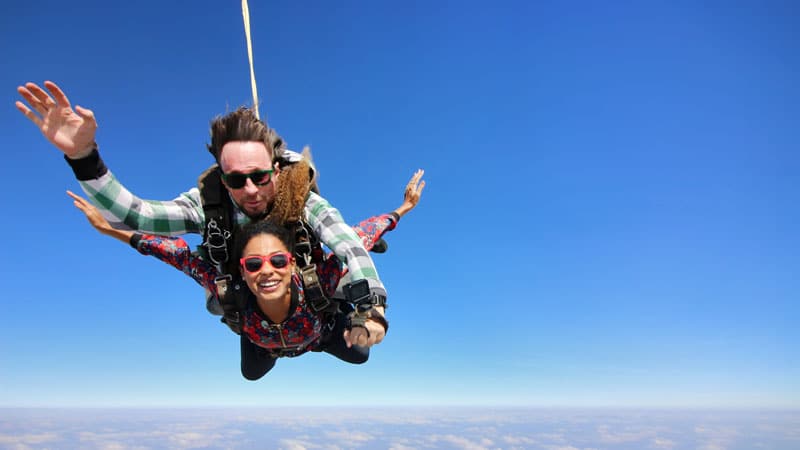 Skydiving
We'll start this list off with a bang, because what could be more adrenaline inducing than jumping out of a plane soaring at 14,000 feet with nothing but a piece of fabric to break your fall?
"Skydiving is such a unique experience," said Drew Smith, owner of Skydive Awesome!, which operates in tandem with the Madras Municipal Airport. "The best way to describe it is that the sensation of skydiving feels like relaxed adrenaline. The spectacular views calm all your nerves as you are free-falling."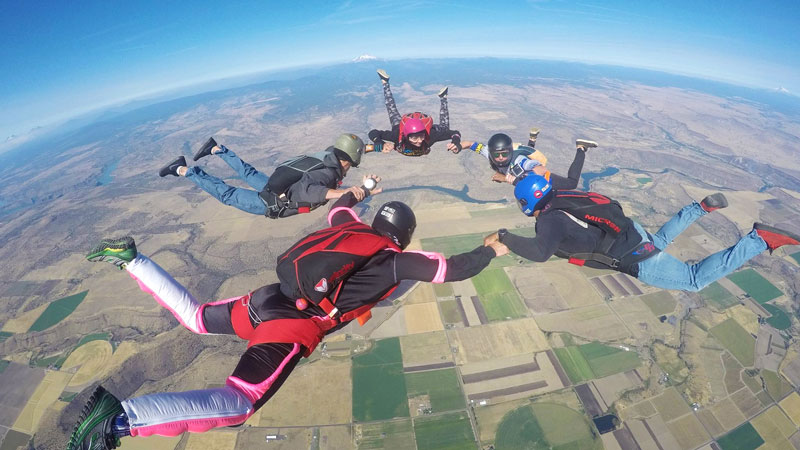 Relaxed adrenaline might sound like an oxymoron, but don't worry, the spectacular views of the high desert and the Cascade Range won't stop skydivers from experiencing nearly a minute of absolute freefall, in what Smith describes as "the pure adrenaline" that keeps people jumping again and again.
Newbies to the sport can jump with Skydive Awesome!'s experienced team of instructors in a tandem jump, or a jump in which the new skydiver is strapped to the front of the instructor so that they can enjoy the freefall while the professional deals with the other details like opening the parachute. After twenty-five tandem jumps, skydivers become eligible for a skydiving license that allows them to jump solo.
Go-Karting
Free falling down to earth is great and all, but where do you go when you want to safely tear up the black top?
K1 Speed, a nationwide kids and adult go-karting chain with a location in Bend, can offer guests adrenaline in safe doses. The karts at K1 are not like the ones guests find at other go-karting locations across town, like Sun Mountain Fun Center. While Sun Mountain is a great option for kids, K1 offers the chance to drive electric karts with a top speed of forty-five miles per hour. You read that right.
Here's how a day at K1 Speed goes: guests arrive and go through a short introductory training to ensure that they are ready to handle the karts. The names of the racers will be announced over the loudspeakers, signaling that the time has come. Once the flag drops and the race begins, guests spend the first lap driving their kart at a limited power so that they can get comfortable, warm up the tires and learn the turns in the track. Once the warmup is over, guests automatically unlock the second-highest speed setting. To unlock full speed, guests must exhibit exemplary driving skills by avoiding crashing, spinning out, bumping other drivers and ignoring rules. 
Drivers looking for the thrill of competition will want to check out the various sanctioned K1 Speed races. Who knows, you might just end up in the World Championship! Even drivers looking to drift along the track are welcome, and there are events dedicated to learning skills like drifting that you can attend, just check their website for event times.
Dirt Biking
Now for something a bit dirtier, but equally as thrilling: dirt biking. "It's the next best thing to flying and in most instances even more intense," said Dave Wachs, a veteran of the sport who spent his youth tearing up the desert outside Tuscon, Arizona on his mini-bike. Wachs describes dirt biking as an experience that feels similar to intense alpine skiing, only the medium is essentially opposite. 
Instead of carving down a hill of fresh powder, dirt bikers are hitting the trails, riding berms, climbing dirt hills and in some cases, catching some air on their bike. "Adrenaline is certainly a component of the experience but there's also a very calming sensation as well," Wachs said. "Leaving other thoughts behind can be therapeutic and helpful for most of us who are truly engaged in the sport."
For someone with no experience to get into the sport, Wachs recommends they start on a small bike, riding around in an open area of familiar terrain where making a mistake and tipping over won't result in serious injury. New riders should consider enrolling in a Team Oregon program, which teaches the basics of dirt biking and grants riders a motorcycle license by the end of the program.
A unique aspect of this sport is its versatility. Wachs used to race in hare scramble and enduro races (off road racing events), but now prefers long-distance, multi-day trips across the country. "Last year I rode over 5,000 miles through five states on three different trips and I'm planning this summer's rides right now."
Paragliding
Alright, enough of this down-to-earth stuff; who wants to go flying? "The feeling of being able to fly, it feels like some kind of magic," said Harrison Ruffin, owner and flying instructor at Astro Paragliding. While paragliding, pilots are suspended twenty-five feet beneath a huge parachute, shaped like a glider. With the assistance of pulleys held in both hands, the pilot can direct themselves through the air and even use rising air to gain altitude, sometimes up to thousands of feet.
"The sky's the limit," Ruffin said. "Pilots have flown hundreds of miles and stayed in the air for twelve hours plus." Just east of Bend, Pine Mountain is a prime location for paragliders in Central Oregon. The average day in the skies for Ruffin begins when he gets off work at five in late May when the days have grown longer. Letting the air fill his glider, Ruffin lets the ground slip underneath him as he ascends into the skies. Affectionately referring to his glider as "my swingset in the sky," Ruffin can spend an entire afternoon in the clouds; enough time to watch the sun begin to set under his feet. 
Ruffin says that paragliding is really what you make of it. "Flying can be a high adrenaline experience, or as mellow as sailing on a lake. Most new pilots take it easy for the first few years, then they find a specialty that appeals to them. For me, it's acrobatic maneuvers, my own roller coaster in the sky. For others it's seeing just how far they can fly cross country, or just getting in the air to watch the sunset from the sky. I highly recommend the average person give it a try, as anyone of any ability can learn to paraglide."
Alright adrenaline-junkies, see something you like? Reach out to the businesses mentioned and get your own dose of adrenaline. Who knows? Soaring through the sky and tearing across dirt might just become your new habit to scratch that adrenaline itch. 
---