Bend's food trucks are dominating the culinary scene right now.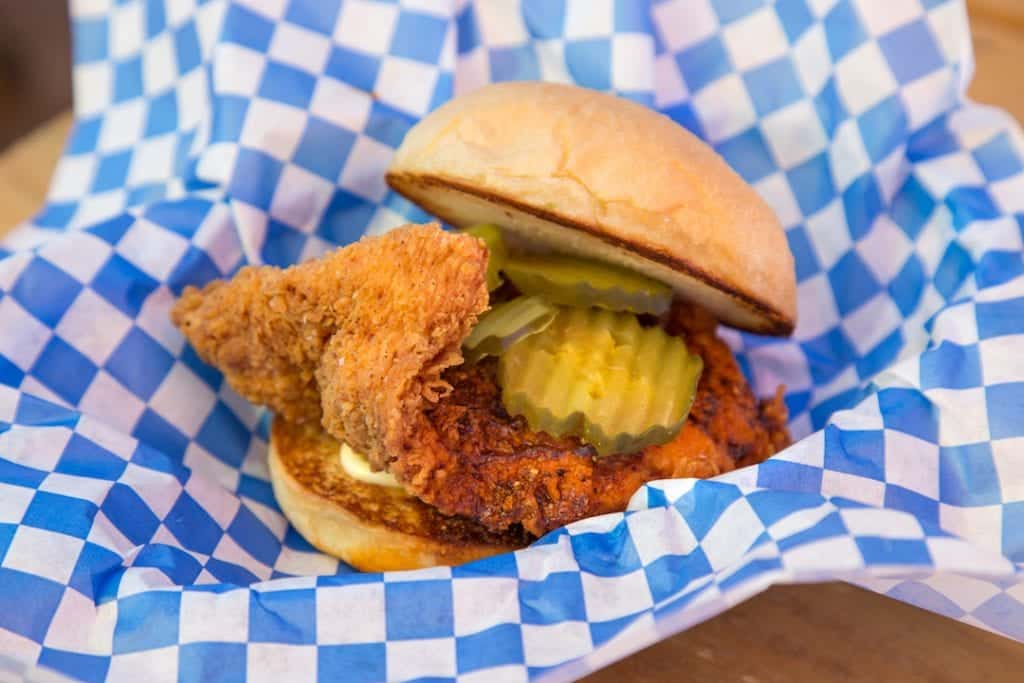 With the addition of two new food truck lots, the food truck selection is increasingly rivaling the restaurant scene in Bend. If you're in the mood to sit outside and grub on the newest food truck tastes, try out these new trucks that are serving up some of the best meals in town.
Austin Street Tacos
While Bend doesn't lack options for tacos, Austin Street Tacos adds a Tex-Mex flavor harder to find in Central Oregon. The filling options consist of chicken, beef, pork, and bean and cheese. The traditional carnitas taco with slow-cooked pork complemented by orange lime juice makes for a delicious, savory taco. Find the cart at the new Podski food truck lot on NW Arizona Avenue.
Address: 536 NW Arizona Ave., Bend
Hours: Open 11 a.m. – 7 p.m. Tuesday – Thursday and 11 a.m. – 9 p.m. Friday – Sunday
The Tin Pig
If you've ever felt that Southern cuisine was underrepresented in Central Oregon (or been frustrated by the lack of hush puppies here), you'll want to head to new food truck The Tin Pig as soon as possible. The Tin Pig blends family Southern recipes with flavors from the owners' respective homes of Tucson and Virgina to provide a down-home taste with a twist. While the majority of the menu is local beef burgers or hormone-free chicken sandwiches complemented by one of various Southern-style sauces, vegetarians also have options with the veggie-style burrito.
Address: 536 NW Arizona Ave., Bend
Hours: Open 12–8 p.m. Tuesday – Saturday
Ma'ama Jamas
Another favorite food vendor at events turned permanent food truck, Ma'ama Jama's opened this spring at the Podski lot with what may be the healthiest food truck menu in town. All menu items are organic, vegan and made without additional sweeteners. The secret ingredient is the coconut cream, is daily freshly pressed sauce that gives a delicious and unique taste to the Sweet Potato Noodles and smoothies. The quinoa taco salad with seasoned quinoa, mushrooms and avocado makes a tasty and healthy yet filling lunch or dinner.
Address: 536 NW Arizona Ave., Bend
Hours: Open 12 p.m. to between 7-9 p.m. seven days a week
The Rogue Chef
Founded on providing restaurant quality food from a trailer, The Rogue Chef offers an array of burgers and sandwiches. The most distinctive offering may be the Rogue Reuben featuring house-cured , mesquite pastrami on coca rye bread. For a more adventurous palate, the Everything Burger comes with onions, sauteed mushrooms, peppercorn aioli, garlic fries and the option to add a fried egg or avocado. Its first location was in Tumalo at The Bite, but Bendites don't have to make the trek anymore, with a second location now open at On Tap.
Address: 1424 NE Cushing Dr., Bend
Hours: Open daily 11 a.m. – 9 p.m.
Philly Style
After years of serving authentic cheesesteaks out of a tent at local events, Philly Style now operates out of a converted TriMet bus in the On Tap lot. Its cheesesteaks are all served on authentic Amoroso hoagie rolls flown in from Philadelphia and any sandwich is available with cheez whiz, American or provolone cheese. In addition to the classic cheesesteak, Phillystyle offers variations with mushrooms, peppers, hoagie style or the pizza steak with marinara.
Address: 1424 NE Cushing Dr., Bend
Hours: Open daily 11 a.m. – 9 p.m.