Oregon author, Andrea Berryman Childreth, will be speaking about her family's journey with youth mental illness and her book ON THE EDGE: Help and hope for parenting children with mental illness, Thursday, November 21, 7:00 p.m. at the OSU Graduate and Research Center, 650 SW Columbia Street in Bend.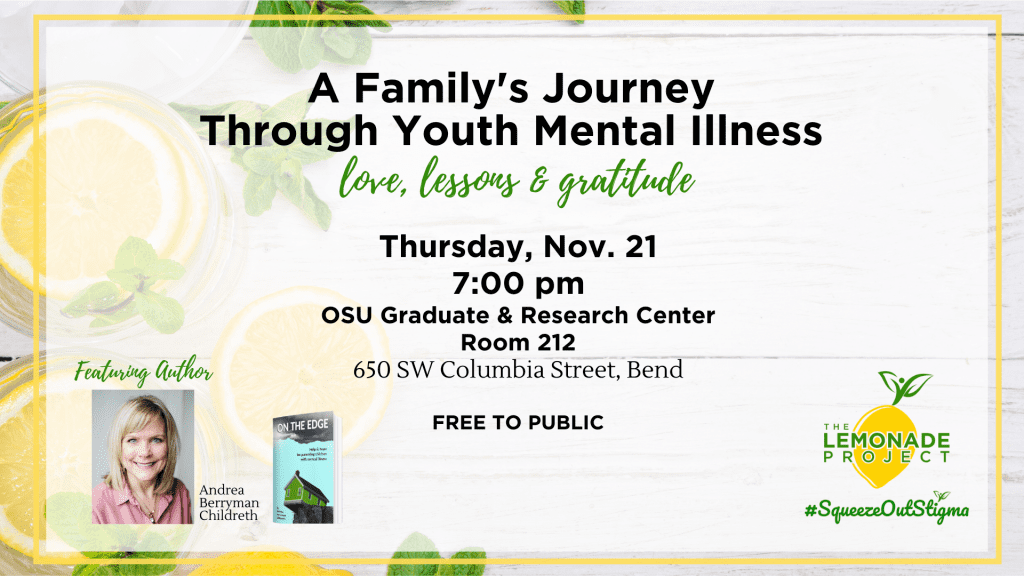 Open to the public for free, the presentation will cover tips and resources for parents caring for a difficult or mentally ill child and the importance of early diagnosis and intervention.
"Far too many families are struggling alone in shame and silence with little available resources," says Berryman Childreth. "My goals with the book and my website are to provide information to caregivers and raise awareness about the pervasive impact shame and stigma have on mentally ill people seeking help, receiving appropriate education supports, and obtaining equitable insurance coverage."
Berryman Childreth is a mental health advocate and coach for parents caring for mentally ill youth. She founded The Lemonade Project – a movement dedicated to calling out stigma surrounding mental illness and empowering families and individuals to share their stories, while improving access to resources and insurance.
Her book, ON THE EDGE, journals her family's challenges while raising their daughter, who has been diagnosed with a neurological disorder, ADHD, anxiety and depression. It also offers a comprehensive overview of various symptoms, diagnoses and treatments of mental illnesses, as well as tips to navigating the system.
Berryman Childreth has been featured on KATU-TV in Portland, KOBI-NBC Five on 5 and the Mail Tribune in Southern Oregon, THRIVE GLOBAL, among other media outlets. She also owns a marketing firm and resides with her family in Medford, Oregon.
For more information, contact Andrea Berryman Childreth, 541-944-2591, andrea@spotlightmkg.com, or www.thelemonadeproject.com.