Whether you're a long-time local, a recent transplant or on a trip to Bend, it always feels like vacation at Seventh Mountain Resort. When you sit outside underneath the pine trees and the snow starts to fall, memories of high school hot tubbing, ice skating with grandpa and après ski condo time instantly come rushing back. It's been a favorite Central Oregon place for decades for a reason.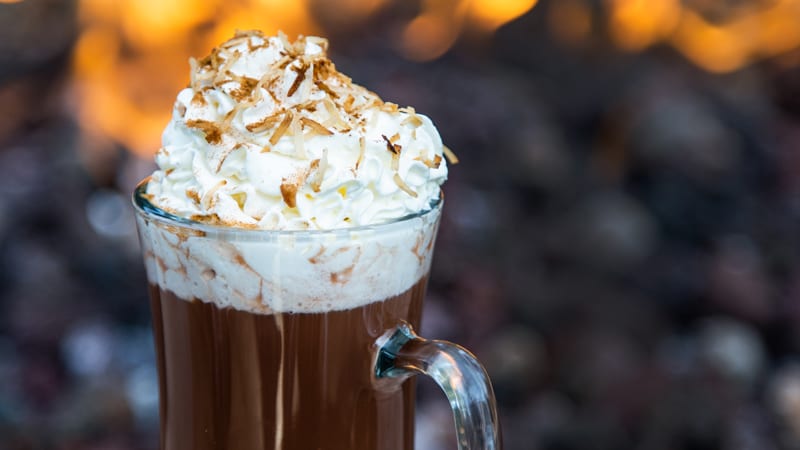 After you get in a long day of chasing clouds, exploring the outback and reaching for the summit at Mt. Bachelor, loosen those ski boots and head to the resort's Outfitter Bar for a well-earned libation. You'll find a fun list of specialty cocktails and favorite local beers on tap, along with a hearty bar menu featuring brats and burgers.
Order a Ski Lift and take it outside to the fire pit, where you can sip the mug of steaming hot chocolate spiked with coconut rum and peach schnapps while you watch ice skaters joyfully circle the rink. Look up through the strings of white lights and shadowed boughs to the winter's starry sky and be glad you can call Oregon home (even if it is only for the weekend).
Seventh Mountain Ski Lift
1 oz. coconut rum
1 oz. peach schnapps
1 cup of hot chocolate
Garnish with whipped cream and toasted coconut flakes
Add coconut rum and peach schnapps to an Irish coffee glass mug. Fill remaining glass with steaming hot chocolate. Top with whipped cream and toasted coconut flakes. (To make the coconut flakes, use fresh coconut and toast in oven until golden brown.)