A Longtime Favorite Gets A Refresh
The transformation of the long-beloved Barrio into its stylish successor, Bar Rio, is complete and its doors in downtown Bend are now open. Owners Steven and Amy Draheim have curated a menu that celebrates the colorful and diverse flavors of Spain, Israel and Mexico.
Fresh Design
The cultural tapestry also influences the restaurant's updated interior design. Thanks to the creative teams at LRS Architects and interior designer Trisha Plass, the fresh, soothing blues, Alhambra-inspired tiles and chic light fixtures brilliantly combine Mediterranean aesthetics with contemporary details.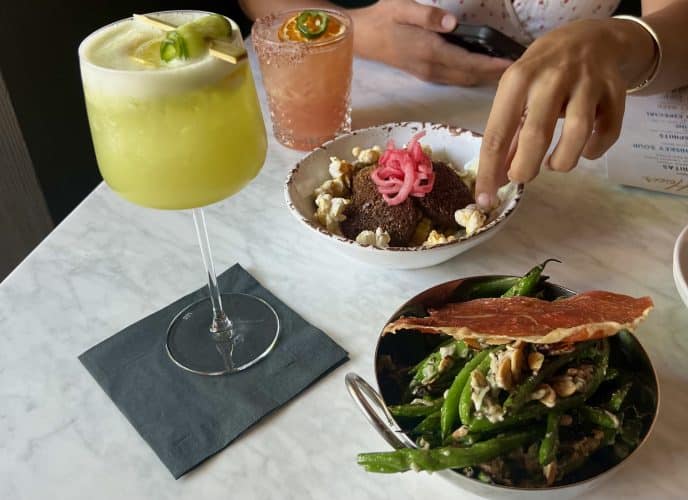 Novel Menu Keeps Beloved Classics
Beyond the visual updates, Bar Rio's chefs have also switched up their menu offerings, transitioning away from the original full menu towards a curated selection of tapas and cocktails. But die-hard Barrio fans will be happy to know that many of the original favorites are still available.
The jibaritos are one such nostalgic tribute, succulent pork carnitas or grilled yam piled on top of sweet fried plantains, which are then topped with Tajin and served with creamy guacamole. The patatas bravas are also still on the menu, crisp potatoes drizzled with tomato and verde sauces, Calabrian aioli and fresh herbs.
A highlight of the meal was the grilled green beans, tastefully charred with a Reserva Jerez vinaigrette and accompanied by almond slivers and crispy jamón. For a more hearty dish, try the shareable paella with saffron-infused rice, chorizo and a choice of chicken or shrimp. Use warm bread or tortillas to scoop flavorful bites.
Tasty Treats and Colorful Cocktails
The classic Spanish favorite of churros and chocolate makes for a sweet finish. Be sure to imbibe in one of the menu's refreshing cocktails alongside your tapas. The Chavurah, a blend of jalapeño tequila, pomegranate lime and cardamom syrup, is a nod to both Mexican and Israeli flavors. Meanwhile, the Sunny Day on The Rim is a refreshing blend of vodka, pressed cucumber, lime and grapefruit bitters.
Bar Rio's fusion of global fare, tasty libations and colorful design is the perfectly fun evolution for one of Bend's most popular restaurants. Whether you sip margaritas on the beautiful back patio, slide up to the bar or cozy into one of its booths, Bar Rio is a festive option for drinks and nibbles in downtown Bend.
915 NW Wall St, Bend, OR | barriobend.com
Open: Tuesday-Sunday, 3:00 p.m.-11:00 p.m.
Click here to read more about our local food and restaurant scene.