Sierra Phillips left her small pond in Central Oregon to pursue environmental law in Washington, D.C., only a few years ago. But after returning to her hometown to work in business law, she began to question her career. "Everything started to feel stressful for the wrong reasons. I wanted to stress out on my terms," she reflected. "I just knew that someday I would open a restaurant, and that belief coupled with my constant cravings for super herby falafel naturally grew my idea for a falafel shop."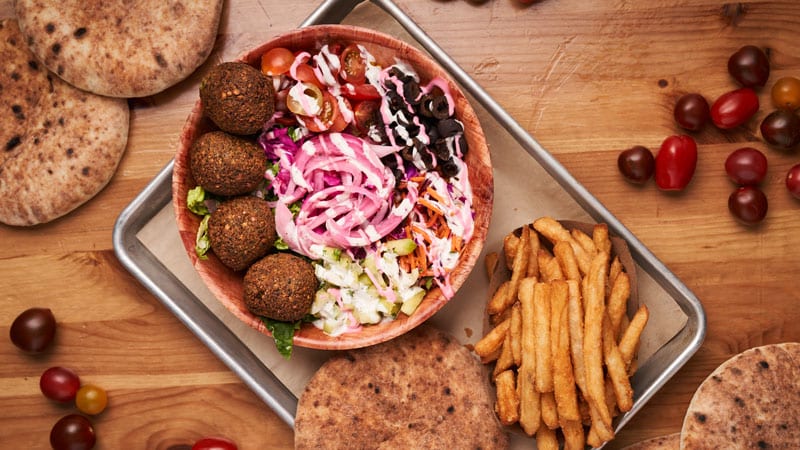 Falafels have always been a favorite for Phillips, but finding a restaurant that made them to her liking was a challenge—even amid Bend's growing restaurant scene. "I don't get emotional about too many legumes, but falafel has a special place in my heart. It played a role in my childhood, it was a comfort when I was a homesick broke college student and an even poorer law student, it was a staple when I was vegan and it connects me to who and where I come from," she said. 
It wasn't until she drove past a small commercial space with a 'For Lease' sign in the window in the spring of 2019 that she decided it was time to take the leap. "It was definitely more of a journey on trusting my instincts than a detailed plan to leave the courtroom to make falafel," she said. Still, she and her husband had the lease for the building negotiated and signed a week later to launch Bo's Falafel Bar.
Because the 500-square-foot space lacks a commercial kitchen, all prep cooking was done at Prep, a local shared commercial kitchen. In early 2020, she seized on the opportunity to purchase a food truck. "We bought a food truck shortly before the shutdown, so we altered our plans and transformed it into a commercial kitchen to park alongside the shop," she explained.
After taking a four-month hiatus propelled by the initial shutdown in March of last year, Bo's Falafel Bar reopened in July 2020 with some modifications. The building, which previously hosted indoor dining and a "choose your own toppings" bar for falafel salads and pitas, now serves as a prep area for employees. Additionally, the outdoor patio—which sits adjacent to the Galveston Avenue and 14th Street roundabout—is now tented with a large, transparent covering to accommodate outside dining. Orders are now placed at a walk-up window next to the original building entrance, while food is prepared only steps away at their onsite food truck. "If we didn't adapt, we wouldn't be here," Phillips said.
Bo's, which gets its namesake from Phillips' golden retriever, also pivoted to cater to the breakfast crowds. Bo's Bagels made its debut in the fall, selling plain and everything bagels from their food truck on weekend mornings. "My recipe is equal parts passed down from family, trial and error at home, and from my time on the East Coast where they do bagels right," she said. Phillips plans to serve her bagels with a house-made cream cheese recipe that she's busy perfecting. "Our plan is to have fun with Bo's Bagels, seeing what we can do from our humble food truck."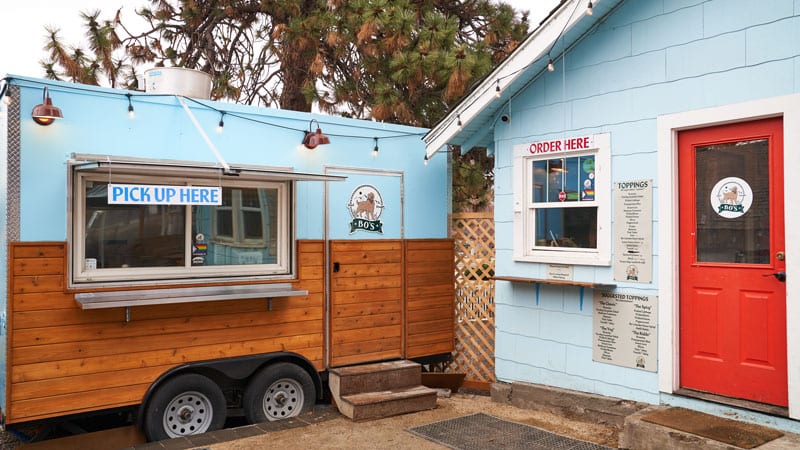 Until then, Phillips continues to focus on making affordable, accessible, healthy and comforting food, along with connecting with her customers. Bo's plans to offer outdoor dining, as long as it's allowed by the state, where dogs are, of course, welcome. "I wanted people to know we are friendly and welcoming, and nothing says that better than a golden retriever," she said of the restaurant's namesake. The real Bo, by the way, does not eat the falafel—but is known to enjoy the fries.
Bo's Falafel Bar | 1366 Galveston Avenue, Bend | bosbend.com | (541) 241-2074