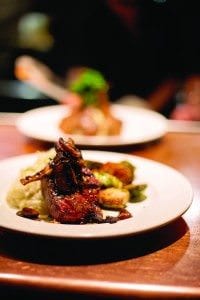 When springtime arrives in the high desert, al fresco dining offers a taste of the outdoors and is arguably one of the best parts of living in Bend. With an approachable atmosphere and quality food, Bistro 28 at the Athletic Club of Bend stretches the idea of a sports club and goes all out in the summers. Huge glass windows open onto an outdoor deck area dotted with comfortable couches and long board tables, making this a great sprawling spot. Meanwhile, the club's Peak Summer Nights Concert Series exposes the Bistro as one of the hottest outdoor venues.
In January 2015, Cheri and Steve Helt, owners of Bend's five star Zydeco curated a new arena for their expertise. Less than a mile from the concrete corridors of Bond and Wall Street, Bistro 28 rivals all the delicacies of downtown and offers patio seating with a view of the adjacent, rolling lawn. To clarify lingering confusion, the Bistro's policy for non-members is simple: anyone with an appetite can enter, eat and enjoy.
The Bistro accommodates a brick pizza oven alongside an authentic firewood rotisserie where chickens roast "low and slow" over the fire. On the weekends generous baskets of seasoned beef churn methodically creating the often-sold out prime rib special. A multi-plate experience, the menu and wine cellars feature something for every palate.
Catering performances at the Peak Summer Nights Concert Series from July through September, Bistro 28 still serves meals poolside with Gatsbyesque flair for non-concertgoers. Step onto the lawn in the evenings for for an intimate musical experience and enjoy a three-course dinner before the show or a nightcap at the whisky bar under the stars. -Andes Hruby
Dinner Monday-Sunday, 4:30pm to close.
Make reservations at 541.728.0065 or bistro28.com