A restaurant space off Galveston Avenue in west Bend almost became a few things in the couple of years since a group of Central Oregonians invested in the space. Would the hole-in-the-wall space be a good spot for Thai food? Chinese? Something else? The chefs and restauranteurs behind Central Oregon's Bend in Spoon restaurant group have expansive backgrounds in everything from fine dining to brunch and Asian food to bakeries, so the options for the location were somewhat limitless. "We had the space there off Columbia for a good two years before we actually opened it," said Ryan Sturmer, a chef and part-owner of the restaurant group best known for operating Bend's popular brunch restaurant, CHOW. "The concept of what it would be changed four or five times, and changed again when the virus hit."
Sturmer said that ultimately he and Bend in Spoon co-owners David Touvell and Marc Holcomb decided on CHOWBURGER, a fast-casual burger joint with a small menu, offering just burgers, grilled cheese, fries and milkshakes. The space at 735 NW Columbia Street opened in August. "We decided to do something simple that everybody loves and something that's missing from that side of Bend," Sturmer said. "We wanted to keep it simple, efficient and with low overhead." With just a few menu items, there's less perishable food inventory, which works well in times of limited supply, as has sometimes been the case during the pandemic.
For burgers, CHOWBURGER offers a single or double "Chowburger" served with just the simple fixings of American cheese, lettuce, tomato, onion and pickles, with a little mayo, ketchup and mustard, offered up for $7 as a single and $8 as a double. There's also a vegan Chowburger made with a Beyond Beef patty along with a vegan bun and Daiya cheese for $10.25. "It's just a couple of items that are done really well," Sturmer said. 
The restaurant offers a small lobby, perfect for quick takeout orders, especially when indoor dining isn't permitted. Menu items are displayed inside on a diner-style letterboard menu, and diners place their orders in plain view of the grill in the back, evoking some of those retro diner vibes of decades past. Outside, there are wooden patio tables on the sidewalk along Columbia Street, with more tables planned for the side of the building, adjacent to food cart pod and open-air taphouse, The Lot. Sturmer said by late spring, they hope to have the expanded outdoor seating ready for customers, as well as a license to serve beer and wine in addition to the Mexican Coca-Cola available.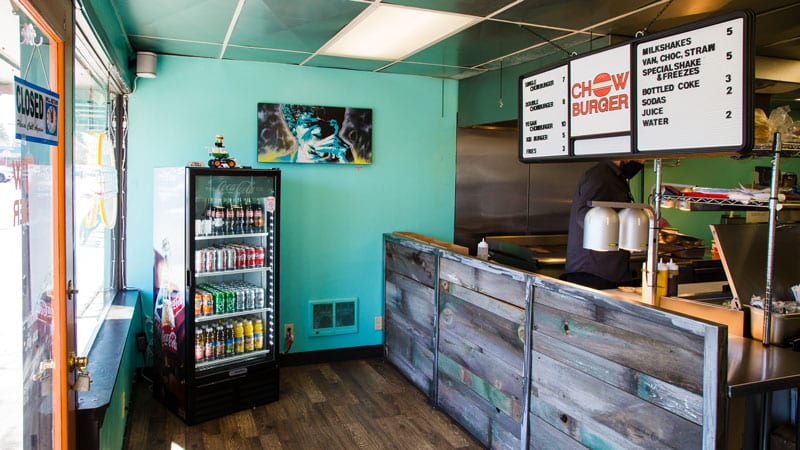 There are also plans in place to develop the attached space into another restaurant concept, Sturmer said. He envisions the suite next door as a takeout sushi spot, with both restaurants taking advantage of the property's big backyard for ample outside seating. Sturmer said there's a big market right now for fast-casual dining, and he's been pleased with the feedback they've received since opening. "We've been totally surprised with the response from Bend and the visitors that come to town," Sturmer said. "It's a fun, cool little concept that we're having fun with."
CHOWBURGER | 735 NW Columbia St., Bend | bendinspoon.com | (541) 797-7772