Oktoberfest celebrations from Germany to Central Oregon were scrapped this fall, but cravings for schnitzel and sauerkraut washed down with a märzen are alive and well in our minds. While donning your lederhosen might be a bit over the top this year (if not every year), there's plenty of ways to indulge in German foods, drinks and fun right here around Bend. Let's just leave the shoulder-to-shoulder pub singalongs for next year. Here's what you need to make your Oktoberfest the best it can be.
Drinks
With a quick pub-hop—or should we say biergarten crawl—around Bend, it's easy to find a handful of beers paying homage to traditional German brews. Whether you stay for a pint, pick up a crowler to go or grab a six pack from the store, there are plenty of options to kick off an Oktoberfest evening.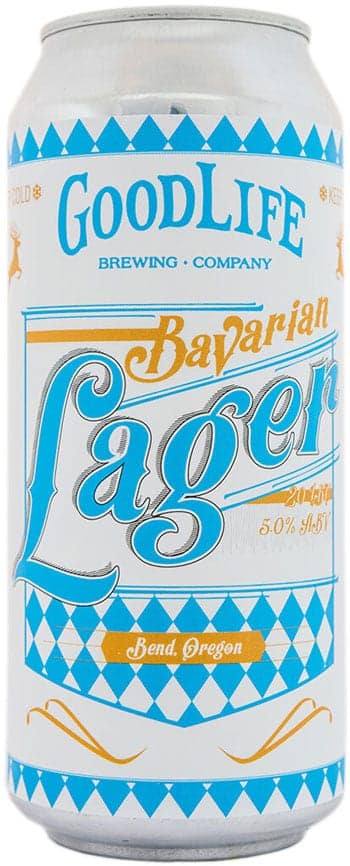 Bavarian lager at GoodLife
This Germen helles-style lager is a crisp and refreshing beer combining clean American bittering hops and some German Czech Saaz hops—it's light and drinkable and tastes great in the GoodLife bierhall tasting room or biergarden, off 14th Avenue in west Bend. It's also available in a crowler to go.
Crux Pilz
Try this unfiltered German pilsner from Crux, featuring noble German hop bitterness. Crux Pilz is available from Crux Fermentation Project tucked away in an industrial area near Highway 97 in the center of Bend, and the Pilz is canned and available for purchase from retailers throughout Central Oregon.
Worthy Tenmile Dry Hopped Lager
Described by brewmaster Dustin Kellner as a "German lager that IPA lovers will adore," the Tenmile Lager by Worthy is a dry-hopped German lager with Strata hops and fruity flavors. Some proceeds from sales of this beer support the brewery's Worthy Garden Club campaign, Operation Appleseed. The goal of the campaign is to plant one million trees in Oregon, beginning with an old clear-cut parcel on Tenmile Creek, an area in the Siuslaw National Forest near the Pacific Ocean, just south of Yachats, Oregon.
Main Dish
Bangers and Brews
This unassuming counter service joint in west Bend has ranked among Yelp's Top 100 Places to Eat in the U.S. for the past three years, actually topping the list (yes, #1) last year. To keep it strictly German you'd have to pass on the fan favorite bangers and mash, but no need to be disappointed—the traditional German bratwurst (with the twist of chimichurri) is sure to satisfy, as is the pretzel and cheese.
We're the Wurst
Grill up an Oktoberfest feast right in your backyard using a variety of sausages from Bend's We're the Wurst, including the signature German bratwurst. There's no way to go wrong cooking up these meaty treats, often served with mustard and sauerkraut. Find We're the Wurst at grocery stores around Central Oregon and toss it on the grill at home, or hire We're the Wurst chef Matthew Fidler to cater a private Oktoberfest meal. For a meal with a view, try the bratwurst with house-made aioli off the menu at Monkless Belgian Ales, near the Box Factory and overlooking the Deschutes River.
pflücke Grillhaus & Biergarten
It's a pflücke—the newest restaurant in Bend's NorthWest Crossing neighborhood set up shop in mid-February, just in time to get settled in before this year's Oktoberfest. Owner Bradley Bishop and his culinary team spent the spring adapting the menu to feature dishes that could taste and look beautiful in-house and as takeout. This led to the creation of Blüm Böxes, which feature traditional German bratwurst and other fixings. "Each box contains an assortment of flavors that complement each other, almost a mini platter of what we offer," Bishop said. For a traditional meal, go for the Bavarian Bratwurst Blüm Böx, packed with classic German sausage, potatoes, fried dill pickles, warm pretzel bites and haus kraut. Or for a twist, try the FortyEighter Carolina Rib Blüm Böx, featuring a half-rack of ribs in Carolina German homestead mustard vinegar BBQ sauce, served with haus baked beans mixed with pulled pork and other sides.   
While phlücke's takeout menu is now on point, stop by the lively restaurant to feel a bit of the comradery Bishop envisioned for this year-round Oktoberfest gathering space. Be sure to explore the restaurant to appreciate art pieces by Bend's Megan Myers, which together illustrate the vibrant tales of Oktoberfest—like the story of Prince Ludwig I and Princess Therese, whose wedding party was the impetus for today's celebrations. Ludwig fell into a life of stardom and then philandering, which is played out on the hallway to phlücke's bathrooms, which features portraits of Ludwig's thirty-six mistresses. Recount these stories as you wash down your meal with a traditional Warsteiner Dunkel.
Desert
Let's not forget the icing on the cake of an Oktoberfest meal—the dessert. While traditional German deserts like Bienenstich (also known as bee sting cake) are hard to come by in the high desert, finding mouth-watering German chocolate is still on the table. Place a custom order from Market of Choice for a German chocolate cream pie, with dark chocolate custard and coconut flakes inside a buttery crust, coated with chocolate ganache. It's the perfect ending to a build-your-own Oktoberfest feast.
Bend's Oktoberfest
The Bend Oktoberfest community celebration won't take place in 2020, but organizers are already looking ahead to next year's event, scheduled for September 17 and 18, 2021. The event is a fundraiser for downtown Bend beautification, with money raised used for items like flower baskets and holiday decorations. Find more information about the 2021 event or consider donating to beautification efforts at bendoktoberfest.com.