Central Oregon's ever expanding fleet of food trucks rivals the region's brick and mortar restaurants when it comes to culinary variety and creativity. Whether it's a fusion of different styles or a new take on classic stand-bys, the region's food trucks always seem to hit the mark. While it's tough to narrow it down, here are the five Bend food trucks to track down and try. 
A Broken Angel
A Broken Angel is one of Bend's best food truck options and one of Bend's best all-around options for vegan dining. Operating from the tiny cart parked next to Palate Coffee Bar, Chef Richard Hull creates dishes bursting with flavors. The menu features Southern dishes with French and Pacific Northwest influences. A Broken Angel's range of options makes it one of Bend's best lunch spots.
Find Them: 1124 NW Newport Ave., Bend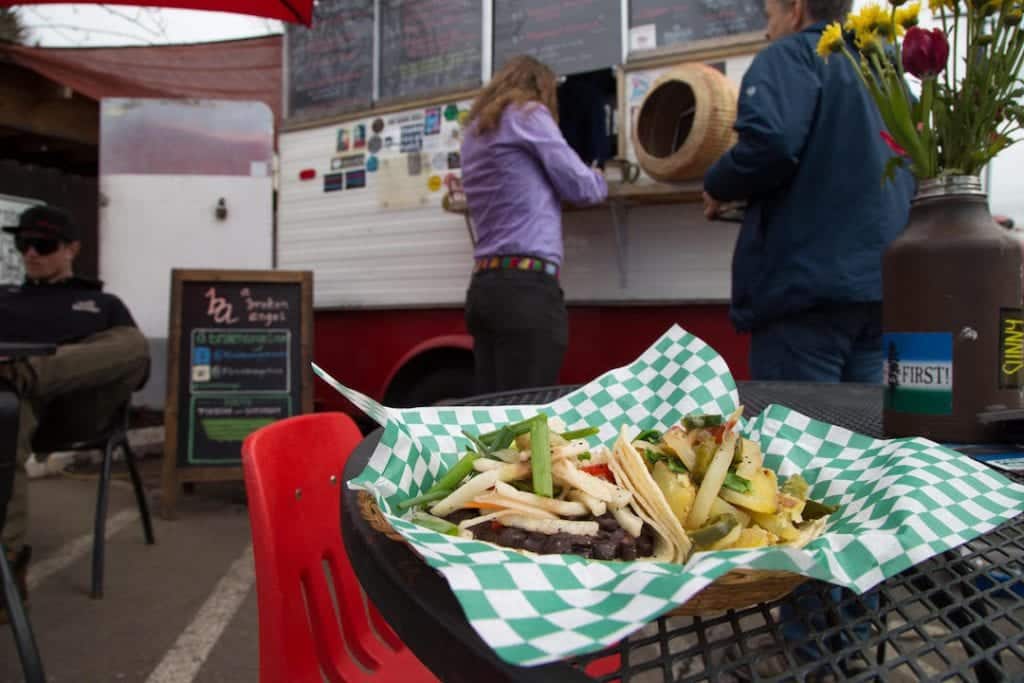 Big Ski's Pierogi
If you've never had a pierogi, get down to GoodLife as soon as possible. Big Ski's Pierogi is a Polish food cart serving an incredible variety of dumplings. Find traditional ingredients like beef stroganoff, sauerkraut or potato inside the perfectly crisp dumplings, but don't be afraid to try out the seasonal morel or white button mushroom varieties. The pierogi pairs perfectly with beer, and are a great alternative to traditional Bend pub fare.
Find Them: 536 NW Arizona Ave, Bend
Sol Verde
Breakfast is not often on a food truck menu. While there are a few great breakfast options in Bend for a sweet morning indulgence, Sol Verde takes care of the savory side. The New Mexican-style food truck has a great menu of burritos, including a solid vegetarian option. The chili verde is another great option to try.
Find Them: 1040 NW Galveston
B's Teriyaki
Ben and Lindsey Stuart never intended to open up a food cart when they moved from Washington to Prineville. But amid a pandemic and struggling with nine-to-five fatigue, they decided to take the leap. The Stuarts purchased a used food cart in early 2020 and took advantage of their time at home to hone their new craft. After fixing up the cart, they elected to focus on a dish that Prineville lacked: rice bowls. They kicked it into high gear, continued to adapt to change and launched B's Teriyaki. "We decided to flip the switch and start up right during the middle of the pandemic. Our first day of business was August 20, 2020," said Lindsey. The cart offers rice bowls with your choice of meat, salads topped with grilled chicken teriyaki, and the newest addition, Yakisoba noodles, all of which have been embraced by Prineville's patrons.
Find them: 1255 NE 3rd Street, Prineville
Westside Taco Co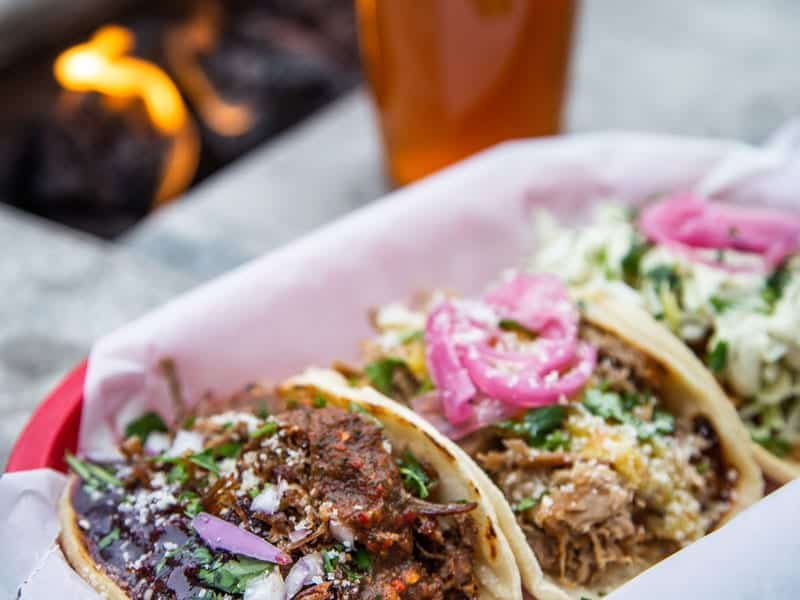 The menu at Westside Taco Co. is unlike anything you might expect from a taco cart, with options like Thai curry chicken, root beer carnitas and the best-selling blueberry brisket. "The blueberry chipotle brisket is an Oregon favorite, and the root beer braised carnitas taco took second place overall in the biggest taco competition in the country, Tacolandia by the LA Times," said Amber Amos, co-owner and operator. Amos and her partner, Aaron Notarianni, relocated to Oregon from Southern California, where they owned and operated a catering company. "We grew up on street food, and it was something that we wanted to put a spin on. [Opening a food cart] was the quickest way to introduce our food to the community," she said of their decision to open Westside Taco Co. "The community support has been insane." The couple, who also own the Redmond restaurant Westside Local, attribute a few factors to their success: work hard, play hard and have a good sense of humor.
Find Them: 404 SW Forest Ave., Redmond
Read more about our local food trucks with 4 dishes to try at Bend's Food Truck Pods. Or head over to our Central Oregon Dining Guide for more on Central Oregon's dining scene.