Editors Note: This article was originally published in March, 2021
Food carts have come a long way. As Central Oregon has grown, so has its culinary scene. An abundance of food carts and food trucks are found throughout the region, their to-go nature only buoyed by the pandemic. Dishes that one might only expect from fine dining or brick-and-mortar restaurants can now be found at food cart lots, made by chefs who all share something in common: they serve the food they love with their community.
B's Teriyaki | Prineville
Ben and Lindsey Stuart never intended to open up a food cart when they moved from Washington to Prineville. But amid a pandemic and struggling with nine-to-five fatigue, they decided to take the leap. The Stuarts purchased a used food cart in early 2020 and took advantage of their time at home to hone their new craft. After fixing up the cart, they elected to focus on a dish that Prineville lacked: rice bowls. They kicked it into high gear, continued to adapt to change and launched B's Teriyaki. "We decided to flip the switch and start up right during the middle of the pandemic. Our first day of business was August 20, 2020," said Lindsey. The cart offers rice bowls with your choice of meat, salads topped with grilled chicken teriyaki, and the newest addition, Yakisoba noodles, all of which have been embraced by Prineville's patrons.
Open Tuesday through Saturday, 11 a.m. to 7 p.m.
1255 NE 3rd Street, Prineville
Westside Taco Co | Redmond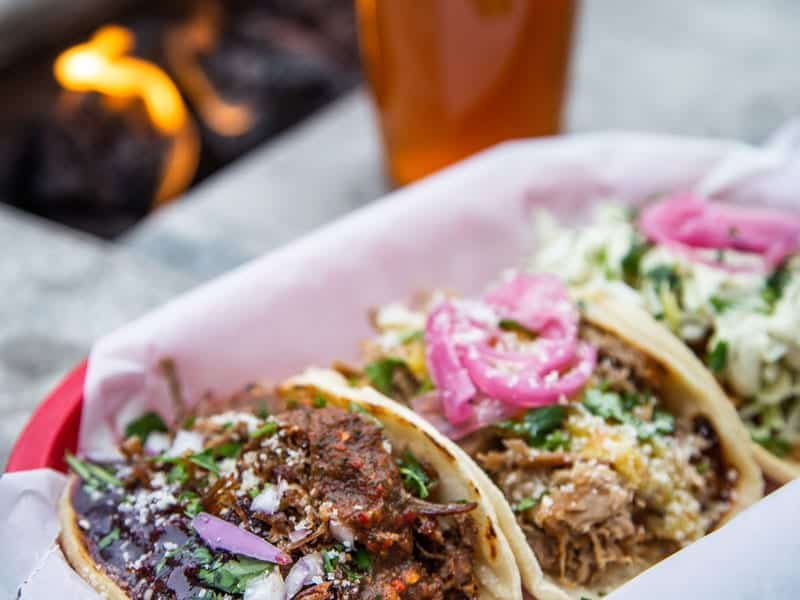 The menu at Westside Taco Co. is unlike anything you might expect from a taco cart, with options like Thai curry chicken, root beer carnitas and the best-selling blueberry brisket. "The blueberry chipotle brisket is an Oregon favorite, and the root beer braised carnitas taco took second place overall in the biggest taco competition in the country, Tacolandia by the LA Times," said Amber Amos, co-owner and operator. Amos and her partner, Aaron Notarianni, relocated to Oregon from Southern California, where they owned and operated a catering company. "We grew up on street food, and it was something that we wanted to put a spin on. [Opening a food cart] was the quickest way to introduce our food to the community," she said of their decision to open Westside Taco Co. "The community support has been insane." The couple, who also own the Redmond restaurant Westside Local, attribute a few factors to their success: work hard, play hard and have a good sense of humor.
Open Monday/Tuesday/Wednesday: 12 to 7 p.m.; Thursday/Friday/Saturday: 12 to 8 p.m.; Sunday: 12 to 6 p.m.
245 SW 6th St #2108, Redmond
Sunny's Carrello | Bend
Amy and Courtney Wright sought to open up Sunny's Carrello shortly after catering an event at Ale Apothecary in 2019, where they paired some of the microbrewery's beers with an Italian-inspired menu. "Guests loved our '100-layer' lasagna and we were inspired by that," says chef Amy. Sunny's shares its namesake with their restaurant, Sunny Yoga Kitchen in NorthWest Crossing. They joined the River's Place family of food carts earlier in 2020 after relocating from the parking lot at Ale Apothecary. Although served quick and casual, the Italian fare at the carrello (Italian for 'cart') feels quite the contrary. Comforting rigatoni with vodka sauce, fettuccine Alfredo and best-selling Bronx tale—a house-made pasta tossed with marinara sauce, sausage, Parmesan cheese and a meatball—tastes like slow-made Sunday night supper any day of the week.
Open Friday through Tuesday
11 a.m. to 8 p.m.
787 NE Purcell Boulevard, Bend
Wandering Chef | Madras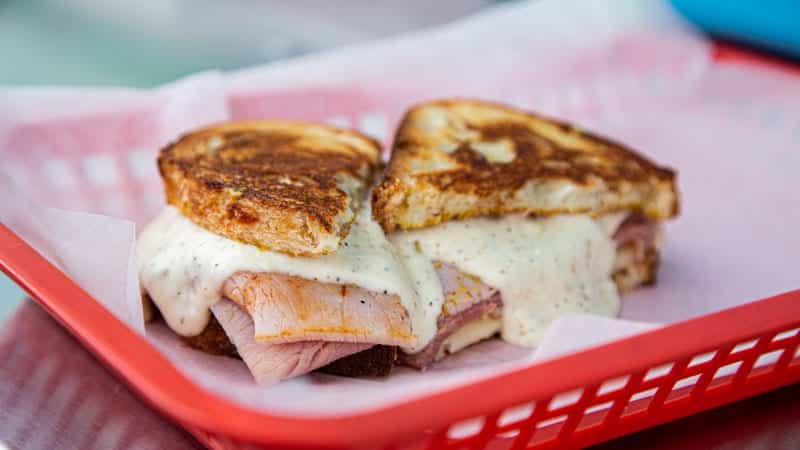 Thomas Lupinski traveled the globe in pursuit of culinary adventures. From Europe to Central America to Dillingham, Alaska, Lupinski eventually ended up in Madras in 2018 to settle down with his wife. Shortly before opening Wandering Chef, Lupinski received the news that he'd need a kidney transplant; still, he moved forward. Wandering Chef is a collection of sandwiches from around the world, formed into street fare. His best-selling Frenchman, a griddled ham and three-cheese sandwich dripping with fondue sauce, replicates a Croque Monsieur in food truck fashion. "My favorite compliment is when someone says, 'I'd have never tried that if you hadn't made it!'" Lupinski said. Instead of "Taco Tuesday," you'll find "Thai-Day Friday" along with favorites like the Asian pulled pork sandwich, a food truck riff on the classic Bánh mì. Lupinksi is on a waiting list for that kidney; wish him luck when you stop by for lunch or dinner.
Open Tuesday through Friday 11 a.m. to 7 p.m.; Saturday 9 a.m. to 7 p.m.; Sunday 9 a.m. to 1 p.m.
130 SW 5th Street, Madras