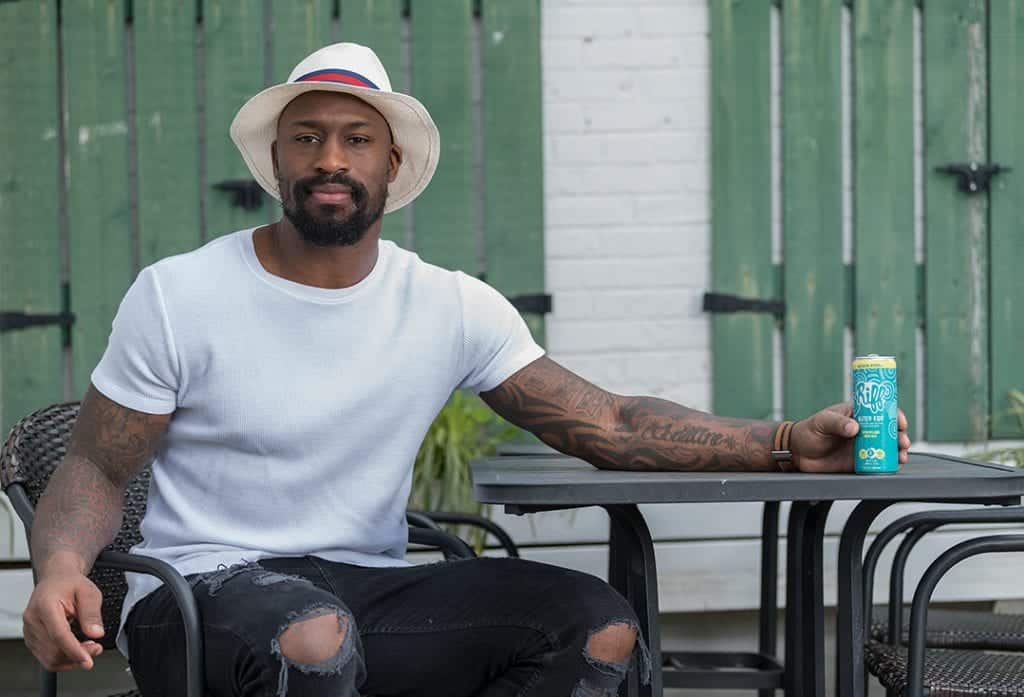 This summer, the Bend-based coffee company Riff Cold Brewed added former Super Bowl champion Vernon Davis to its advisory board. Davis, a fifteen-year NFL veteran turned entrepreneur, who over the past few years has aligned himself with several purpose-driven companies, engaged with Riff after being inspired by the company's strong sense of purpose, aligned values, and commitment to positive and social environmental impact. Davis will focus on helping the Riff team build brand awareness, develop new product innovations and further strengthen its commitment to social equity and inclusion.
It's ambitious to hear that a coffee company intends to have a positive social and environmental impact. Can coffee change the world?
Most coffee drinkers are unaware that coffee "beans" are actually seeds from the fruit of the coffee plant. For every 25 billion pounds of coffee bean processed for export, around 100 billion pounds of coffee fruit, processed as a byproduct, goes to waste. This mass of coffeefruit is dumped in waterways, where its sugar content destroys the ecosystem, or is sent to landfills, where it sits and produces an amount of methane gas equivalent to 36 million metric tons of CO2.
Riff saw this as a challenge and set out to find a solution. Riff's mission has been to repurpose coffeefruit into an all-natural sparkling energy drink, Alter Ego. Not only does Alter Ego help the environment by reducing coffeefruit waste, the addition of coffeefruit processing has a large positive impact on struggling coffee farmers socially and economically. Requiring no additional crops or investments, coffee farmers may be able to virtually double their income and potentially create more employment opportunities.
What are a few efforts Riff is making or plans to make to strengthen the company's commitment to social equity and inclusion?
Bolstering its advisory board—whose members possess experience and expertise spanning across food and beverage, CPG, beer, retail, distribution, consumer insight and high tech—was an integral step in dedicating more time and energy to honest conversations and developing a model based on a more profound commitment. Together we will put together the perfect plan to empower the world through humility and wisdom.
What is one thing you think any organization or company could do today to improve their stance on social equity and inclusion?
You can improve social equity by always putting others first. It's always about the consumer. Allowing them to feel the love. Make the world feel like they're a part of what you're building.
Anything Riff is up to on the local front? Will you be visiting Bend yourself in the near future?
In late March, as a show of appreciation for their extraordinary commitment and dedication in this challenging COVID era, Riff began donating its cold brewed coffee and Alter Ego products to frontline healthcare workers at St. Charles Medical Center. Most recently, in an effort to provide refreshment and needed extra energy, Riff began donating cases of Alter Ego to the firefighters battling the onslaught of wildfires throughout the West.
Along with Riff co-founder and CEO Paul Evers, I have been invited to make a presentation at this year's Bend Venture Conference in October, during which we will share the story of our partnership with a focus on my passion for entrepreneurship.
If you had a magic wand, what is one change you would make in the world today?
I would bring together all genres of people and form a team that goes out and helps equally all people who are in need and in despair.
What is your personal favorite Riff drink?
I can't get enough of Riff's Alter Ego (named for being coffee's lesser-known counterpart). It's a plant-based sparkling energy drink that I drink every day!