---
How one Bend chef keeps the world stage and his community fueling his creativity.
---
What chef Joe Kim did when he was invited to be a guest chef at the James Beard House in New York speaks volumes about Kim, his restaurant, 5 Fusion and Sushi Bar, and Bend.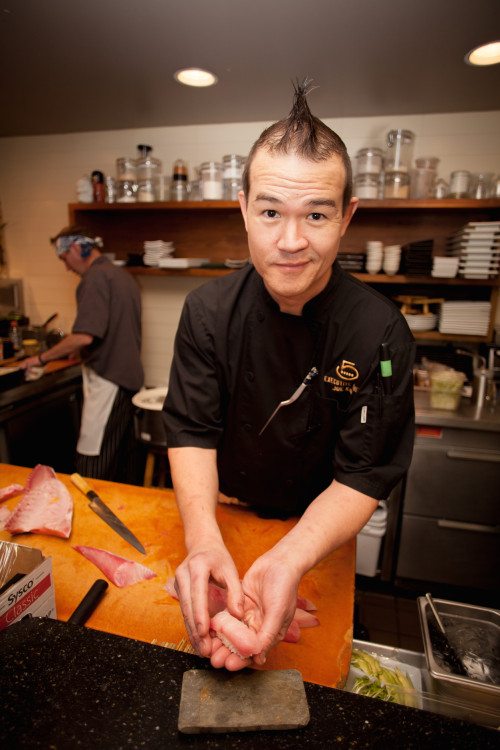 Kim and his business partners, Lilian and Mike Chu, decided that rather than spend money on traveling across the country to enjoy the spotlight, they would leverage the recognition in a way that would benefit their community. In 2014, they launched a series of James Beard Foundation Benefit Dinners that has raised more than $16,000 for culinary school scholarships, including students going to Bend's Cascade Culinary Institute.
In the process, Kim's multicourse menus for the series showcase what is arguably one of America's most creative culinary talents. (Kim was a semifinalist for the James Beard Foundation Award for Best Chef Northwest in 2015 and 2014, when he was the first Central Oregon chef to be nominated.) One such dinner in 2014 coincided with Kim's thirty-third birthday. He paid tribute to his culinary influences, starting with a haute version of the first thing he ever cooked – Rice-A-Roni – and on through to black truffle ravioli.
A more recent dinner opened with several minimalist interpretations of dishes such as bacon-and-egg salmon, paired with champagne. Six courses and libations followed—from a Japanese soup with crispy lamb sweetbreads and mint oil to squab with miso sage butter and buffalo ribeye with kimchi. At the penultimate course, Kim unleashed nostalgic humor. He replaced the contents of individual Kraft Handi-Snacks packs with brie fondue and miniature house-made pretzel sticks. A lipstick case became a vessel for goat cheese, fuchsia-tipped with marionberry.
Diane Harris Brown, director of educational and community programming for the James Beard Foundation has called his dishes, "truly works of art – original, witty, beautiful, and above all – delicious!"
Kim said he strives to improve on what has been done before. "I hope our customers feel like they are in Neverland!" he said.
That said, the venue is accessible and satisfying for happy hour weekdays (think spicy pork sliders and cucumber gimlets) to dinner, with a menu ranging from pork tenderloin "lollipops" to nigiri flights.