Sponsored Content- enter the giveaway below!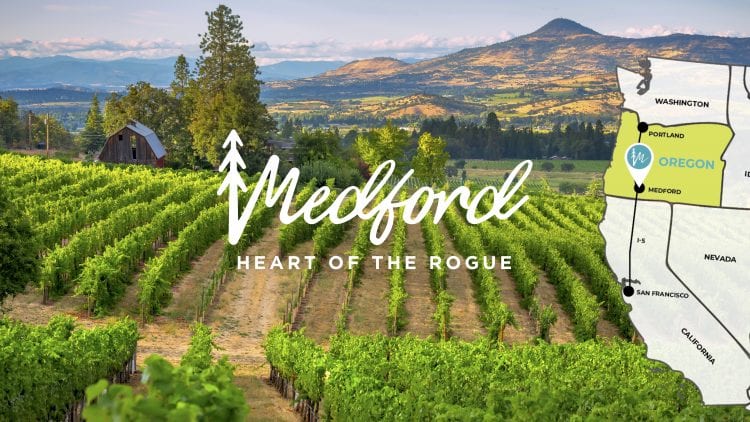 The Rogue Valley AVA is an often overlooked wine region in the US. Despite growing grapes that consistently create world renowned wines, the region still has an undiscovered feel to it. Traversing Rogue Valley Wine Country can sometimes feel more like a laidback adventure, where guests set off in search of world class sips paired with rustic, farm-to-table meats and cheeses.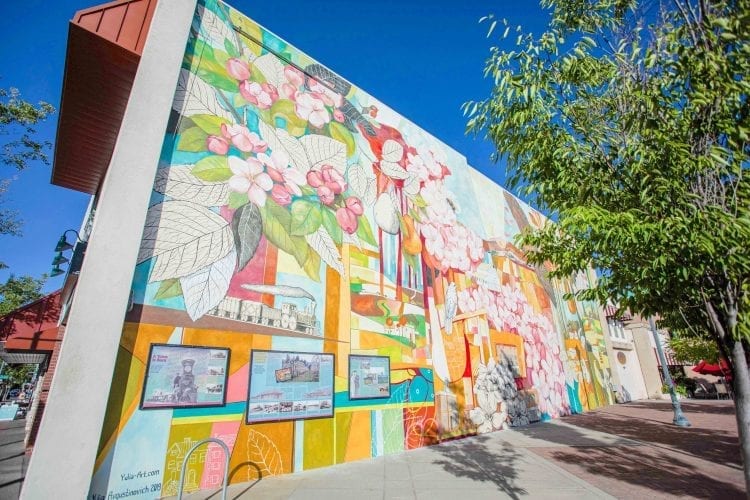 Any would-be adventurer to this region needs to know about Medford. This city of around 80,000 is not only the largest city in Southern Oregon, it is also the perfect setting off point for exploring Rogue Valley Wine Country. In fact, the Rogue Valley AVA was named one of the top ten wine destinations in the world by Forbes magazine, and wine capital of Oregon by NW Travel & Life Magazine. There is no city better located to explore all that the Rogue Valley has to offer than Medford.
North of Medford in Sams Valley lies the Upper Rogue Wine Trail, which covers four different wineries in the region. A hike through this area will reveal volcanic plateaus and panoramic views of surrounding cascade mountain peaks.
To the west of Medford lies both the Applegate and the Jacksonville Wine Trails. The Applegate Wine Trail is the most remote of the four nearby wine trails, and reflects the region's pioneer past. An adventure here takes guests winding up and down steep mountains and deep valleys, all steeped in beautiful local flora and fauna. This wine trail boasts an impressive 17 wineries to taste from.
The Jacksonville Wine Trail is just a couple miles west of Medford down Highway 238, but you'll feel like you drove into a new world upon arrival. This is not only one of the oldest regions in the Rogue Valley; this is one of the oldest Anglo-settlements in all of Oregon. The wine trail includes 7 unique wineries that surround the old gold rush boom town of Jacksonville, providing guests with quality wines and a fascinating history to explore.
Last but certainly not least, the Bear Creek Wine Trail connects Central Point, Medford and Ashland wineries down I-5 in the southernmost corner of the Rogue Valley AVA. This wine region includes nearly 20 different wineries to visit.
With over 50 amazing wineries in the region to visit, one has to wonder what makes the Rogue Valley AVA such an ideal location for growing wine grapes. Afterall, the entire region contains just under 6,000 acres of vineyards that produce over 70 different varieties of wine. There are 53 different tasting rooms where you can sip the flavors of the Rogue Valley AVA.
The Rogue Valley actually has a deep history of wine grape growing. The first wine grapes ever planted in the state of Oregon were planted in this valley in the early 1850s. Before the decade could end, a man named Peter Britt opened up the state's first winery – Valley View. The winery was shut down after Britt's death in 1906, but was restored in 1972 by the Wisnovsky family. Since then, the region has been booming with new wineries, and with good reason.
The Rogue Valley AVA is situated perfectly to create high quality wine grapes, down to the soil itself. This AVA sits on the same latitude as wineries in Spain, France and Italy, and can grow traditionally European wine grapes particularly well, as a result. The western wine trails are influenced by the mountains and the ocean, providing cooler weather that is perfect for creating Pinot Noir. Further east provides dryer climate and higher elevation, creating perfect conditions for warm-weather varieties including Merlot, Cabernet Sauvignon and Sauvignon blanc.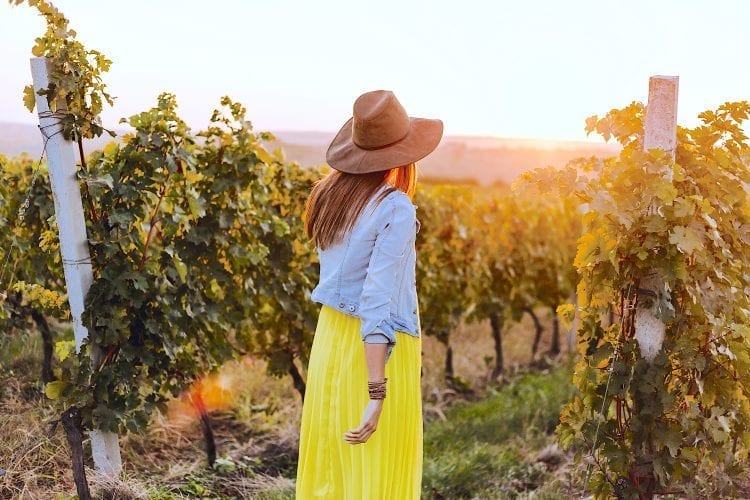 Long sunny days across the valley don't just create quality grapes; they produce happy people. The attitude in the Rogue Valley is laidback and friendly. Wine tasting in the Rogue Valley often comes with conversations with the vineyard owners, who often enjoy personally welcoming and interacting with their guests.
While exploring wine country, don't forget to stop and appreciate all the other amazing food and drink available. Wine is king here, but local farmers and ranchers don't stop there. Weekly farmers markets are packed with fresh local produce and artisan goods. Breweries in and around Medford offer up craft beer and cider, as well as quality meals made with the freshest local ingredients.
Only in the Rogue Valley can guests explore fields of lavender and pick wildflowers on hikes with sweeping mountain vistas, all on their way to taste some of the best wine in the nation. Like Sunset Magazine says, this is "wine country the way it should be."