Sponsored Content
One visit to White Iris Home Décor in Bend's Northwest Crossing neighborhood, and inspiration will strike.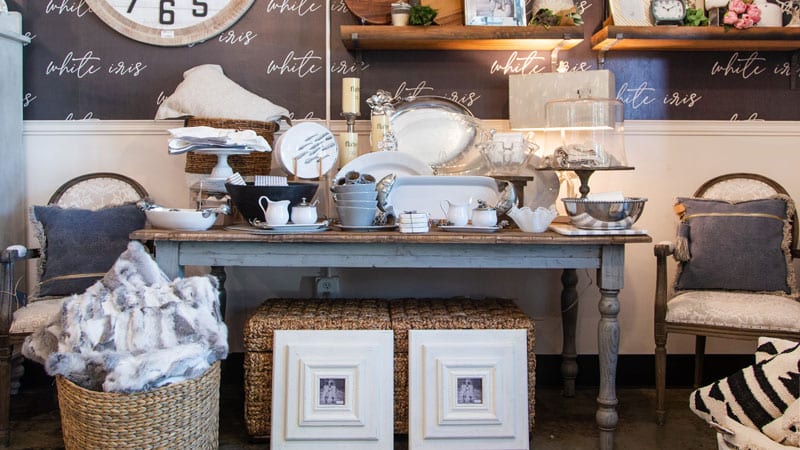 Browse through the carefully selected housewares such as well-designed, hand-crafted vases, unique candle holders, a wide variety of eye-catching dishware, napkin rings and amazing centerpiece items, and suddenly those who walk in the shop will be looking forward to hosting their next special dinner with friends and family. It won't be just another meal, but an opportunity for a new design, or "tablescape" to adorn the dining room or patio table. That's just the way owner Lisa Stewart envisioned it when she opened her new store in July. "It is something I have been passionate about forever, and it has always been my dream," said Stewart, who moved to Bend with her husband Will in 2018.
Raised in California, after almost thirty years in the corporate finance world, Stewart decided it was time for a change. So six years ago, her then-fiancé convinced her to leave the profession behind and move to their second home in Jackson Hole for a reset. While in Wyoming, she became a regular customer at a home design boutique in the heart of Jackson Hole. "I would go there all the time," said Stewart, who ended up working part-time at the store, spending all her earnings on the beautiful products sold there. "I don't think I ever brought home a paycheck, it just went all back to the store," she said. "I hoped to own a similar store of my own someday."
Fast forward to December 2019, and while in NorthWest Crossing for a glass of wine, Stewart and her husband saw an empty shop that was available. Lisa's dream was in full motion. And finally, this July, after a bit of a pandemic delay, she opened the doors to White Iris Home Décor. "I named the store after my mom's favorite flower," said Stewart, whose mother passed away last year at 91. "She would have been so proud of me for fulfilling my dream."
Inside White Iris you will find a selection of lamps, mirrors and furniture in addition to a large variety of high-end brands like Italian pewter from Match1995, dinnerware from Vietri and serving pieces from Beatriz Ball and Vagabond House. You will also find more cost-conscious products, all items that help turn any house into an inviting, well-decorated home.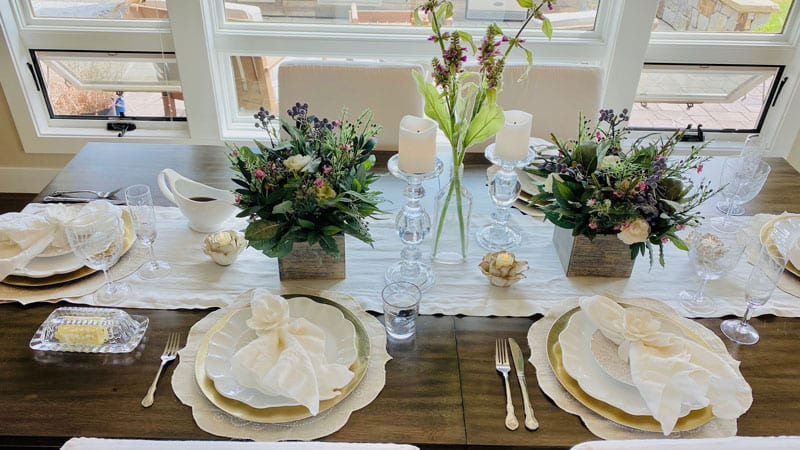 Stewart holds dear the importance of uplifting other businesses within our community, so the shop proudly carries a variety of sleek, stylish candles and scent diffusers from a local female-owned company, Wild Currant Candle. You will also find beautifully crafted totes and tea towels on display from another small, female-owned company, Honey Brush Design. Stewart's hope is to add more locally sourced offerings in the near future.
When visiting the store, don't be afraid to ask for help while browsing, as sometimes a creative thought or helpful recommendation might just be what a customer needs, Stewart said. Stewart is also developing a décor consultation program, where she can offer customized advice to help customers create the home of their dreams.
Stewart said she's always valued the importance of a thoughtfully designed room, from the dining table and throughout the entire house. "A beautiful space makes you feel good," she said. "I simply believe everyone wants to live beautifully."