Eating vegan has evolved rapidly in the past couple of decades and gone are the days of wondering how vegans get their protein or whether they just eat tofu with every meal—or at least those days should be in the past. The evolution of plant-based eating can be seen firsthand at Bend's new vegan eatery and cocktail bar, Deeply Rooted. The menu isn't all salads and soy protein (though they do offer both) but is a well-rounded mix of appetizers, fresh juices, rice bowls and meaty-sounding entrees like burgers, fish and chips and chicken tenders. The proteins come from mushrooms, walnuts, hearts of palm (that's the inside of a palm tree) and a variety of other plant-based sources, including protein-rich veggies such as broccoli in everything, according to Deeply Rooted owner Devin Sims, who has followed a vegan lifestyle for a decade himself.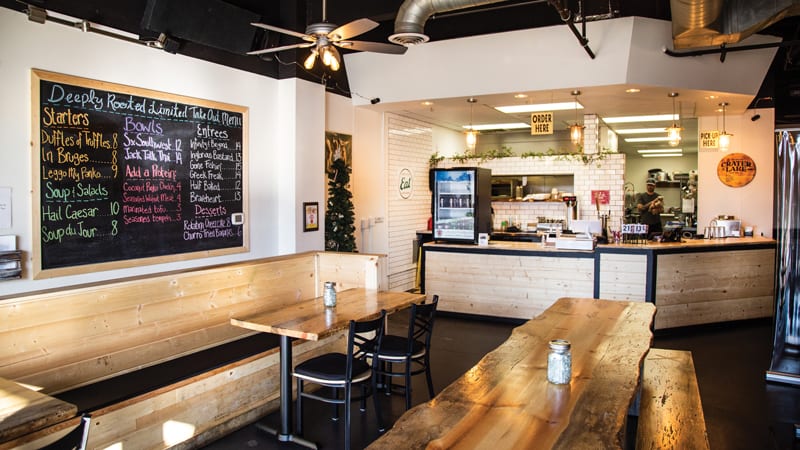 "It's kind of more of why not?," Sims said about his decision to eat vegan. "It's not just about the animals anymore. It's about the environment, and the future of our species on the planet."
Sims moved to Bend in 2018 from southern California and soon began putting his dream of creating a vegan eatery into full swing. "I'd worked in restaurants for a long time, and I'd always liked restaurants, but I wanted to be on the other side of things," said Sims, who was drawn to Bend for the outdoor lifestyle and access to whitewater rafting and kayaking. He considered a food cart, but wanted to offer cocktails, too, so he instead held out to find the right location for his new restaurant.
When the former Bad Wolf Bakery & Bistro location opened up at the corner of Wall Street and Newport Avenue, Sims decided to take the leap. He opened his doors on March 23, 2020, a week which by now everyone realizes was not the most opportune time for an opening. "We reduced our menu by half, and went to takeout and delivery only," Sims said. As restrictions loosened, the restaurant opened for dine-in counter service, with tables inside or spots around the bar, where fresh juices and cocktails made with local spirits are served up. Outside, there's more seating in the sunshine overlooking Newport Avenue and the edge of downtown, along with a big wraparound couch and fire table, offering a cozy atmosphere on cool evenings. By the summer, business at Deeply Rooted had doubled and was continuing to grow. "This is a very busy street, so there's been a lot of word of mouth," Sims said.   
The menu is modest but offers a wide variety, including highlights like the Infinity & Beyond, a Beyond Beef patty with smoked gouda, caramelized onions, stone ground mustard and typical fixings, served on a pretzel bun with a salad.
For another meat-like dish, try the Gone Fishin'—a fish and chips-style beer-battered heart of palm fillet and French fries. The heart of palm has "the taste similar to an artichoke, but the consistency is more like a flaky fish," Sims said.
Try your meal with a handcrafted cocktail, like the popular Green Lantern, which pairs tequila with Hatch chili vodka from Crater Lake Spirits, mixed with green juice of pineapple, mint and jalapenos made in-house. Or try a vegan White Russian, made with oat milk and hazelnut espresso liqueur. They also offer a handful of wines and local craft beers.
While Deeply Rooted seems to be the first vegan restaurant with a bar in Bend, it's one of a growing number of vegan options. Salud Raw Food on Franklin Avenue near downtown is a raw food vegan café (it temporarily closed in September for an undetermined amount of time) and there's a vegan food truck, Toasty, that has set up shop at Podski's near the Box Factory.
Sims said he refers to Deeply Rooted as plant-based, versus vegan, in hopes of attracting customers who might be reluctant to walk into a strictly vegan restaurant. When those non-vegan eaters do give the food a chance, they're pleasantly surprised, he said. "We had a guy come in last night, wearing an 'I put bacon on my bacon' shirt, and the girl he came in with was vegan, but he wasn't," Sims said. "And he liked it."
As he looks toward the future, Sims is hopeful that the vegan lifestyle grows in popularity, and more vegan spots open in Central Oregon. "My dream is to see a predominantly vegan world," he said. "It's the future for the sustainability of our species and the health of our planet, not to mention the ethical side of it and the treatment of animals, both wild and domestic. There's a well-known saying, 'peace begins on your plate.'"