The best events in Central Oregon this fall.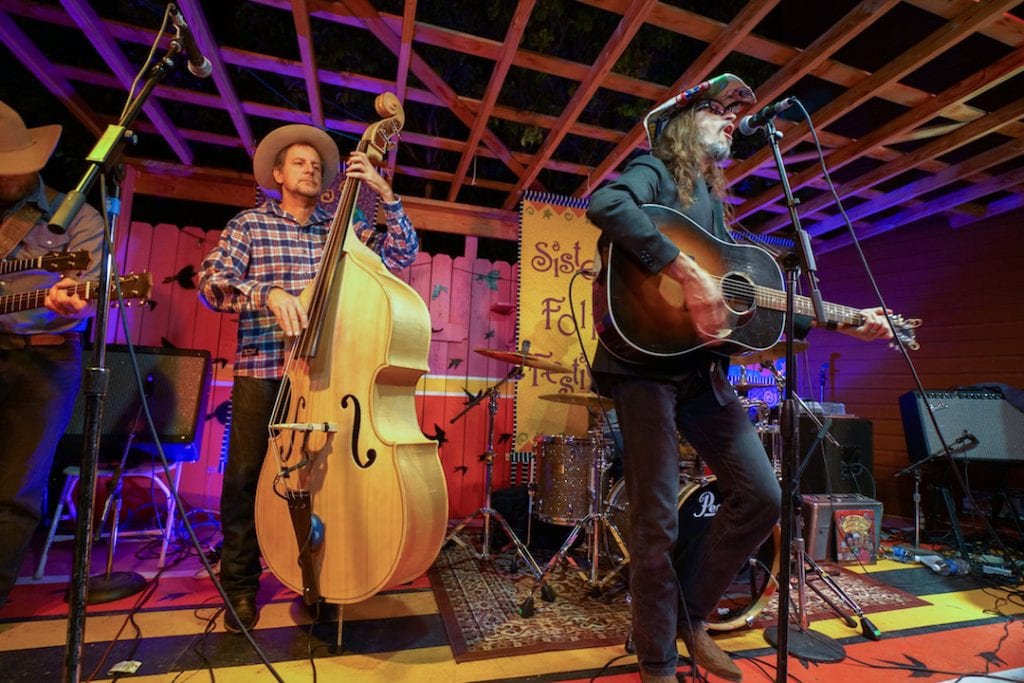 Summer may get all the buzz, but fall in Central Oregon is a hidden gem of a season. Aside from it being peak hiking and mountain biking season, fall also brings a variety of cultural events and festivals. From the internationally renowned Sisters Folk Festival to the BendFilm Festival, now in its fifteenth year, there are a host of events around Central Oregon that you don't want to miss this fall.
Note: This list will be updated as more events are announced and dates are confirmed, so check back throughout the fall for the latest information.
September
Sisters Folk Festival
September 7-9
Sisters
Smoke from last year's wildfire season forced the Sisters Folk Festival to cancel the iconic event that helped place Sisters on the map as a cultural destination in Oregon. This year, though, the bluegrass/folk/blues/roots/Americana music event is already looking like the makings of a stellar comeback, with acts like Justin Townes Earle, local band The Weather Machine, and more. Check out our interview with festival director Brad Tisdel to learn more about the community roots of the music festival.
CATS
September 14-22
Tower Theatre
CATS is the longest-running Broadway musical in history, running for eighteen years after it opened in 1983. The musical, based on a series of poems by T.S. Eliot, received seven Tony awards and two Grammys. This fall, local production company Thoroughly Modern Productions will produce the musical at the Tower Theatre. It's a show you won't want to miss if you're in town.
Oktoberfest
September 21-22
Bend
Join the stein-hoisting competitions, enter your dachshund in the weiner dog races, get your fill of Bavarian-style dishes and more at Oktoberfest this year in Bend. The two-day event is free and open to all ages. Local brewing companies will have beer, cider and kombucha on tap to taste. It all takes place in downtown Bend and is sure to be the bash of the season.
Sisters Fresh Hop Festival
September 29
Sisters
When the Sisters Fresh Hop Festival started almost a decade ago, fresh hop beers were still a novelty. Now, the style of beer brewed with hops that were picked less than twenty-four hours earlier is a staple among breweries, especially in Oregon. Taste your way through the twenty-five breweries that will be at the one-day event while you listen to the live music. This year's event will be held at the Three Creeks Brewing facility in Sisters and will also have a 5k race to join in the morning.
October
Fall Festival
October 5-7
Bend
For one weekend in October, Fall Festival takes over the streets of downtown Bend. The two-day festival has events and activities for everyone in the family, from a harvest market with produce and artisan goods to a play zone with bouncy houses and pumpkin painting to gourmet food and wine to taste. Each night ends with a concert, which this year's lineup includes Redwood Son, Watkins Glen and Dirty Dozen Brass Band.
BendFilm
October 11-14
Bend
In mid-October, Bend transforms from an outdoor recreation hub to an independent film mecca. BendFilm turns fifteen this year, and to celebrate the milestone, the film festival is bringing in some big names in cinema. The four-day event draws filmmakers and film buffs from around the country to watch a juried list of independent films, some of which will be world premieres. Tickets sell out quickly each year, so grab passes early and you won't miss out.
Sisters Harvest Faire
October 13-14
Sisters
A Sisters tradition for more than thirty-five years, the Harvest Faire welcomes 180 artisan vendors selling quality handcrafted items to help celebrate the changing of the seasons. Enjoy local food and live music at this annual event that takes place in downtown Sisters.