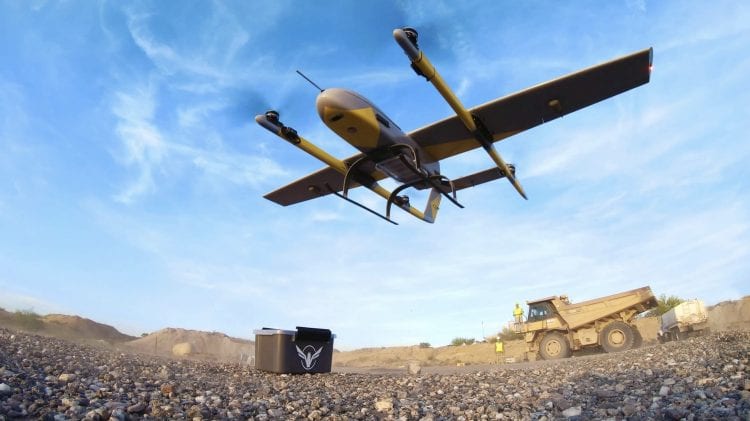 Bay Area-based Volansi, a provider of long-distance drone delivery services in the medical, oil and gas, mining, and defense industries, expanded to Bend this winter. The company will be moving its development, production and testing capabilities to Central Oregon. Volansi has ongoing operations in Africa, the Caribbean and the U.S. We sat down with Hannan Parvizian, CEO and co-founder of Volansi, to discuss the company's work.
Why was Bend, Oregon, the company's choice for expansion?
Bend was the obvious choice for co-locating the development, production and testing of our aviation technology. Central Oregon and the Pacific Northwest's long history and experience with the aerospace industry provides amazing access to great talent and innovation. There are many ideal supply chain options. Finally, the weather is ideal for testing our drones.
What segments of company operation will take place in Bend?
The Bend location will support the company's expansion as it develops, produces and tests its next generation of industry-defining drone delivery aircrafts. Oregon will be home to roles from business to flight operations, to engineering and production. The facility will also manufacture Volansi's existing delivery drones that are currently in production in our California location. We plan to have approximately seventy-five employees based in Bend this year with targets to grow beyond that in coming years.
How do you view the status and future of drone delivery in the U.S.?
We are a leader in commercial deliveries using long-range, heavy-payload drones to provide delivery service for customers in commercial, defense and humanitarian sectors in emerging markets. Our drones can deliver payloads of ten pounds or more, 50 miles and beyond. We've combined the best of robotics and aviation technologies to develop delivery drones that have a hybrid propulsion system, vertical take-off and landing and the required autonomy to carry out these delivery services with award-winning operations and service teams. Our drone delivery service is designed to address our customers' biggest concerns: rapid delivery and safe handling of the packages, with flexibility on the payloads and distances. Today, we're helping our customers in the mining, oil and gas, construction, medical, humanitarian and defense industries save millions of dollars in down-time costs by delivering to them critically needed spare parts equipment (and aid) where it otherwise faced unpredictable delays on the ground, helping to save time, money and lives.
Does Volansi have a role in the current COVID-19 vaccine distribution effort?
Currently we don't have a role in the COVID-19 vaccine distribution effort, but we are in discussions with pharmaceutical companies and governments around the world on how drone delivery could aid in the distribution of these vaccinations. Our current drone delivery project in North Carolina, with our customer, Merck, uses our drone system to deliver temperature-dependent, adolescent, teen and adult routine-health vaccines and medicine from a Merck finishing facility to patients at a nearby hospital. Our drones are uniquely capable for this type of delivery because of their vertical take-off and landing system, which requires no special infrastructure and allows it to deliver fragile cargo with a "soft touch" automated release.
Can the public see drones in action?
We are excited to be part of the Bend community and proud to show off our new facility. Once we are all moved in, and the coronavirus situation allows it to be safe, we plan to invite select community members for a tour, and later this year, we hope to offer a flight demonstration.
Any cool projects on the horizon?
Our mission is to positively impact society by rewriting the rules of supply chain logistics. From transportation to mobility, Volansi is at the forefront of impacting how essential parts, critical supplies or even people move from one place to another via high-speed, long-range autonomous drones. Using innovative technology, we want to help build a world free from the limitations of infrastructure; a future where autonomous flight is as common and accessible to people as mailing a letter. In the future, we envision people catching a "drone" bus as we enable more payload capacity.