During the creation of Crosscut Warming Hut No. 5, Bend's newest tap house, owner Bob Libby drew on memories of youthful time spent in wintry lodges of the Sierra Nevada range. "This place is dedicated to my mom and dad, and fond memories I have of lodges as destinations, of reaching a place of protection and warmth, while in nature," Libby said.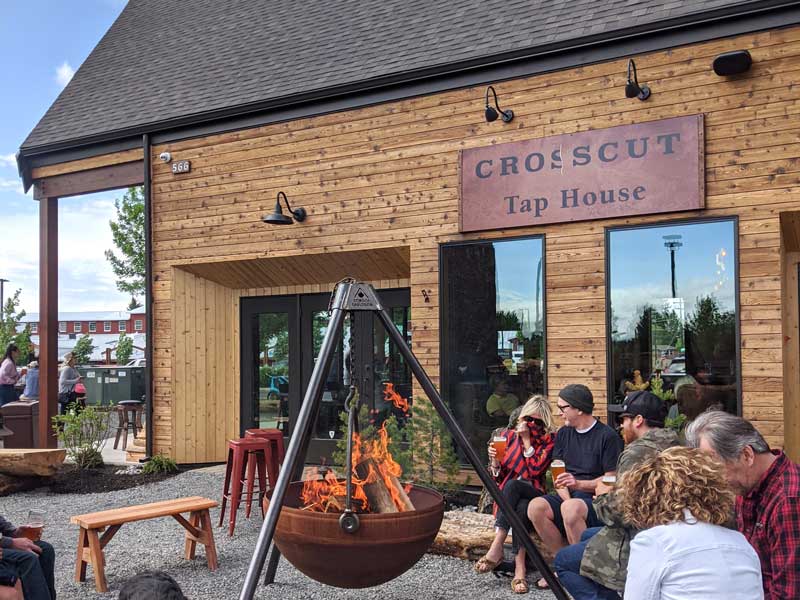 A native of Northern California, Libby came to Bend six years ago and felt the community lacked a classic lodge—an inviting, cozy place to relax and play games or read books. Opened May 22 in the Old Mill District, Crosscut hit the mark. Surrounded by other businesses in the heart of town, Crosscut manages its mountain retreat ambiance by way of substantial, lodge-style design, including plenty of reclaimed wood, and elements like Libby's father's antique canoe and his grandfather's fishing creel and deer head mount.
The interior is anchored by a massive table crafted from a Douglas fir tree and old barn wood, and an equally massive stove, built in 1835, which was recovered from a historic Oregon logging operation. Outside, fire pits and thoughtful, native landscaping create an entirely different kind of space to experience, and to spread out with a variety of seating.
With thirty-five beer tap handles, guests won't run out of beverages to sample. "I wanted to honor the integrity and passion of local brewers," Libby said. Cider, kombucha and wine are also available. Three food carts sit on site: Abe Capanna's Detroit Pan Pizza and Italian, Get Skewed (kabobs and falafel) and Incred-A-Bowl (healthy bowls and burgers).
Crosscut's location in the Old Mill District also plays to the theme of Bend's own timber industry past. "This was one of the last undeveloped spaces in the Old Mill District," Libby said. "We are grateful to reference the mill and the demographics of this place." And the No. 5? That's because four more warming huts are in the works, to be located around the mountainous West. "We're going to work backwards to No. 1," Libby said.
Crosscut Warming Hut No. 5 |
566 SW Mill View Way, Bend |
crosscutbeer.com