In the course of thirty-five years in the food and beverage business, David Fenech has navigated no shortage of experiences and challenges. He started bussing tables at restaurants while he was still in high school, and went on to hop around the country working in dozens of restaurants and the wine industry. Fenech managed a Cheeseburger in Paradise on Maui, served as operations consultant at a destination resort in Illinois and a winery in Texas, and worked as a winemaker in California and Washington. Halfway through his career, he went back to school and earned a viticulture and enology degree from the University of California, Davis.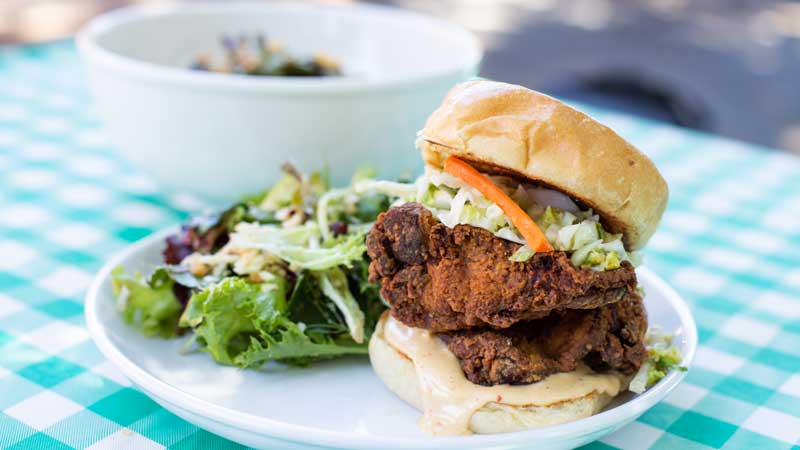 But no test, perhaps, compares to the one he faced this spring, when Fenech opened his own restaurant for the first time (hooray!) the week of the COVID-19 shutdown (not-so-hooray). "We opened as a restaurant but quickly changed to a take-out spot," he said. He set up an online store and carried orders out to the curb for pickup, hoping and praying his dream wasn't about to fade into the sunset over the Central Oregon sagebrush.
The restaurant is Vine-N-Tap, located in the space formerly occupied by Smith Rock Brewing in Redmond. The classic craftsman-style bungalow is spacious inside, with several rooms and a bar area. Outside, decks and patios wrap nearly all the way around the building. When COVID restrictions loosened in June, Vine-N-Tap had weathered the storm thus far and was ready for dine-in, with plenty of room for patrons to spread out.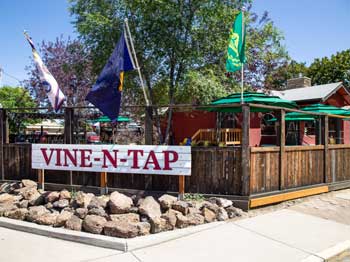 Still, business has been slow to build. That may be because diners, still dazed by the last months themselves, don't know what they are missing. "My goal was to offer fast casual dining, from a menu that changed with the seasons and used local produce whenever possible," said Fenech, who moved to Redmond from Walla Walla last year to be closer to family. "I want different, but similar, to standard fare offered in Central Oregon."
To activate his vision, Fenech hired a couple—chef and bartender—recently transplanted to Redmond themselves, in their case from Salt Lake City. Jennifer West, head chef, crafted a menu with a good balance of healthy, local, crowd-pleasing and comforting. The kale salad with beets and sweet potatoes is a satisfying and tasty nutrient-kick, using locally grown produce from Sungrounded Farms in Terrebonne, while the fried chicken sandwich drenched in buttermilk and spicy flour flew out the door during take-out season, and remains one of the most popular menu items for its savory goodness.
Bartender Shawn Smith said, "Jenny is the best chef I've ever met. She's the most adaptable, and makes things approachable and familiar but different and better." Other menu items include chickpea fritters, a shaved brassica (brussel sprouts, kale, cauliflower and broccoli) salad with pecans and parmesan, charred root vegetables, and crispy Yukon potatoes with curry aioli and peas.
As for Smith, he crafted a cocktail list to die for. Also a chef, and a lover of travel and tasting new flavors from around the world, Smith said, "My approach was to take old school style cocktails and tweak them a little bit." For his Old Fashioned, he soaks hazelnuts in the bourbon for a week. The rhubarb shrub is served up, a blend of Gompers gin, vinegar, rhubarb sugar and lime, served in a classic champagne glass, rinsed with Pernod before the pour. "Wow," said Alex Jordan upon her first sip. "It tastes like a sorbet."
Other popular cocktails include the paloma—tequila, grapefruit and soda with a tajin rim; and the Hub 55, with gin, lavender, elderflower and bubbles. Cocktails are $10 unless you hit happy hour on Thursday or Friday, when they are half the cost. Or just go with the homemade Michelada anytime for $7—beer, clamato, cucumber and lime with a tajin rim. Visit during Local's Aloha Sunday and nosh on specials like West's Nashville hot chicken accompanied by Smith's melon punch. "Or if you'd rather, I'll pour you whiskey with a beer back," he said. Fenech's sister Patricia Sargent helps out during busy times (she's also part owner, as are Fenech's brother and mother), but most days, it's just Fenech, West and Smith holding down the fort. "I wash dishes, Shawn cleans the bathrooms," said West, from behind a mask sporting a cat-chef wielding a knife and a fistful of vegetables. The small but mighty team has many plans, should fate and growth allow. "I planned to do a lot of vegetable-heavy shared plates," West said. "And Dave wants to bring in a weekly farmer's market."
"We're just taking it day by day," said Fenech. As for the day we visited, patrons were pouring in, slowly but steadily. They already knew, or were about to discover, how truly good Vine-N-Tap is.
Vine-N-Tap | 546 NW 7th St., Redmond

  |

vnthub.com