For three years, Brett Miller was in a hospital. In 2005, a roadside bomb blew up six feet from his Humvee in Iraq. Now, the 40-year-old Army veteran is blind in his right eye, deaf in his right ear and is partially paralyzed on his left side. Miller said a lot of disabled veterans' injuries aren't noticeable to others.
Army veteran Talitha Wark served in Iraq in 2003. She said she was lucky to not get blown up, but she's had surgery on her knee, shoulder and back because of injuries she got while on the job.
Wark, 30, was one of fifteen disabled veterans on the 2015 eight-day elk hunt with Warfighter Outfitters in the Mt. Washington Wilderness. The nonprofit, based in Sisters, takes wounded warriors on fishing and hunting trips throughout the Pacific Northwest and in Mexico. This year, they've taken more than 300 disabled vets on fishing trips and more than thirty-five on hunts. The veterans haven't paid a dime. "A lot of these guys think these are once-ina- lifetime trips because we're all working class," said Miller. "If someone was to buy a trip like this, you're paying anywhere from $3,000 to $5,000."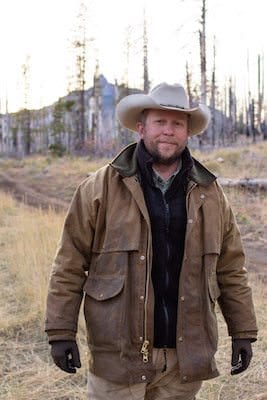 After spending several years taking people on trips using his own funds, Miller, in 2011, founded Warfighter Outfitters as a nonprofit so more veterans could benefit. People started to rally around the cause. This year, the Central Oregon community played a bigpart in making an elk hunt happen. It was a last-minute effort to get veterans who hadn't pulled a tag—another chance to get an elk. Miller said people donated meal cards and sponsorships to get the trip going. "Central Oregon wanted to show these guys how proud of them they are and that's what they did," said Miller.
The trips are as much about camaraderie as they are the hunt. "It doesn't matter what age you are or what type of unit you've been in or what service or branch you've been in, everybody gets along," said veteran Allen Holland, 55.
Wark said she thinks the trips help her and the other veterans more than people realize. "To most people who would come out here and look at this camp, they'd just see a bunch of people hanging out, having a good time," Wark said. "For us, this is our therapy."