The biggest weekend of the summer in Central Oregon is here! No matter where your home base is this holiday there is something for everyone to enjoy this 4th of July.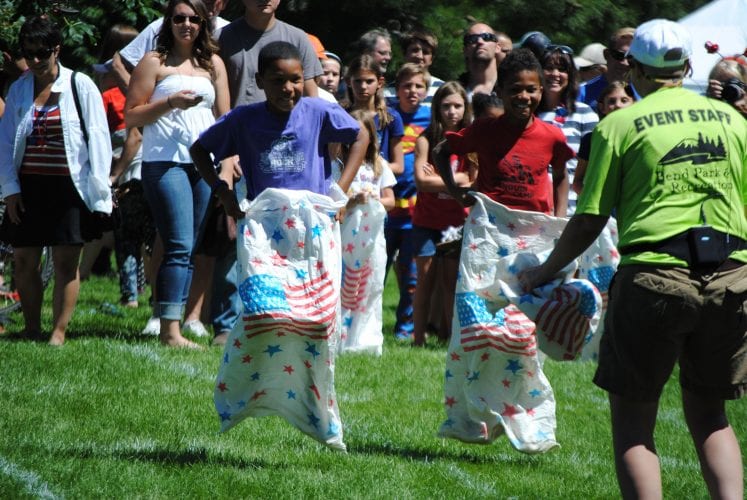 Culver
Maragas Winery Independence Day Grill & Music
Looking for a mellow start to the holiday? The Maragas Winery Has got you covered this 4th with souvlaki and burgers on the grill, wine tastings, beer and soft drinks all day and music beginning at 11:30 a.m. with the Opal Springs Boys. Whether you're looking for a great way to break up your travels or just trying to escape the crowds, this is a surefire way to celebrate your Independence Day.
Bend
Old Fashioned July 4th Pet Parade & Festival
A Bend tradition dating back to 1932—celebrate July 4th with old fashioned fun, food and festivities. Presented by the Bend Parks & Recreation District, the fun starts in the morning with a pancake breakfast downtown. Then the Pet Parade—where dogs, wagons, bicycles and stuffed animals walk the 1.5 mile route through downtown Bend—starts up at 10 a.m. with a decorating party prior to the 9 a.m. line-up.  After the Pet Parade, head over to Drake Park for the Old Fashioned July 4th Festival where you can enjoy live music, local artisans crafts, food carts and free old fashioned fun and games for both the kids and kids at heart.
Freedom Ride
Join Bend's unofficial Fourth of July bike ride. The journey starts at Pioneer Park around 11 a.m. and continues through downtown to Columbia Park where people lay out and let loose to music provided by local DJ's. Despite no central organization, every year thousands of people gather together decked out in their craziest red, white and blue gear for the annual ride. Popular among the younger crowd and gaining a larger following every year, this Independence Day march through Bend's west side is not for the faint of heart. You'll know the Freedom Ride when you see it and if you're looking for more of a rowdy romp around town prior to the cookouts and fireworks of the evening, then this is the event for you.
4th of July Parade at Pronghorn
Escape the crowds in town and head to Pronghorn for an Independence Day celebration! With a golf cart decorating event, relay games on the event lawn, cotton candy, popcorn, potato sack races, water balloon toss, apple bobbing, twister and more. This parade has Fourth of July family fun written all over it.
Bend 4th of July Fireworks Spectacular
The tradition continues! The Bend fireworks will start shooting off from Pilot Butte at 10 p.m. If you can see the butte you will be able to see the fireworks but in case you are looking to lock down a better vantage point you can check out the Bend Parks & Recreation District website to find some of the parks that offer the best viewing spots near you.
La Pine
2019 La Pine Frontier Days
A long tradition in the La Pine community, Frontier Days is La Pine's largest event and celebrates the towns heritage and unique character. This weekend-long celebration is packed with activities for the whole family. There's an apple pie eating contest, a kid-specific fishing pond, lawnmower races, a beard and mustache competition, a men's beautiful leg contest, plenty of food and drinks including a BBQ cookoff and of course fireworks. Running from July 3-6 this is a one of a kind weekend in La Pine that truly embraces the American spirit. Fireworks start at 10 p.m. on the 4th.
Madras
Downtown Madras: 4th of July Party
Start your Fourth of July off with the Independence Day Parade downtown at 10 a.m. then make your way over to Madras's premiere outdoor venue, WildBleu. WildBlue is hosting a fun and relaxed Fourth of July party complete with food provided by The Dancing Bean and live music with Dive Bar Theology. There will be a barbeque, food trucks, drinks and games for the whole family all leading up to the Downtown Madras Fireworks display at Sahalee Park after dark.
Prineville
The 19th Annual Firecracker 100K
For some, there may be no better to start off Independence Day than with a 100K supported bicycle road ride. Starting at 7:30 a.m., the ride will take you along the Crooked River Canyon Scenic Bikeway, then past Brasada Ranch, Houston Lake, and finally putting you back in town just in time for the Crook County Independence Celebration. For many, this has become a 4th of July tradition that they look forward to every year. All of the proceeds benefit The Center Foundation to support Central Oregon Athletic Trainers.
Old Fashioned Fourth of July
Prineville really knows how to let freedom ring. If you're not looking to log 100k on your bike prior to the day's festivities, or you're looking for a quick fuel-up before you hit the road, there is a pancake breakfast starting at 7 a.m. at the Prineville City Hall Plaza. From there get down with some old fashioned fun and light-hearted competition with a central Oregon Tradition at The Splash N' Dash. The competition will include the traditional Splash N' Dash swimming, bicycling, kayaking and running legs, plus a triathlon, which features the same race course minus the kayaking, a duathlon, and the John Marsh Memorial 5K run.
From there check out the Independence Day Parade and then head on down to Ochoco Creek Park for the Crook County Old-Fashioned Fourth of July Celebration. With food, beer, music, vendors, yard games, and kids activities this party has something for everyone. Once the sun dips below the hills make your way to Meadow Lakes Golf Course for the best seats in the house to view the Prineville Fourth of July fireworks display at 10 p.m.
Redmond
Redmond's Old Fashioned 4th of July Celebration
Head over to the Deschutes County Fair Grounds for this free Fourth of July celebration. The day's festivities will include games, bounce houses, pony rides, live music, a zip line, archery, climbing wall and more. The event will run from 11 a.m. to 4 p.m. and will have plenty of concessions for the whole family. There will also be some scheduled activities including a potato sack race, pie eating contest, tug of war, hula hoop contest and much more.
4th of July Fireworks in Redmond
Once you have gotten your fix of festivities at the fairgrounds head home for some evening fun, relax and get ready to head back to the Deschutes Fair Grounds & Expo Center just before sunset to enjoy Redmond's annual fireworks display. The colorful light show will begin at dusk, or around 10 p.m. and is not to be missed.
Sisters
Black Butte Ranch 4th of July Celebration
Black Butte Ranch is the place to be out in Sisters this 4th of July. They will be hosting a traditional-style Independence Day filled with family fun that includes a bike parade, picnic on the lodge lawn, old-fashion games like relay races, water balloon toss and tug of war. There will also be a climbing wall, live music, movie night and much more. If you're looking to get your heart rate up before settling into the day there is a fun run/walk in the morning.
Fourth of July Guest Brewery Cookout: Fort George
Suttle Lodge Chef, Jacob Rodriguez, will be cooking Fourth of July classics off the Traeger Grill at the Beer Garden at the Suttle Lodge. Join him, and guest brewery Fort George for a fun and delicious night at the lake. Dinner will be available at the Beer Garden on a first come first served basis. Complimentary beer tasting and guest beers available by the pint.
Sunriver
Sunriver's 4thof July 5K and 4th of July Festival
Sunriver has got you covered this Fourth. Starting with a fun 5K run that will take runners through the Sunriver meadows with views of Mt. Bachelor and Central Oregon wildlife. From there join in on the Sunriver Bike Parade, with a bike decoration pre-party on July 3. You can race in a giant inflatable obstacle course, jump in the bounce house, play games and enjoy great local food. Bring the whole family for a fun-filled day and show off your stuff in the watermelon eating contest, test your skills on the rock wall or shoot some hoops and much more. If Sunriver is your destination this July 4th, there is no better way to celebrate the nation's birthday!
Other Happenings
Shimano Presents Return To Earth
Bend | July 3 | $12
Playing at the Tower theater Return to Earth is the ninth adrenaline dowsed bike film from award-winning adventure filmmakers Anthill Films. A cinematic journey that will immediately transport you into that feeling of total immersion that you get on a bike ride. Tis the season to get out on the trails and if you need a little more motivation this flick could do the trick.
First Friday Art Walk
Bend | July 5 | Free
It's that time again, head downtown for some post 4th fun at the First Friday Art Walk with a wide assortment of local artists. Local beverages, food, and music are always on the agenda, and demos and other fun surprises are always a possibility.
10 Barrel Summer Movie Series
Bend | July 9 | Free
Join 10 Barrel on the patio of their west side pub as they once again present their cult classic movie series that runs throughout the summer. This fun weeknight activity features themed activities, snacks, and more. The first show this week will be The Sandlot with s'more cult classics showing throughout the summer.