Rebrand in hand, Worthy Brewing looks to solidify its reputation as an industry leader with a renewed focus on sustainability.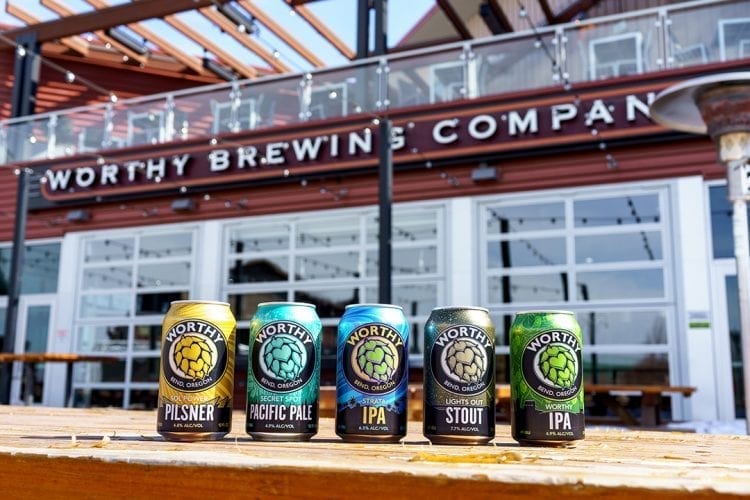 Bend's Worthy Brewing recently unveiled new, redesigned cans as part of a full-scale rebranding effort that showcases the work of a local artist and portrays the brewery's mantra, "Earth First. Beer Second."
The move allows each of Worthy's unique beers to tell their own story, but still fall under a new, bold and consistent brand.
"Each can represents a piece of Worthy's identity," said Director of Marketing Meghan Hoey. "And together they help tell Worthy's story."
That story revolves around making great beer with an organizational dedication to environmental stewardship.
Worthy, founded in 2012 by Roger Worthington, is a local industry leader in green practices including local sourcing of hops and restaurant ingredients, the use of alternative energy—thanks to more than 160 solar panels, waste repurposing and environmentally-friendly packaging.
Additionally, Worthy partners with several local nonprofits including Oregon Natural Desert Association, The Environmental Center, Tour des Chutes, Deschutes Public Library Foundation, Commute Options, The High Desert Museum and the High Desert Food and Farm Alliance.
The Worthy Garden Club is an on-site nonprofit that features a greenhouse and hop yard in addition to the Hopservatory, which raises science literacy through tours, lectures, night sky and solar viewings.
"We're not just a craft brewery in Bend that has great food and good times in the summer," Hoey said. "We're those things and we're a company that donates hundreds of thousands of dollars to nonprofits every year, a company that gives back to the community here in Bend and across Oregon through various events and programs."
The new branding calls attention to all of those efforts and features the work of Bend artist Paul Leighton, whose signature style is synonymous with Central Oregon's outdoor lifestyle. The Sol Power Pilsner features a design highlighting Worthy's commitment to solar energy while the Lights Out Stout showcases the Hopservatory and raises awareness to keeping Bend's night skies dark.
Leighton's hand-drawn work can be found on Worthy's other flagship beer labels and throughout the restaurant and marketing efforts.
Worthy plans to continue expanding its can offerings, but also will continue to bottle select single-serve beers through a new reusable bottling program in September "to get as close to zero waste as we can," Hoey said.
Hoey says the brewery also plans to take steps to become even more sustainable than it already is and, ultimately, serve as a catalyst to broader efforts. "Hopefully other businesses follow suit and maybe policies even adapt," she said. "And we have delicious beer as a great vehicle to push that message."
The unique brews, on-site observatory and garden and creative restaurant space are just part of what help Worthy stand out in an area chock-full of amazing breweries. It's exactly the culture Worthington envisioned when he opened the brewery.
"At Worthy, we want to enhance the guest experience," Worthington said, "and also do the right thing by Mother Earth."
Earth Day Launch Party
It's fitting that Worthy has chosen Saturday, April 20, to celebrate the new can launch with an Earth Day celebration in collaboration with The Environmental Center in Bend. The festivities at Worthy will kick off at noon, following the Environmental Center's annual parade and fair. Events include brewery tours, solar viewings and Hopservatory tours, information booths with Worthy's community partners, special food offerings live music from Precious Byrd and more.
Worthy will join The Environmental Center in selling raffle tickets throughout the day for a handful of prizes, including a two-night staycation at Brasada Ranch. Proceeds from the event will go to The Environmental Center.
Event Details
12-2 p.m. Hopservatory tours and solar viewing
3-4 p.m. Brewery tours
3:30-4:30 p.m. Succulents from the Worthy Garden Club will be sold in the new cans
3:30-5 p.m. Worthy's community partners will set up on the patio to share their mission and offer information on ways to get involved.
5:30-7:30 p.m. Precious Byrd takes the stage
8-8:30 p.m. Raffle prizes will be announced