Nothing goes better with brisk nights than a bowl of flavor-rich soup, freshly made in the comfort of your kitchen at home. Try incorporating a dash of Pacific Northwest flavor into these soups, whether it's with a local craft brew to liven up beer cheese soup or fresh Oregon potatoes or onions in a savory veggie stew or French onion soup. Slurp a spoonful of Oregon and warm right up.
Oregon Beer Cheese
At first blush, mixing beer and cheese might sound a bit odd, but it's truly a winning combination and classic comfort food when done right. While the roots of beer soup go back to medieval Europe, it's the state of Wisconsin known for popularizing the cheesy variety, typically made with a classic medium or sharp cheddar cheese. And while Wisconsin may have the strongest cheese game, we'll take full advantage of Central Oregon's numerous breweries for options to round out the beer portion of this soup. Save the hoppy IPAs for drinking though, as beers with subtle flavors, like a wheat beer or a pilsner, are good options to complement the tangy cheese.
Want to try your hand at making your own? Here is a recipe to try.
Hearty Vegetable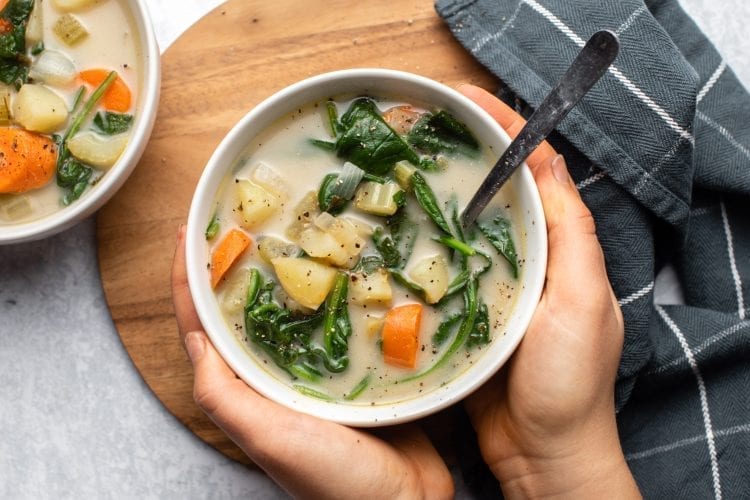 Vegetable soups are a failsafe option for warming up our bellies on a cool winter night, and they are as simple to create as sautéing vegetables, adding spices and broth and cooking to perfection. Whip up a colorful soup by mixing carrots, bell peppers, diced tomatoes, green beans and celery. Make a more filling medley by incorporating potatoes. These root vegetables are grown plentifully in Oregon, with 45,000 acres of potatoes harvested in 2020 alone. Let the potatoes soften up with the soup's flavors through a long simmer and then top each bowl with fresh kale or parsley for an added pop of greenery.
If you are craving veggies, check out this recipe.
French Onion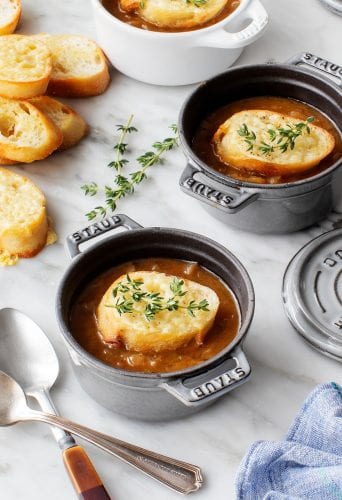 Often a popular menu item at restaurants, preparing French onion soup at home is easier than it may seem. Spices, beef broth and caramelized onions, of course, mix together to create a salty, cozy soup, best served with (or inside) bread for soaking up the flavors. Here in Central Oregon, we're practically neighbors with many of the country's onion growers, who harvest the crop in early fall across eastern Oregon and southwest Idaho. Volcanic soils and dry climate lead to some of the best tasting onions out there, with desirable mild flavors and large sizes. Top off this fragrant soup with croutons and a generous sprinkle of cheese, and dive in.
This easy French onion soup recipe looks delicious!