With some extra time on our hands, some of us have taken up old hobbies again, or challenged ourselves to try a DIY project. If you haven't already, now's the time to take a crack at some of the home wishlist to-dos you've been eyeing for some months, or maybe years. These are the home projects we've dreamed up that really are within reach—if only we made the time.
Each of the projects outlined here can be done for around $150 or less and completed between the span of an afternoon and a weekend, depending on how many breaks you take. Find inspiration in these ideas, then make them your own.
Accent Voila
Accent walls have come a long way from the randomly painted purple or lime green wall you may picture when you hear the phrase. Today's accent walls can add something different than a burst of color—they can bring texture, character and depth to a room that may otherwise feature a big blank wall. Board and batten, shiplap and paneling offer a classic touch and are all versatile options. Go traditional with all white or show your style is au courant with a moody color like a deep blue or dark green. You'll just have to do some measuring and math, and for supplies you'll need to pick up MDF or wood, nails, adhesive, sandpaper and paint. Wallpaper also makes for an eye-catching statement and stays affordable when you're only covering one wall. Temporary wallpaper is another fun, affordable option that's easier to undo for a space like a child's room that needs to grow with them. Plus, temporary wallpapers offer mural options too, that go beyond just a flat print.
Vinyl Revamp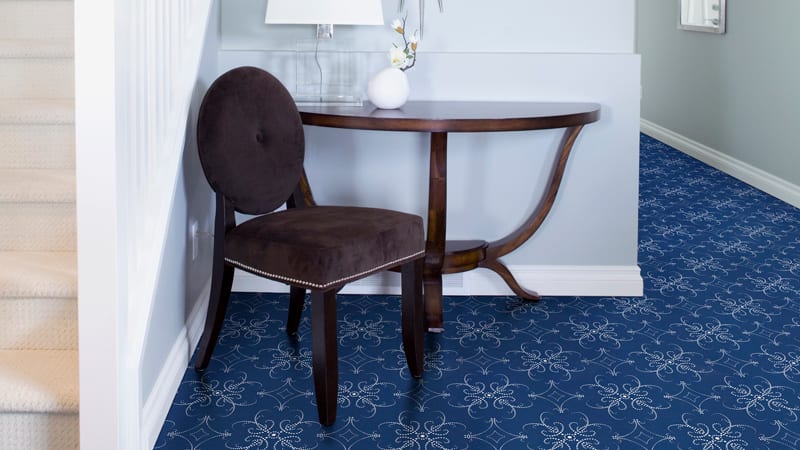 Want to try out a new flooring style without a high price tag or big time commitment? Vinyl stickers just might be your new best friend. Available in a huge variety of colors and patterns, peel-and-stick vinyl tiles can mimic real tiles or a variety of common flooring options, and can be used to freshen up kitchens, bathrooms, laundry rooms or even a dated backsplash. Depending on the product you choose, peel-and-stick vinyl can be easily removed and even rental home friendly. Try a bold black and white pattern, mix together colors for a one-of-a-kind design or keep it classic with a solid color that complements a room's existing look.
Kitchen Cabinet Refresh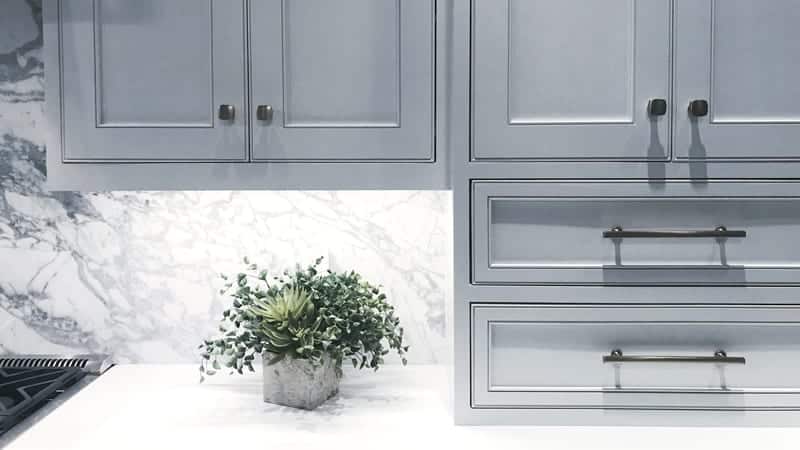 Sometimes all it takes is a small tweak to have a big impact on a space. Kitchen cabinets really set the tone of a kitchen—which is why something as simple as hardware can make a difference. Consider changing out your dated pulls with a cleaner new style that still complements the colors and finishes in your space. Nickel continues to be a frontrunner for kitchen hardware, while soft gold and matte black have made a name for themselves in recent years. Count up the number of cabinets and drawers you'll need pulls for, calculate the most you'd like to spend per pull, consider the existing holes your pulls will leave behind (depending on the width of a handle, for example), and get to shopping. All you'll need is a screwdriver and some patience for installation.
Porch Perfect
Repainting your front door can be as simple as wiping it down and giving it a sanding and coat of primer before transforming it with a new color. Choose a go-to pop like a deep red, a classic yet trendy choice like true black or lighten things up with a shade of light blue or yellow that suits your home year-round. If you're willing to put in the extra time, swatch a couple of samples and take a peek throughout the day as the light changes to know you'll love your new front door in the sunshine, with cloud cover and under the porch light come night.
Whichever idea makes your DIY heart skip, it's not too late to check off a project or two in your own home that you haven't gotten to yet. In addition to these projects helping pass the time and sharpen your Bob Villa or Martha Stewart skills. There is something to be said for putting some thoughtful energy into the places we spend so much time.