While many entrepreneurs dream of one day opening a brick and mortar storefront to showcase their business and reach customers, the risks and cost of doing so can be a barrier for many.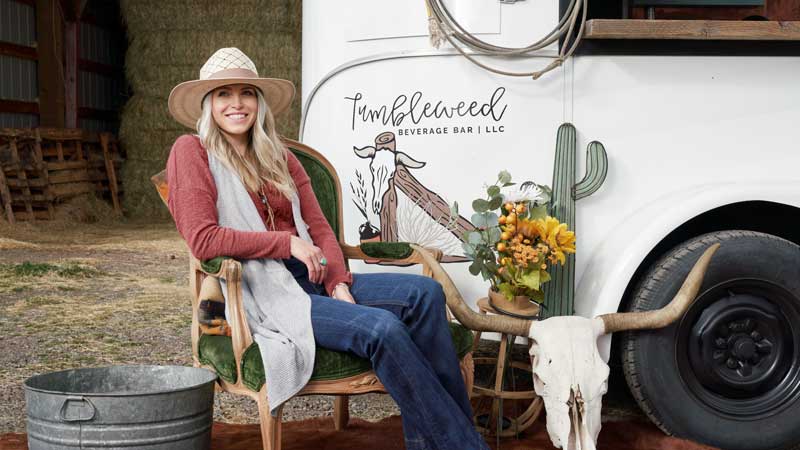 Finding the right location can be a challenge, expensive, and a storefront is a commitment that typically comes with a long-term lease or mortgage. This leaves some local entrepreneurs thinking outside the box, beyond the typical storefront, instead hitting the streets in their trucks and trailers and setting up shop wherever makes sense. Their rents are low (sometimes free), they can make house calls for customers, and they're nimble enough to adapt in the face of economic uncertainty. A mobile business may not work for every company, but these Central Oregon business owners are cruising along.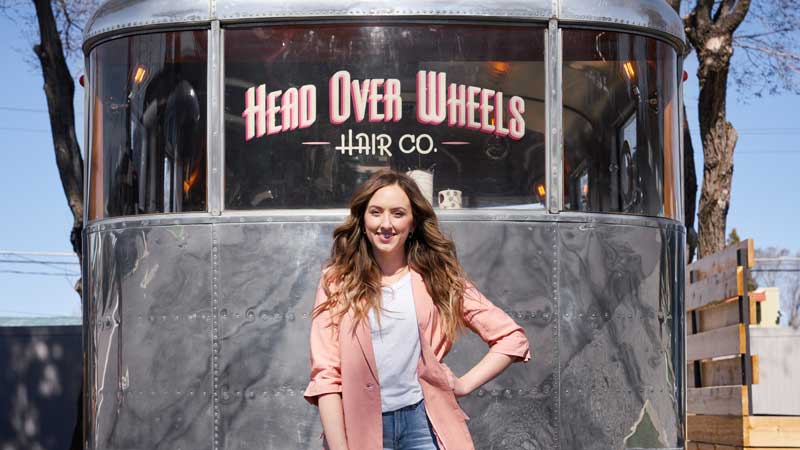 Head Over Wheels
Hair stylist Jyliana Renstrom was looking for something with a little more independence than renting a chair in a barbershop, but with a little less overhead than operating her own Main Street salon. And flipping through photos online one day, she came across a converted Airstream trailer that sparked an idea. "I wanted to take a leap of faith, and so I did this," said Renstrom, a Bend native. 
After a client connected her with someone selling an empty 1947 trailer made of World War II airplane parts, she set out to make her dream a reality. Renstrom opened Head Over Wheels in April 2017, and within eighteen months she was booked solid. After testing out a few locations, including at Spoken Moto and Podski's, Head Over Wheels found its current home at The Camp, 305 NE Burnside Avenue in Bend.
Inside the salon are two styling chairs and one washing station, as well as a seating area, shelves for products and ample sunshine from the trailers wide front windows. "Everything inside is really thought out," Renstrom said.
She said her costs for rent and to operate the shop add up to a little more than renting a station at a salon, but are much less than if Renstrom wanted to open a typical brick and mortar business herself. Going mobile means Renstrom gets to focus on being a stylist rather than being bogged down by the responsibilities of operating the business. Overall, it's a decision Renstrom is happy with. "It's cool how my community and my clients have come together in different ways and supported me in this journey," Renstrom said.
The best part of getting your hair done in a shiny "hairstream?" Checking out your reflection in the chrome after you step out the front door.
Visit the trailer
Sneak a peak of Head Over Wheels at The Camp, 305 NE Burnside Ave.
Find the latest info and book an appointment by visiting
headoverwheelshairco.com

.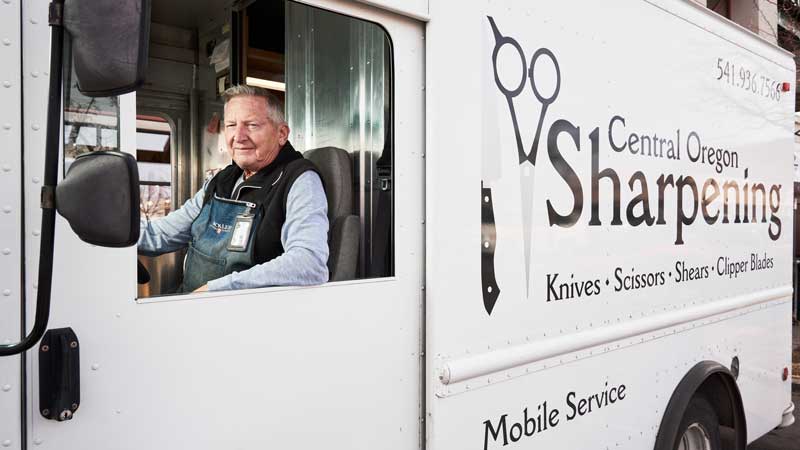 Central Oregon Knife Sharpening
When Arlan Mendell got his first knife and sharpener from his grandfather at age 12, he could never have imagined decades later he'd be running his own mobile knife sharpening business in Central Oregon. While he carried the knife and used it throughout his life, and taught his own sons to sharpen their knives, it was nothing more than a hobby until 2016, when the previous owners of Central Oregon Knife Sharpening were selling their business.
Five years later, Arlan Mendell runs the mobile shop with his son, Peter, traveling to businesses throughout the week for sharpenings and setting up in front of grocery stores to pick up business from the public. Though he can sharpen too, Peter Mendell mostly handles administrative tasks and interacts with customers, while his dad does the majority of the knife work. "I'm the horsepower and he takes care of the finer details," Arlan Mendell said. Shop dog Lily, a very fluffy Corgi, handles the summer sunbathing and occupying children who tag along to drop off or pick up knives.
The Mendells get a lot of their work from restaurants, school districts and other businesses using knives and scissors, like dog groomers and hair stylists. Being mobile means limiting the time their customers spend away from their equipment, and the mobile sharpening shop has all the tools a permanent location would. "Just because we're mobile doesn't mean we lack in quality," Arlan Mendell said.
The remainder of the company's business comes from Central Oregon residents with regular kitchen knives. They can be dropped off and sharpened in as little as twenty to forty minutes, which works out to a shopping trip or a couple errands.
The Mendells said there are pros and cons to being on the go, but they like the freedom to travel around, including making visits to Madras, Prineville, Sunriver and La Pine, in addition to Redmond and Bend. Because they're constantly mobile, there's no rent to pay, keeping overhead costs low. "It's a double-edged sword," Peter Mendell said with a laugh. "Having a brick and mortar store, people know where you are…but on the flipside, we have flexibility."
Find the truck
Check
cosharpening.com

for updates about the truck's location.
Central Oregon Knife Sharpening's regular stops: 11 a.m. to 3 p.m. Tuesdays at Newport Market in Bend | 11 a.m. to 3 p.m. Wednesdays at Whole Foods Market in Bend |Occasional Saturdays at Taco Salsa in Bend | Second Friday of each month at Ace Hardware in Sisters
Tumblewood Beverage Bar
The Tumbleweed isn't your typical bar, and not just because it's on wheels. Owner Kindra Hayward set out to create a mobile saloon that is classy and sophisticated, while also maintaining its western charm. The result is a converted horse trailer, with four beer taps, an espresso machine and everything needed to serve up signature cocktails for a wedding or special event.
"I knew I wanted the western flair, while staying classy and true to who I am," said Hayward, who lives in Prineville with her husband and three children, ages 7, 4 and 1. The idea first came to Hayward about four years ago, but as a busy stay-at-home mom and with the family's new house under construction, opening the mobile bar kept getting put off. With some help from friends with skills in carpentry and metal fabrication, the Tumbleweed was finally completed last summer. "I wanted to prove to myself that I could do this," Hayward said.
In August, Hayward worked her first wedding, dishing out specialty cocktails along with another server. She said the Tumbleweed's niche is that it serves two to three specific cocktails for each event, not a full bar, meaning the bride and groom can choose some signature drinks for the night. This can include wine, beer, kombucha, coffee or cocktails.
Hayward said the low overhead of starting a mobile business means it's accessible to more people, as long as they're willing to work hard. Growing primarily by word of mouth and some social media, Hayward said the business is slowly gaining popularity and she's booked numerous weddings for the upcoming season. "I'm super grateful, and in disbelief that I had this vision and I've seen it through," Hayward said. "I'm so blessed with all the support."
Book the bar
Visit
tumbleweedbeveragebar.com

to schedule the Tumbleweed for a future event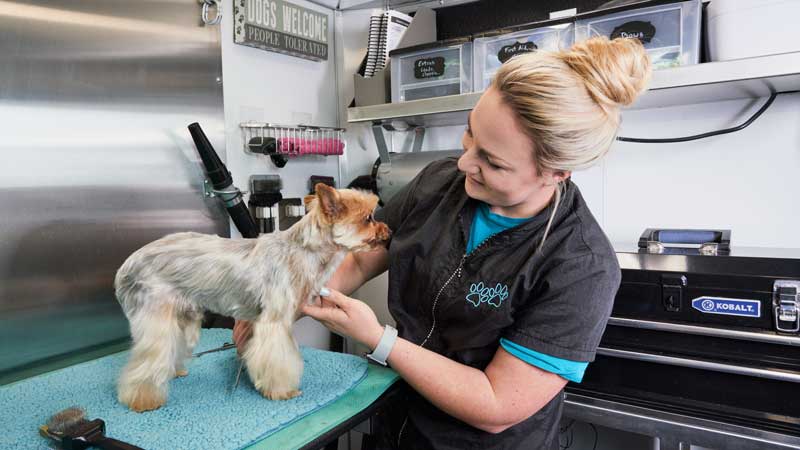 Fancy Pups
When Taylor Prichard started Fancy Pups Mobile Grooming in California three years ago, she transitioned from working at a grooming shop with a storefront location, and some of her furry customers came with her. "Because of the fact that I started my mobile business in kind of the same area, I was able to see an immediate difference in the dogs," Prichard said. Dogs that were overwhelmed in a busy grooming office with other dogs, blow dryers, clippers and ringing phones were suddenly more at ease.
A year later, her family moved to Redmond, and she worked to restart the mobile grooming shop here. For new customers, Prichard meets with dog and owner inside their home to fill out paperwork and discuss grooming needs before heading out to the trailer, which has warm running water heated by propane and a generator for power. Typical appointments last an hour, but could be more or less depending on the dog's size and type of grooming. "The dogs will run out and meet me and jump right in the trailer," she said. Prichard said the one-on-one attention the dogs receive is less stressful for dogs and faster overall.
While Prichard loves the flexibility of being mobile, traveling mostly between Bend, Redmond and Prineville, one challenge is the weather. She starts later in the mornings in the winter to avoid icy roads and sometimes tells clients she will be late if its snowy. She's also aware of the temperature to make sure her trailer's pipes don't freeze.
Two years into running the business in Central Oregon, Prichard said that despite being one of many groomers in town, including other mobile groomers, she's found a strong customer base.
"This is a super dog friendly area, so it really took off here," she said. "There are plenty of dogs to go around."
Schedule a grooming
Visit
fancypupsmobilegrooming.com

to schedule an appointment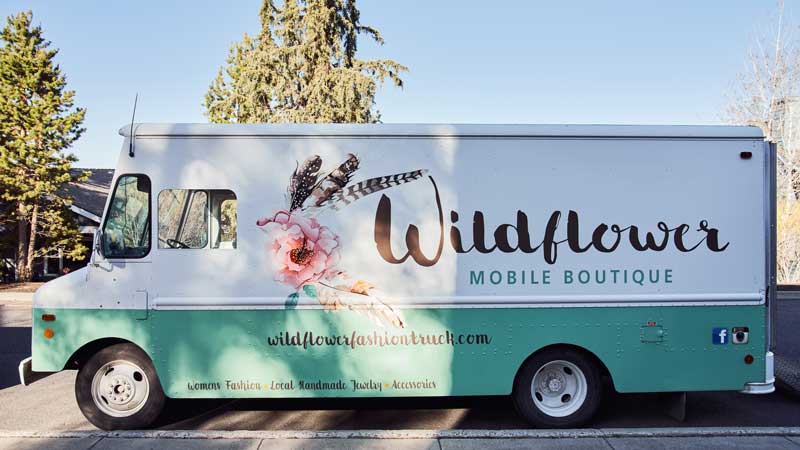 Wildflower Mobile Boutique
After a life-altering concussion from a car accident in 2019, Tara Parsons was looking to take her career in a new direction, away from computers and the hustle and bustle of her previous jobs.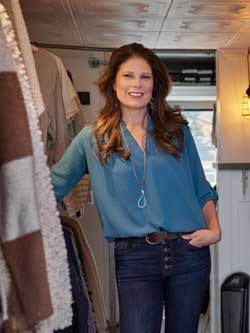 Parsons was a customer of Bend's first mobile women's fashion boutique, and thought maybe a small mobile business would work as her next career. When she stopped into Wildflower Mobile Boutique to chat with then-owner Mariah Young about her idea, fate stepped in. Young had decided two days prior she was going to sell the shop and Parsons, of course, was interested. Three weeks later it was a done deal. "She had done an amazing job with such a great vision," Parsons said of Young. "The truck has such a good reputation in town." Parsons has since taken the helm at Wildflower, and continues to stock boho-style women's clothing, as well as locally made jewelry and beanies. "I try to have a huge variety," she said.
The typical home base for the boutique is at Spoken Moto, though Parsons will scoot over to downtown during First Friday, set up in front of the new Kevista Coffee on Century Drive and hit the road for occasional events and fundraisers. The truck can also be booked at no charge for a ladies night or other events, by request. "Being mobile is so great, I can just pick up and go," Parsons said. "I can plug in with an extension cord and be ready."
With minimal costs to operate, Parsons said she feels the business is flexible and "recession proof." Are there any downsides? Parsons said it took a little trial and error to get the converted Frito-Lay truck to stay level, a necessity to keep the doors closed and the shop warm in the winter. And, Parsons said, "She is a bit of beast to drive."
Find the boutique
The Wildflower Mobile Boutique's most recent home was parked at Spoken Moto, 310 SW Industrial Way, Bend
Use the Track the Truck page at
wildflowerfashiontruck.com

to confirm its location | Email

wildflowerfashiontruck@gmail.com

to arrange a visit from the truck for events