Agricultural Connections is a local organization that centralizes local food shopping for individuals and restaurants.
Farmers' markets and CSAs (or "community supported agriculture," a direct-to-consumer subscription model for individual farms) are the most common ways people buy local food. Agricultural Connections centralizes local food shopping with one online marketplace, working with dozens of regional food producers to offer consumers more variety in one convenient platform. After the godfather of local food sourcing, Jackson's Corner, signed on as Ag Connect's first commercial partner in 2010, it was clear that restaurants and individual consumers alike were seeking local food from one streamlined source. Today, Ag Connect supplies more than twenty-five commercial partners (mostly restaurants).
CSAa
Orders are available for pickup or delivery across most of Central Oregon. Shoppers either subscribe or make a one-time produce box purchase up to two days before the weekly fulfillment, or go online and fill their digital shopping cart, ordering any item in any quantity.
Year-round Supply
When Liz Weigand bought Ag Connect before the end of its first year in 2010, an existential question hovered over the business: How can this become a year-round resource in the High Desert? "There was no way for the local food system to grow, evolve and flourish without the integration of the rest of the state," she said. "We are completely committed to our network of producers here but if people are going to create local food habits, they need consistency. Supplementing with producers from the Willamette Valley was necessary to create the momentum to keep the business alive. Partnerships are invaluable. It's Oregon food. We are all in this together."
Dynamism
While the variety of offerings in the online store doesn't rival a supermarket, Ag Connect does work with at least thirty Oregon producers at any given time, which means that customers can order everything from produce and dairy to meat and pantry items. We've been told we're like a lubricator for the food system," said Weigand, "developing channels for our suppliers and helping our customers get multiple offerings."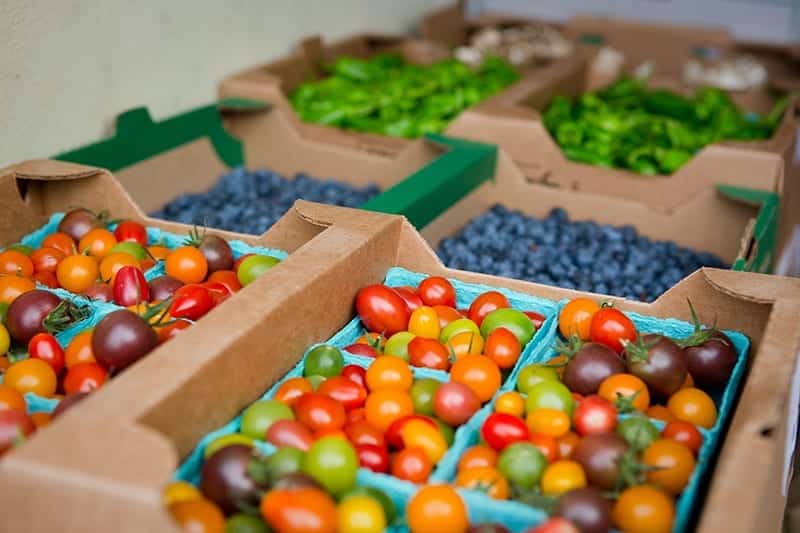 Farm to Screen
Manya Williams is Weigand's new business partner and she is laser focused on the company's e-commerce. "I'm seed to plate—building relationships with producers—and she is plate to seed, looking at things from the customer's point of view," said Weigand. Having a smooth, web-based platform will help with logistical ease as their team builds out more delivery routes. (Current deliveries in Bend three times a week; Prineville and Sisters once a week.)
Transparency
As long as we are communicating the practices of each farm, we've seen success," said Weigand, when asked about whether Ag Connect has a policy on their suppliers' farming practices. "Most is sustainably grown with organic practices, whether certified or not. The customer can make the decision if they have the information. For example, we had cherries that were conventionally grown this year and if the shopper added it to their shopping cart online, they were notified about the farm's practices."
Symbiosis
The symbiotic relationship between Maker's District grocer, Central Oregon Locavore, and Ag Connect began the year they were each founded, in 2010. Combined, the two companies buy and sell more Central Oregon-grown foods than anywhere else in the region. Locavore looks to Ag Connect for much of their sourcing and Ag Connect buys eggs from Locavore to sell to their customers.