Omitting lifts entirely, more and more skiers are preferring to travel uphill under their own duress before enjoying a downhill plunge into powder. For many reasons, exploring what lies beyond the out-of-bounds signs of developed ski resorts by backcountry skiing is a popular way to recreate in Central Oregon.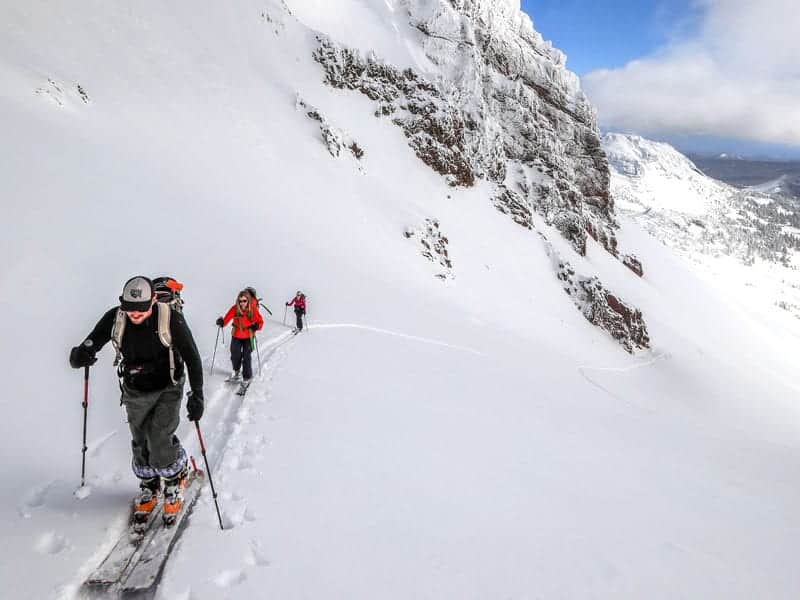 First and foremost, the appeal of escaping crowds motivates many to push into the backcountry. Rather than waiting in lift and parking lines with the masses, skiers are eager to find untracked caches of snow, even at a higher aerobic cost. The harder to reach, the more likely the slopes will be untouched. 
For Allison Miles, local avalanche educator and Central Oregon Avalanche Center board member, backcountry skiing reflects a lust to go where no one has gone before. Miles relishes the opportunity to see terrain in its winter coat. "The mountain landscape looks really different during the winter," Miles said. 
Appreciating what motivates a person to venture into the backcountry is one thing. Understanding the gear is another world entirely. Backcountry skiing starts with a piece of fabric, akin to carpet, which is affixed to the bottom of the skis. This "skin" only allows movement in one direction—uphill. Specialized backcountry skis are also equipped with heel lifts which help reduce leg strain during what can be hundreds to thousands of feet ascending.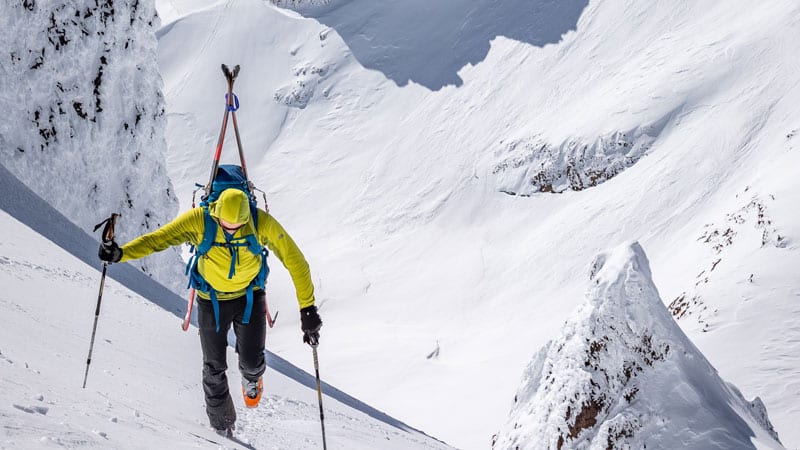 These features are also present on splitboards—the snowboarder's version of winter backcountry equipment. For both backcountry skiing and snowboarding, when it's time to cruise down slope from the top of the hill, skins are removed, heels are lowered and a split board is transformed back to a single plank. 
Other requisite gear (besides that which you'd bring on the lifts or for a winter hike) includes a backcountry specific pack, avalanche beacon, probe and shovel. More on this in the safety section. 
Wintertime solitude, scouting fresh tracks and touring the seemingly uncharted acres are just a few cherries on the summit Sundays calling many a snow enthusiast into the backcountry. 
Top Destinations
The Cone
Adjacent to Mt. Bachelor's West Village parking lot, the Cone is the best place to start for beginners and a tried-and-true escape for quick sunrise or sunset sessions. With a descent of just more than 700 feet and a friendly gradient, this is a welcoming destination to those just getting their feet wet, or for those in a time crunch. Mt. Bachelor has guidelines on uphill traffic routes. Check the website for best practices. New this year: Reserve a free parking pass to enter the parking lot. 
Tumalo Mountain
East of Mount Bachelor, across the saddle of the Cascade Lakes Highway, Tumalo Mountain beckons. While Tumalo can also be skied on a time crunch, the ascent is 1,900 feet over a three-mile cross section and conditions can vary. Access can be found from Dutchman Sno-Park. To ensure parking, a pre-sunrise departure is recommended as snowmobilers and Elk Lake Lodge visitors also utilize this modest lot. Routes up vary and are all up the west face. Once at the top, some choose to descend the same route traversed for summiting, while more experienced enthusiasts may choose to drop down the steeper east face. The route out after the east face descent circumnavigates the shaded, often icy, north face of Tumalo.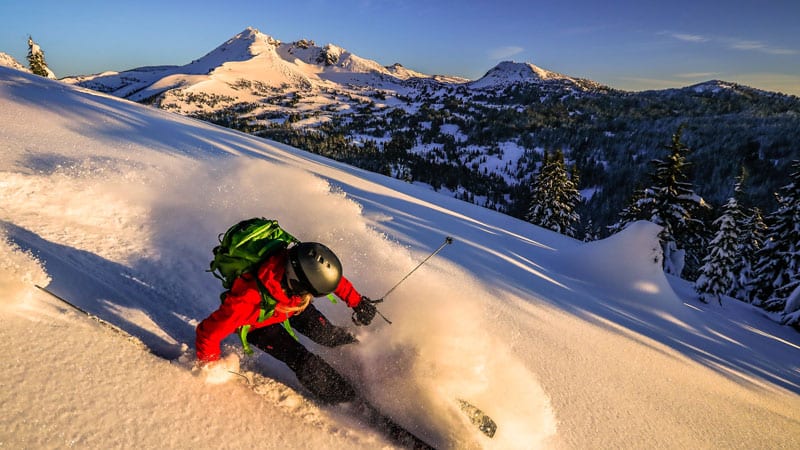 Broken Top Bowl
Shaped like a massive concave jagged bowl, Broken Top is located to the northeast side of Mount Bachelor. The seven-mile approach to the south face can be accessed by a thirty-minute snowmobile ride from Dutchman Sno-Park to the wilderness boundary near Todd Lake, with miles of hiking to follow. Many decent lines can be chosen from the summit ridge of Broken Top, all corresponding and named in reference to a clock face. This adventure can be accomplished in one day or some make it an overnighter. Because of the endurance and distance, consider contacting Oregon Ski Guides and enlist the services of a professional guide.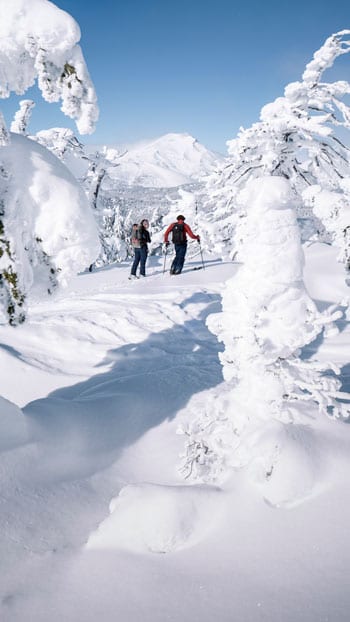 Safety & Avalanches
'Know before you go' is a quintessential phrase for the backcountry. This includes having proper equipment like an avalanche beacon, receiving knowledgeable instruction on how to use it and learning how to read snow conditions. Backcountry certifications are given in the form of American Institute of Avalanche Research and Education course levels 1-3. Trip check and conditions report tools include Central Oregon Avalanche Center and Northwest Avalanche Center. Be sure to adhere to leave no trace ethics while exploring. Be kind to the land and the people, and mind parking and trail etiquette.
Hire a guide
Oregon Ski Guides & Timberline Mountain Guides
For glacier skiing at Mount Hood, a Broken Top bowl tour, a guide for a day tour or an educational intro to backcountry skiing or riding, contact these professional guides. 
Three Sisters Backcountry
Need avalanche training? Want to check out Tam McArthur Rim or travel hut to hut, yurt to yurt? Then these are the knowledgeable guides you are looking for.