The globe-trotting odyssey of 81-year-old Marda Stoliar and her Bend-based International School of Baking would easily fill the countless number of cookbooks she has studied, gathered and reviewed during the past four decades. Since opening the school in 1985 from her Awbrey Butte home with its state-of-the art kitchen, Marda estimates that several hundred aspiring or professional bakers from across the globe have benefitted from her expertise. She has flown around the world as a consultant with the U.S. Dairy Export Council and the U.S. Wheat Associates, plus has taught baking classes at Central Oregon Community College.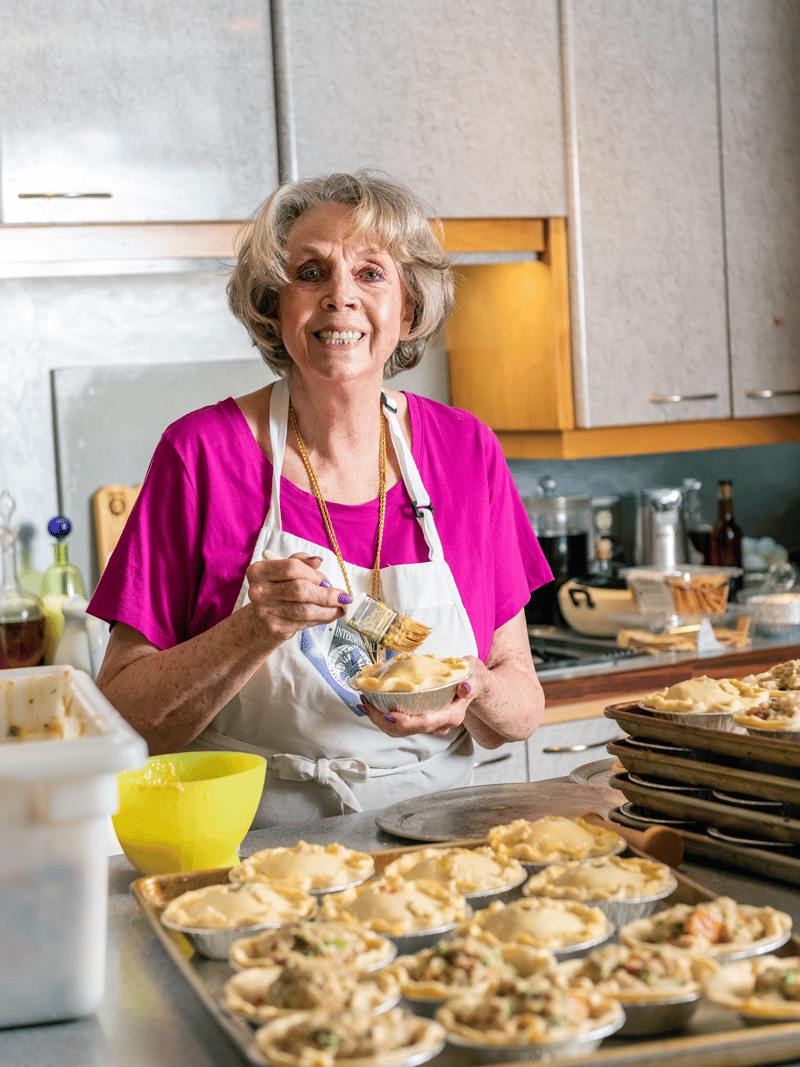 For years she read and judged hundreds of cookbooks for a national contest. Her advice for buying the right cookbook? "Read the section on equipment and everything else that comes before the ingredients list—that's the expertise you are paying for," she said. 
Raised in Portland, her initial ambition was to be a shoe designer. A fashion design degree from the Pratt Institute in New York led to her start her own successful shoe design company, followed by marriage in 1968 to businessman David Stoliar, and a move to Tokyo. World War II history buffs may recall Stoliar's name from the book "Death on the Black Sea." David was the lone survivor of more than 800 Jewish refugees aboard the Sturma, a ship that exploded and sank near Istanbul, Turkey. For several years, the shoe business took the Stoliars throughout Europe where Marda also learned about European pastry baking in Paris and breads in Venice. 
The lure of Central Oregon's clean air and bucolic environment brought the Stoliars to Bend in 1972, eventually leading to Marda opening Breads of France in 1979 in the downtown building now occupied by Toomie's Thai restaurant. A serious bout with arthritis in her hands forced her out of the bakery in 1983. 
Two years later, Marda opened the doors to her International School of Baking, and attracted professional chefs, bakers and "wannabes" from four corners of the globe. Her school mantra says a lot about Marda's dedication to baking: "A bakery school is only as good as how successful a person is after they leave," she declared. From bread makers in China to cheesecake chefs in Italy, clients from around the world come to Bend to be taught by Marda. What sets her school apart from the hundreds of baking and culinary schools throughout the world? She would point to the one-on-one interface and mentorship she provides to each student. "I work with students one-on-one to help them achieve the results they desire and deserve as bakers. Our program is founded on three core components: custom-tailored education, side-by-side implementation and improvement through mentorship," she explained. One of her favorite success stories was the catalyst for "Marda's Gift," a recently-released film documentary on her career as told via the success of one of her students who opened a family bakery in Wyoming.
In 2013, Dr. Ezdan Fluckiger, an emergency room physician in Torrington, Wyoming stood at the intersection of three critical paths: professional burnout, the future facing his teenage daughter with Down's Syndrome, and a passion for baking. That's when Fluckiger Googled "how to start a bakery," and found Stoliar's website. After investing four intense weeks of hands-on learning with Marda, Fluckiger returned to Torrington and two years later opened his own bakery: The Bread Doctor. Both his daughter and wife are involved in the bakery and both are featured in the film. Fluckiger acknowledges that without Stoliar's mentoring, none of this new life adventure for his family would have been possible. 
The story doesn't end there. The Fluckigers now consider Marda part of the family, and the feeling is mutual. "The whole family is just wonderful, and they treat me so well…even inviting me to join them in Wyoming every Christmas and Easter," Marda said. It's this type of personal apprenticeship and learning intensity that has impacted so many of her students over the years as she now moves into yet another phase of her career. This phase involves another one of her former students. Veronica Flefil de Bueso came to Bend from Honduras twelve years ago to learn how to open a bakery. Today, not only does she run a her thriving baking school, but, in Marda's words, "She's one of the best baking teachers I have ever worked with." Marda is so impressed with Veronica that she's taken her on as an active partner, even entrusting her with the more than 4,500 formulas and recipes that Marda has cataloged over the years. Marda Stoliar has become totally involved with aspiring bakers from different cultures across the globe over the years. "This is my life and I love it." she said. 
Broadcast outlets for "Marda's Gift" documentary may include Oregon Public Broadcasting, Wyoming Public Broadcasting, as well as local independent film festival, BendFilm in 2023. See schoolofbaking.com and mardafilm.com. 
---