The past year was certainly tough on humans, but it was pretty good for dogs. People staying home could lavish pets with attention. For many, it was the perfect time to add a furry companion to the family. Animal shelters across the country could hardly keep up with demand, and Central Oregon was no different.
At the Humane Society of Central Oregon, not only was the number of adoptions up, but fewer lost dogs came into the shelter. "It was heartwarming how quickly the animals found homes, even older dogs," said Lynne Oushida, HSCO community outreach manager. The organization matches dogs to families according to their energy, personality and available space inside and outside their homes. "There is a good fit for every person and dog, if we just wait for it," Oushida said.
Once a dog becomes part of the family, backyard design takes on new significance. Dog-friendly spaces require more than a leash and water bowl—the yard should be a safe, healthy refuge for exercise and relaxation for the whole family.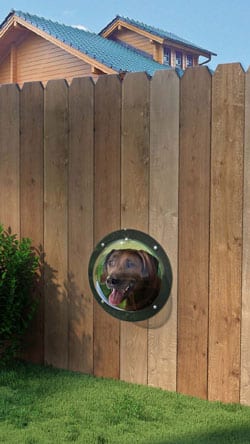 No Dog Left Inside
The first challenge of a dog-friendly backyard is defining the boundaries. Fencing options abound—wireless electric fences adapt to any terrain, even rocky hillsides, but training can be challenging. Solid fences also work well, keeping the family dog home while keeping other animals out. Some dogs love a viewing window in their fence, where they watch the world go by.
Sarah-Anne Reed, dog behaviorist at Pack Dynamics LLC in Bend, considers the dog's personality when choosing fences. "Solid fences will reduce the triggers for dogs who instinctively bark at strangers. For athletic dogs, strategic landscaping can stop them from jumping the fence," Reed said.
Once boundaries are established, a dog door may be the next step, allowing dogs to let themselves outdoors when they please and back in when they're ready. Some inexpensive, easy-to-install models fit into a sliding glass patio door, offering a temporary or rental-friendly option. Permanany doors installed in an exterior wall or door are more secure but require some construction skills. Dog doors allow pups freedom to get outside, on their own schedule.
Dog-Friendly Landscaping
When it comes to landscape features, a simple patch of grass is number one on Reed's list. Grass stays cool and is easy on paws, especially under leafy trees. "Even a small area of shady grass feels great for play or for naps," she said. Shade is critical during the hot summer months in the high desert, whether from trees or a sun canopy.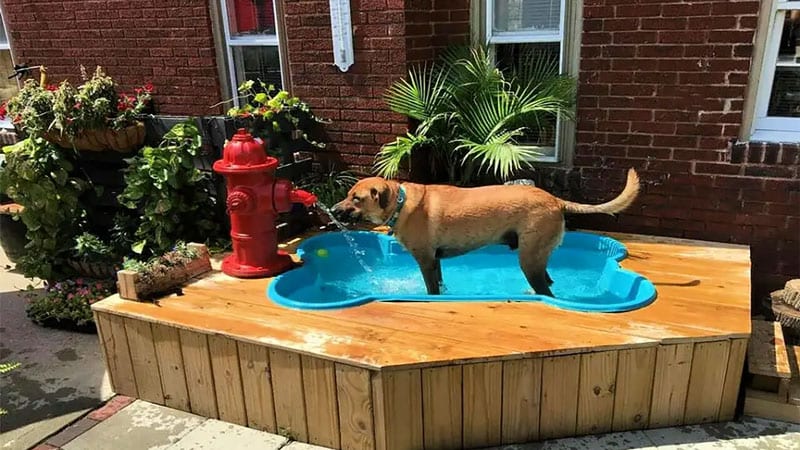 If games of fetch range beyond the grass, stretch a running path across the yard for chasing balls. Dogs naturally create their own paths, too, and covering their trails with splinter-free mulch or softer crushed rock keeps the dust and mud at bay. Cedar chip paths can offer cushion beneath their feet and are known to repel fleas, too. Avoid cocoa mulch—like dark chocolate, it's toxic to dogs. 
No dog yard is complete without a source of fresh water, and today's backyard makeovers often ditch the old-school jug dispensers for water features the whole family enjoys. From simple fountains to waterfall ponds to burbling creeks, any installation built low to the ground can keep dogs hydrated and happy. Water-loving dogs will appreciate the opportunity to cool off, especially in the heat of summer.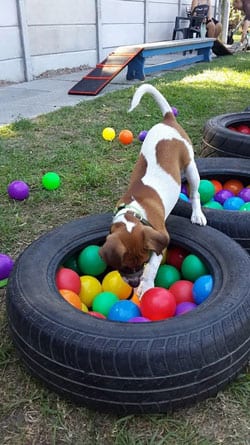 Toxin-Free Gardens
Most dog families already choose natural pesticides and herbicides rated safe for pets, but a surprising number of plants contain poisons, too. Tulip and crocus bulbs, onion and garlic sets, and green potatoes are dangerous for dogs that like to dig. Other plants contain toxins in the flowers and leaves, including yarrow, rhododendrons, cannabis and foxglove. These plants belong in areas away from the pup's play spaces, or use fencing to prevent digging. Invasive weeds like cheat grass pose a different problem: the seed pod's tiny barbs drill into furry ears and skin—often requiring a vet visit to remove. 
Instead, try appealing to a canine's strong senses with fragrant plants like lavender and soothing chamomile or energizing scents like rosemary and peppermint, all of which are safe for dogs to sniff and even eat, if they choose. Barley grass satisfies a dog's urge to eat grass, while also aiding in digestion. 
Once the landscape is set, a world of toys awaits—from tetherball to tunnels and automatic ball throwers to glow-in-the-dark chucker balls. Puppies and energetic breeds will be eager to explore more activity options, from ball pits to agility ramps. But as Oushida and Reed both agree, the best backyard entertainment for any pup is simply time together with its family.