Sponsored Content
For twins Julie Hakala and Janet Powers, something just felt right about starting a business together after twenty-five years of living in different places. The duo had been working together from afar, both selling rustic barnwood for a Colorado company—Hakala out of a showroom in Tumalo and Powers back in the mountains of Colorado. Aspiring to do something different, the twins dreamed up their new venture, a company specializing in custom, interior accent walls made of finished woods and metal. "We wanted to do something local and bring something new to market," Hakala said. After Powers made the move from Colorado to Bend last summer, they got to work in her garage dreaming up the products for accent walls at their new company, blended. "After months of experimenting, we have fifteen custom colors of wood planks and tiles with five colors of metal inserts and planks to create endless possibilities for custom designs," Powers said.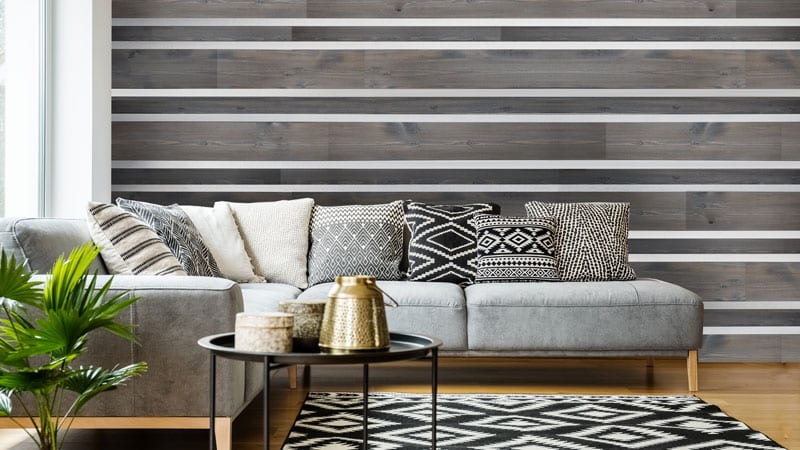 Blended products are smooth, clean, custom-stained woods in colors like "Mt. Bachelor Frost'' and "Deschutes River," exclusively meant for inside spaces. The current colors are named after Central Oregon locales and come in a base shade or a metallic finish for a unique, subtle shine. Customers are invited to build their own accent wall in the blended showroom at 9th Street and Wilson Avenue in east Bend. They can play with two-foot planks of wood in a variety of colors, and two sizes of metal planks and inserts in brass, bronze, silver, black or pewter. Each item in the showroom has magnets attached, allowing for mixing and matching on large magnetic, DIY Design Walls. "We want to inspire people to get creative in a fun, comfortable environment," Hakala said. This spring, the sisters started producing square and rectangle tiles, which also can be configured in a variety of arrangements to build a design. Every step of the blended wood finishing process is completed by the twins in their production facility attached to the showroom. For those who prefer a more rustic look, blended offers rough, naturally-aged wood planks locally sourced and finished off-site. Powers added, "It's amazing how great the modern woods and metals look combined with the rustic woods. Everything we have in our showroom is meant to work together—that's how we came up with the name 'blended.' Notice the bold letters in our logo spell Bend, as everything is made in Bend and we are proud of that."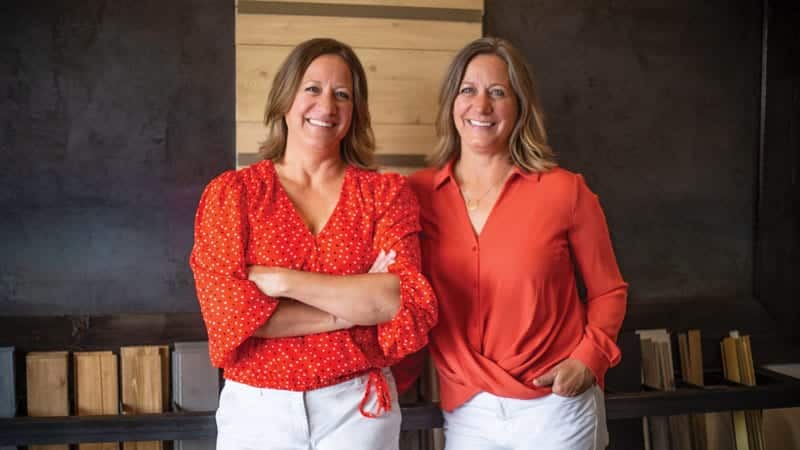 In addition to the hands-on studio, Hakala and Powers are also available for free design consultations, during which they visit a home or business and work with the client to design their dream wall or accent piece. The accent walls range in price from $7-10 per square foot, depending on the materials chosen. "It's a great way to create art on your wall without a huge commitment," Powers said. Once a design is selected, the materials are delivered to a customer's home, or can be picked up from the showroom. Nationwide orders can be placed online and customers from other states can receive free virtual design consultations and free shipping.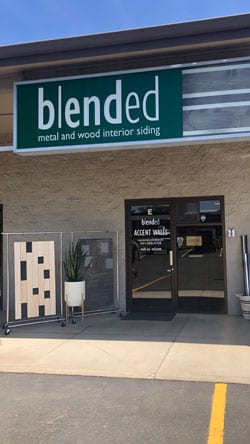 Powers and Hakala have enjoyed the opportunity to work together on the new business, and said they've applied skills they learned as children, growing up working at their family's hotel in Colorado. "We've really been influenced by our family," Powers said, explaining that the twins are among five sisters, who all worked together when they were younger. "We learned about hard work, the value of family time, keeping life fun and the importance of making customer service a priority," Hakala said. One sister, Sarah Lickfett, is selling for blended in the Reno, Nevada, region. The duo also draws inspiration from their faith, and displays this in the showroom with the letters "DV," meaning Deo Volente, or "God willing," in Latin.
Since starting blended metal and wood in the fall and opening their showroom in January, the duo said their typical customer base is a mix of architects, designers, builders and DIY-ers. To see a recent install at a location near the showroom, stop by the Luderman Crossing model home by Pahlisch Homes, and then visit Powers and Hakala to try a blend on the DIY design walls. The sisters are excited to grow their business here in Central Oregon and to assist new customers with unique designs of any size and for any budget. With lead times of only one to two weeks, customers can have finished projects by mid-summer.
blended metal and wood |

blendedmetalandwood.com | 541-668-4708