Revel throughout the streets of downtown Bend during a First Friday Art Walk and listen as each bar, restaurant and art gallery beckons for attention with the siren sounds of local music. A blues band wails at Bend Brewing Company, a jam band gets funky at Silver Moon Brewing, a metal band screams from The Capitol. Meanwhile, a solo artist stands on the street corner in front of Red Chair Gallery, a bluegrass band busks on Wall Street, and hopefuls test their courage at an open mic hosted by Astro Lounge. "When I'm on stage and see that many people engaging in community, it reminds me that music has [the] power to make life more interesting and to bring people together," said local country artist Kurt Silva. Music connects community.
A Look Back
Musical diversity in Central Oregon didn't happen overnight nor come without venue turnovers and economic downturns. Bend in the 1990s was virtually a music desert with high schoolers having to see random shows at the VFW Hall. By the early 2000s, population growth fueled the number of local bands playing in Central Oregon. But, of the artists pursuing their musical dreams, only a few, such as MoWo, Empty Space Orchestra, and Larry and His Flask performed outside the area. Downtown Bend events such as the Bend Summer Festival emerged, complete with a main stage for national artists and a side stage designated for local bands. A consistent audience made those gigs popular amongst longtime and up-and-coming musicians alike. 
Then, a decade ago, Bend's musical landscape began to shift along with a turnover in local businesses. Cafe Paradiso's folk acts, The Grove's funk bands, and Horned Hand's rock bands were all left searching for new places to perform when those performance spaces were vacated. Then, as Bend's population grew, it fueled a new wave of venue options propelled by the explosion of breweries and food cart lots that set a new stage for musicians. "[Live music has] basically become a background soundtrack to drinking beer," said Sam McQuate of Bend rock band Leftslide. "There's a heavy reliance on the folky acoustic music here," he adds. Bend's number of Americana bands was bound to grow.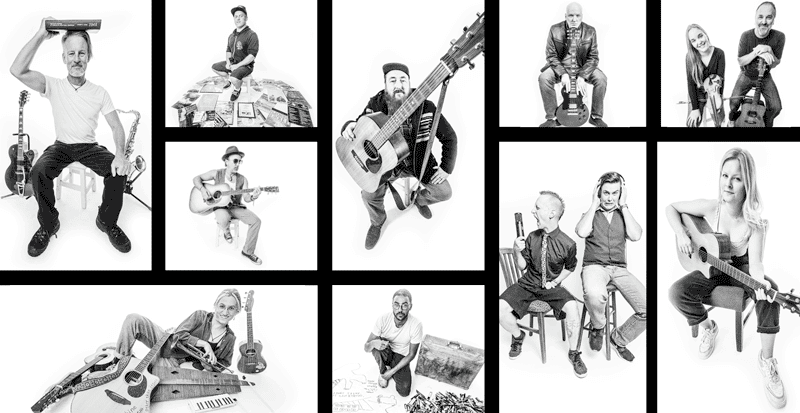 A Changed World
Just as the scene was growing, in 2020, the world shut down and stages went silent. Musicians retreated to their homes to find audiences online through streaming performances. In Bend, some venues got creative. Worthy Brewing partnered with Bend Roots Revival and started the Worthy Relief Fund by offering up a space to film streamed performances and providing a virtual tip jar for the performers. Four Peaks Presents put on a virtual festival by streaming highlights from past events. Some artists used the forced layoff as time to write and record new music. "Creative people will create," said Patrick Pearsall, a Bend bassist who played 250 gigs in 2019, before the shutdowns. "My pandemic project was to learn home recording. But the joke is no one could possibly go through all the music made during the pandemic." Two years later, venues began to open up again and Bend was back in the swing of things. Musicians took to the outdoor and indoor stages in search of the much needed connection to the audience. Fans were ready to reciprocate. Sadly, some traditions, such the popular Free Summer Sundays shows at the Les Schwab Amphitheater and Night Under the Covers in downtown Bend, didn't survive.
Collaboration and Traditions Anchor the Music Community
What remained consistent was the foundation of Bend's music scene centered around a collaborative festival of local artists. For the past sixteen years, Bend Roots Revival has showcased local bands each September with an event featuring more than one hundred regional acts and educational workshops. While it has grown from its humble beginnings at the corner of Galveston Avenue and 14th Street, the free, family-friendly festival's mission of celebrating local artists has remained the same. "I feel embraced by my music community and try to bring that feeling to Roots," explained local musician and Bend Roots Revival founder Mark Ransom. "This was the best way I could think to honor my community." 
The music community is connected by many shared experiences. Ask a Central Oregon musician or fan about their fondest music memories and you are bound to hear about an assortment of legendary performances. Pearsall talked about fans packing into the random locations announced the morning of the Church of Neil show in its early days. Four Peaks Music Festival Director Stacy Koff points to the Moon Mountain Ramblers sold-out show at the Tower Theatre. Bend photographer Gary Calicott tells the story of Sir Mix-a-Lot pretending to take a photo of him as he squatted side stage to get a shot of the rapper at Bend's Summer Festival in 2015. Musicians that were in attendance, talk of the 2013 Bend Roots Revival, hosted at Pakit, a former building-supplies resale business. Nicknamed "Typhoon Roots" by Ransom, the festival caught the tail end of a Pacific Northwest storm and saw wind gusts nearly rip tents apart that were held down by musicians. Rain poured down and temperatures dropped as organizers juggled performance schedules. But, the weekend's craziness birthed special sets such as when Broken Down Guitars sat in the building's center and performed an unrehearsed all-acoustic set.
Aside from helping to create sound memories, local radio stations and dedicated local music spotlights hope to bridge the connection between artist and audience as well. Backyard Bend's weekly Hwy 97 "Local Music Show" plays cuts from studio albums while KPOV's Center Stage invites local musicians to its studio for live performances each Saturday. "KPOV gives local bands a voice and a way to get their music to the masses," Koff said. "I'd love to see more of them gain traction through an increased following so they can play out of town."
Creating Connection
No matter if it's played from a storefront window or at a festival main stage, music has helped build the Central Oregon community. The unspoken agreement between an audience seeing the value in art and artists pouring their souls out on the stage brings people together whether at free shows in Drake Park or ticketed events at the Hayden Homes Amphitheater. "Educating folks in the arts makes them more relatable to and tolerant of the world," explained Ransom. "It's a model for psychological well-being in a community." Sometimes, all you need to feel good mentally is to listen to music and dance with your friends. Sam McQuate said, "People need to connect." 
---