Reggie Strom pulled out the family camcorder recently and got nostalgic. Strom is only 12, but he was watching an old recording of himself as a baby, barely over a year old, busy in the kitchen, pouring water back and forth among more than a dozen bowls, wielding an unplugged mixer to achieve artistic culinary perfection.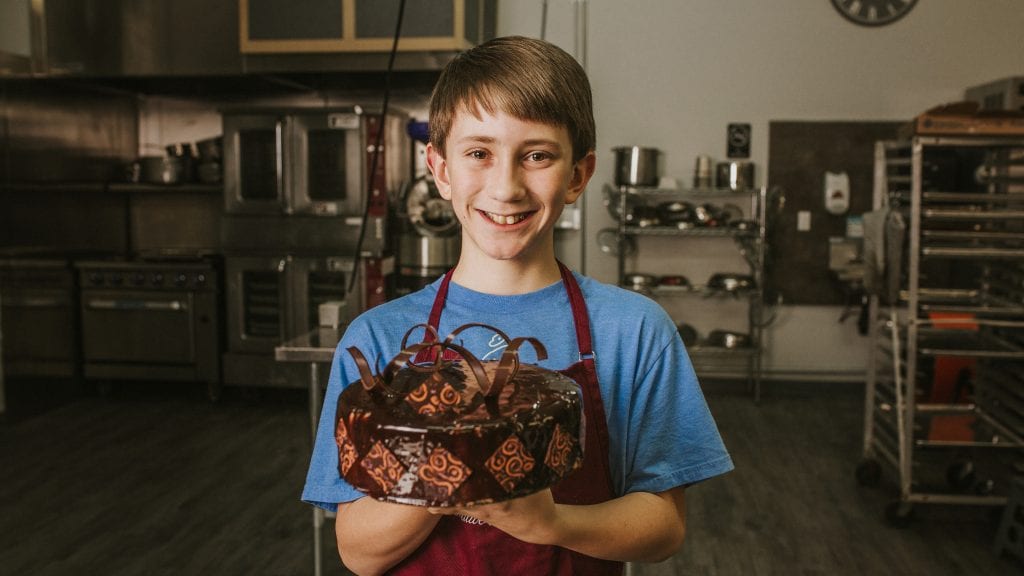 By the time he reached middle school last year, Strom's skills were on par with his childhood imaginings. He's whipped up wedding cakes, crafted European-style pastries and constructed the kind of elaborate desserts you might see at the Bellagio, all for the benefit of neighbors, friends and family in Bend.
Now, the rest of the world will get to see Strom put his skills to the test starting in January, the kickoff of the Food Network's latest season of Kids Baking Championship. As one of a new batch of ten bakers age ten to thirteen, he'll vie for a $25,000 prize by competing in challenges that test the contestants baking skills and originality. The competition, in which contestants strive for excellence in each throw-down or face being booted off the dessert island, is seemingly as difficult as just getting on the show.
Reggie's journey began two years ago, when his parents, Julie Cavanaugh and Greg Strom, gave him for his birthday a class in making macarons at The Kindred Creative Kitchen. It was there, with owner Michele Morris, that Reggie, who previously was happy simply baking sugar cookies and other treats with his grandmother, Karin Cavanaugh, blossomed as a pastry chef.
"We just hit it off," said Strom, 12. He took a few more classes.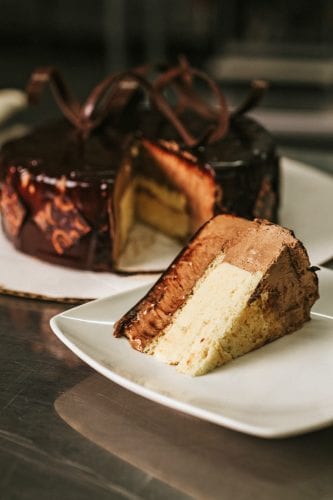 Morris recognized his precision and organization, skills integral to the craft. "He always wanted to try new things and was happy to take my advice and feedback," said Morris, who has worked at Michelin-star-rated restaurants in Las Vegas and taught baking and pastry at Cascade Culinary Institute. "He likes to completely submerge himself in it. I saw that spark in his eye."
She suggested he investigate the Food Network show.
Strom submitted a short video and was asked to interview for the show via Skype. Casting asked him to provide a longer, fifteen-minute video of him at home, baking various confections.
Each time he'd progressed to the next interview stage, he'd be asked to submit more photos of his work. "It's Monday and they'd ask for forty pictures of forty different desserts you've made," he said. "It's absolutely insane."
Without a portfolio of everything he'd made in the recent past, they scrambled to meet each new deadline. They looked back for things he'd made with his grandmother. His mom ran to the store for ingredients and thought up new items for him to make. When they needed to show a video depicting his skill at piping frosting, they grabbed one of his cakes out of the garbage. "I cut a circle out of it, put it on a plate and piped onto it," Strom said.
His mom even let him skip a day at Pacific Crest Middle School because he needed to make eight more things by the next day. By the time he'd submitted upwards of 150 photos, he made it to the final round of interviews with producers.
Every day for weeks he'd ask his mom if she'd heard a response. Nearly a month later, in mid-2018, he learned that he didn't make it on the show. He was heartbroken.
"I wasn't even talking about it," Cavanaugh said.
His mother gave him a deadline of February 14, 2019 to decide if he wanted to try again, so that he'd have ample time to prepare. The deadline passed, but in early March, Strom said he was ready. In the interim, they kept taking photos of his work.
Strom went through the whole submission process again. When his parents learned he was selected for the show, they took him out to dinner to celebrate.
Strom was ecstatic but had to conceal his thrill. The show requires absolute secrecy about what transpires on the series, with suspense building through each episode that ends revealing which contestant is eliminated, a la Project Runway. To prepare, he took private classes with Morris, taking his skills to the next level, learning how to make French, multi-layered, mousse-filled entremet, toffee and work with chocolate.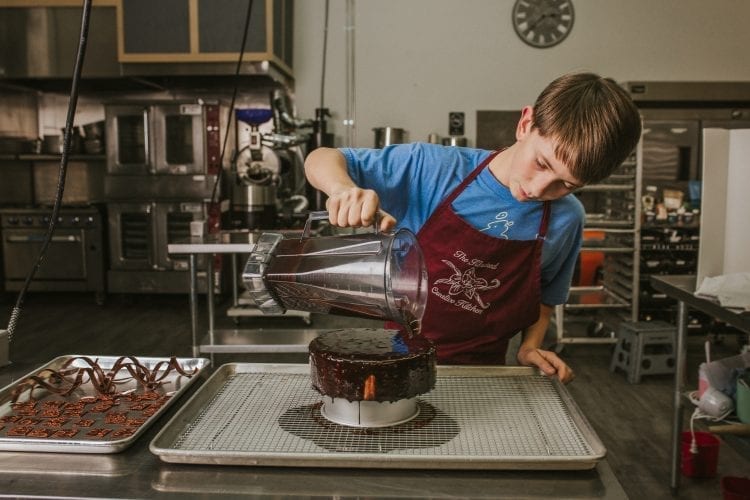 When he missed the last week of school to tape the show in Los Angeles, he told friends he and his mom were just taking advantage of getting cheap tickets (not untrue, considering the production flew them there and provided their hotel accommodations).
The experience, from classes to competing on the show, has been transformative.
"Watching your kid find that thing that he loves so much is pretty cool," said Cavanaugh, adding that she and her husband are sports junkies who know nothing about baking. "The whole show, from casting on, it felt like they believed in your kid more than any other kid on the planet. And the way they handled the kids, it's emotionally intense for that age, and the producers were amazing, so kind, and so thoughtful.
That's all they can say about the show, though, until it airs in January.