Extend the outdoor living season with a fire feature that is built in to your landscape or patio.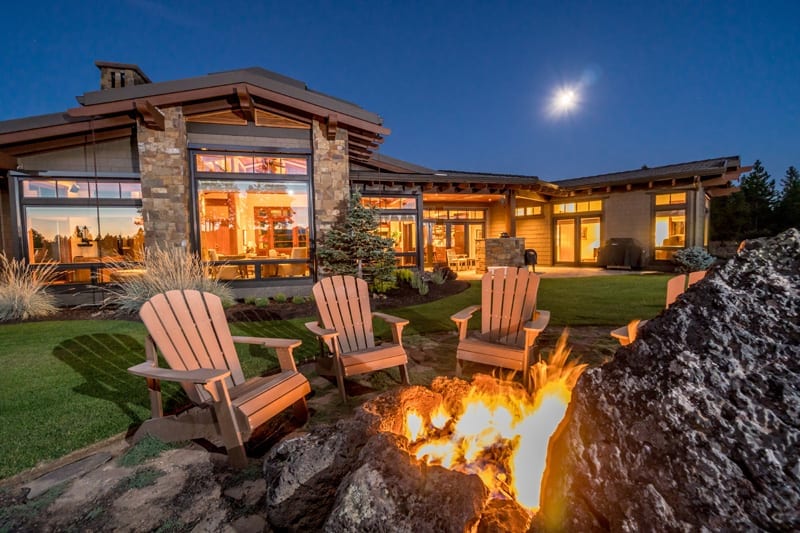 It's 3 a.m. on a chilly winter night and neither husband nor wife can sleep. They bundle up, pour a cognac and head for the fire pit. About thirty minutes later, they both feel the dreamy pull of sleep, the magic of a warm fire beneath an orchestra of stars.
This impromptu pajama party is one of countless ways Central Oregonians are drawn to the flame made easy by a match or an on-off switch. The homeowners said they didn't know when they built the home that they'd use the fire pit all the time, even in the dead of night. The fire pit, which sits apart from the house on the forest's edge, complements a nightly light show, a parade of wildlife and a view of Broken Top.
The gas-fueled fire feature is cupped inside a rocky outcropping, with four weather-resistant chairs arrayed around it. The homeowners say their friends always want to be in front of the fire.
Jeannie Legum, interior designer and owner of Legum Design in Bend, said that more and more homeowners are seeing fire features as less of a novelty and more of a necessity for entertaining and just relaxing at home.
When designing a fire feature, she considers the size of a client's home and strives to complement its style. She'll ask whether they want it for entertaining large parties or gathering in small intimate groups. Do they want the fire in the middle of an existing outdoor living space or is there a better place, away from it all?
As temperatures drop in fall and winter months, Legum says people can add overhead heaters, outdoor drapes to close off a space and weather-proof fabrics for furniture. Contrary to popular belief, creating an outdoor gathering space can be done on a budget. Legum works with homeowners whose properties range from $300,000 to multi-million dollars. "If it's important to the homeowner, there's a fire pit for any style or size of home and budget," she said.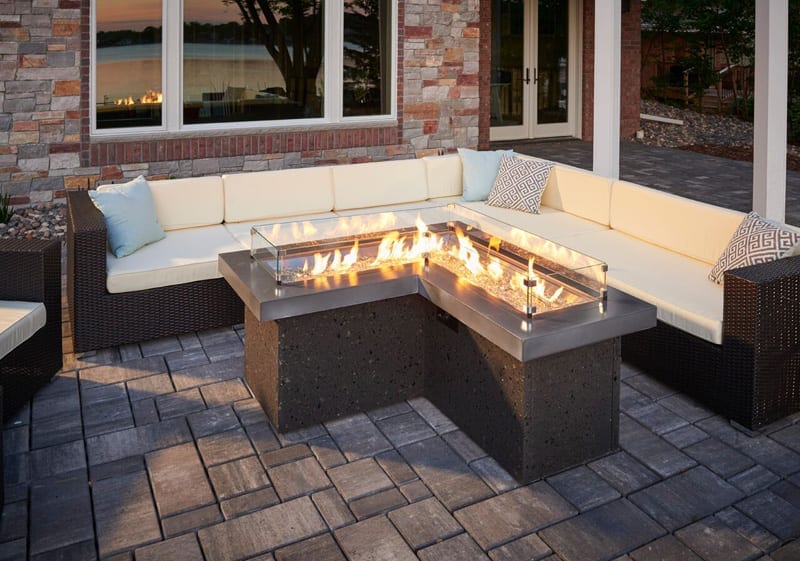 With a showroom full of fire pits and fire tables, Mara McCloskey-Becker of Fireside in Bend proves the point. Wood-burning, portable fire pits start at $199; high-end gas-fueled models can cost thousands.
She cautions that wood-burning models must be placed far from flammables and advises the use of spark-arresting screens. Smoke can be an issue to neighbors, and buyers should know whether their neighborhood allows outdoor wood-burning fire pits. While there is nothing like the crack of a wood fire on a chilly night, the campfire smell lingers in clothing long after the last log is extinguished. Plus, in wildfire-prone Central Oregon, natural gas and propane models are far more popular.
Trending now are gas or propane fire tables with a ledge for setting out snacks and cocktails, and glass guards are used to prevent overheating of people and food. If a gas line isn't available, the fire feature can run on a propane tank hidden within the device. For more versatility, some manufacturers sell covers to convert a fire table into a coffee table—just the kind of double duty that Central Oregonians love.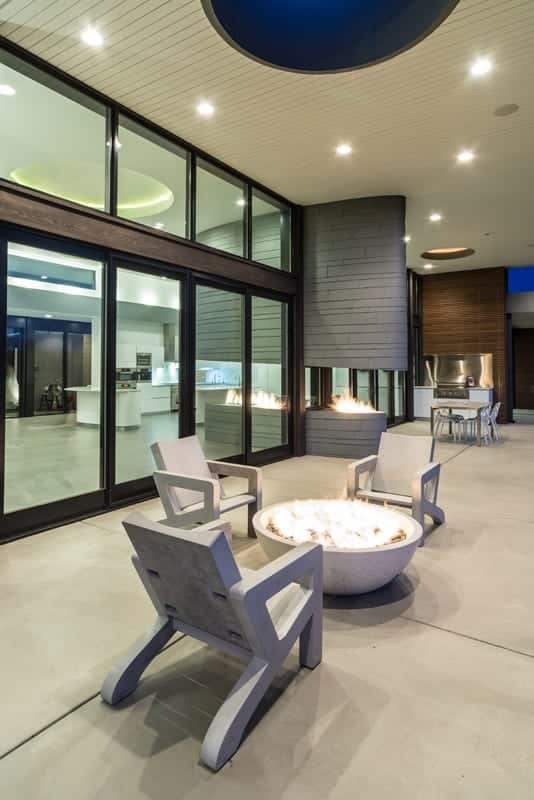 McCloskey-Becker said styles range from sleek, minimalist rectangular and powder-coated models to faux wood and natural stone versions for a traditional or Northwest look. Flames are adjustable—just a few inches for ambiance or higher for warmth, and those who like the look of wood can buy a fire pit with a log set.
Bryan and Angie Azur have three fire pits in their Westside Bend home. One is an ultra-contemporary "fire and ice" feature that starts on the inside of the home and continues through the wall to a flat-roof covered patio. The other is a round, concrete fire pit, also under the covered patio, with furniture arranged around it in an L-shape where the family cozies up to watch the sunset, "until the first stars come. Then it's time for the two boys to go to bed and for us to hang out," said Bryan.
Designed by Eric Meglasson of Pique Architecture, the home has tall glass sliding doors that create a seamless space between inside and out, making it easy for as many as 100 guests to mill about, even in the winter when the hosts can fire up all three features. "We're very social," Bryan said with a laugh. When they're not hosting a crowd, the fire pit "serves as our family's TV. Last night we watched shooting stars, and occasionally, we see a breeding pair of great horned owls fly by."