Drawing on the Spiritual in Nature
Art by Dominique Kongsli on display at Wild Oregon Foods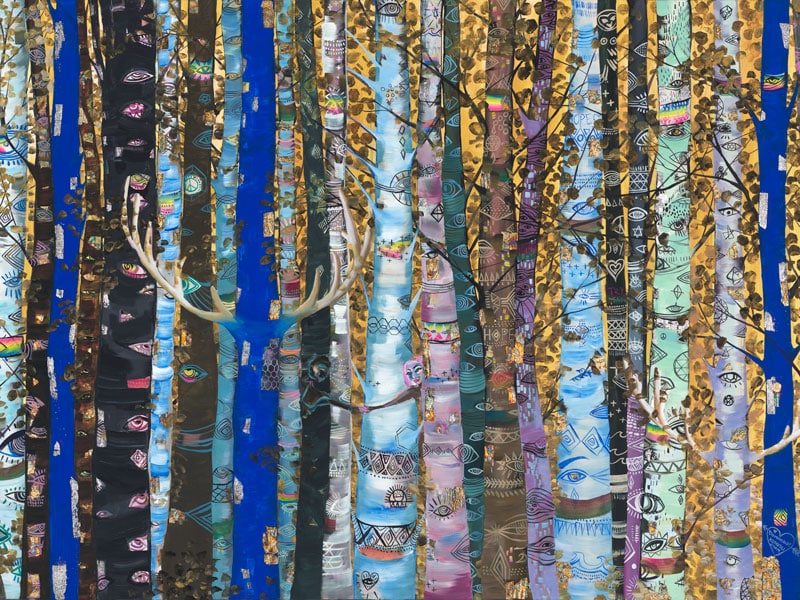 From the wave sets where she surfed in Southern California to the high desert of Central Oregon where she moved to three years ago, painter Dominique Kongsli draws inspiration from the world around her. As a newbie in the desert, at first, she didn't know how to approach the landscape which was "so vastly different than my former coastal domain." But a collection of her recent work at Wild Oregon Foods (in the Bend Factory Outlet Stores) reveals the transition to aspen trees and manzanita, mountains, high lakes and owls.
The exhibit, "Forest Feast," presents abstract paintings that fuse human and animal elements, such as eyes and antlers, with tree bark in strong patterns and colors. "My work tells stories of walks in the forest, of how the forests are alive, and have character," she said. "They are sacred and that's why I infuse gold leaf in my paintings—gold leaf was traditionally used to show the presence of God and the divine."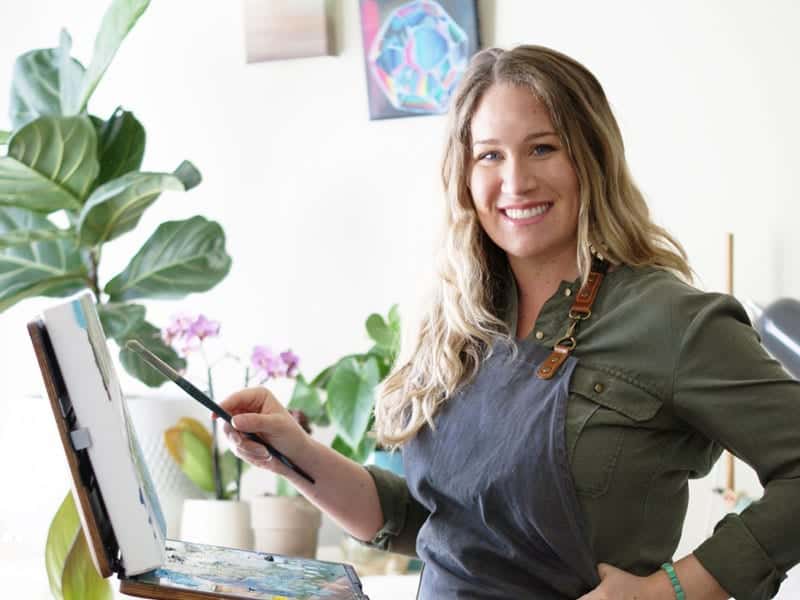 The show also contains abstractions of familiar Central Oregon places, such as Mount Bachelor or Crescent Lake. "They contain an essence which points to the connections between spirit and earth, and are a joyful celebration of beauty," she said.
The paintings are both whimsical and graphic, the latter pulling from her background as a freelance graphic designer. She has a fine art degree from Pepperdine University and a master's in fine art from Claremont Graduate University and teaches graphic design at Central Oregon Community College.
"My message is that the world around us is alive, and that we need to take better care of it so that its beauty and resources last for future generations," she said. "I want to create a consciousness of our footprint on the earth."
The "Forest Feast" show will be on display through August or go to domkofineart.com to see more of her work.
Rimrock Gallery
April, May & June
Rimrock Gallery has begun a "2nd Saturday Event" from 1 to 4 p.m. in Prineville which kicks off each month's lineup of artists and activities.
From April 11 to May 6, the gallery will feature two award-winning landscape artists from California—Willo Balfrey and Jim McVicker—as well as Colorado sculptor Mark Lundeen, who will unveil a bronze golfer, the last one available from a 100-edition casting.
From May 9 to June 10, see the paintings of Steven Homsher of Colorado and Craig Zuger of Oregon. Homsher portrays farm and animal scenes, while Zuger focuses on the natural beauty of places such as the Owyhee River Canyon and Steens Mountain. Sculptures by George and Cammie Lundeen from Colorado round out the show.
From June 13 to July 8, a Western-themed show of rodeo, horse and wildlife art will be displayed. Artists include Ginny Harding of Washington, Meagan Blessing of Montana and J. Broderick of Oregon. Harding's pencil renderings are based on thirty years of traveling the national rodeo and race circuits.
Peterson/Roth Gallery
May
The spring exhibition that opens May 1 features paintings by Glenn Ness and Scott Switzer. Ness captures everyday scenes with sharp realistic images and contrasting light and shadow. He paints both rural and cityscapes, often telling the story of inhabited places, sometimes invoking the presence of people without incorporating them in the paintings.
Switzer's work is full of abstraction and symbolism of nature, people and the animals. He has written that his paintings "capture the essence of nature and how I identify with my subjects. I fall into the land dreaming rather than wanting to conquer it." The works are colorful and expressive of everything from animals to ski slopes to humans holding things.
Peterson/Roth Gallery represents a wide array of contemporary artists and is open seven days a week.
At Liberty
May & June
Paintings by Ka'ila Farrell-Smith, a contemporary Klamath Modoc artist from Modoc Point, Oregon, convey themes of Western colonization on indigenous cultures. Her show, "A Lie Nation, Alienation," will be at At Liberty in downtown Bend in May and June. The recent work was influenced by the music of A Tribe Called Red and the poetry and lyrics of the late John Trudell in the track, "A Lie Nation."
Using indigenous art practices, she harvests wild pigments like charcoal from burned forest floors or clay from the landscape and mixes them with acrylic gel medium to create earth pigments. But she also takes found objects and uses them as stencils with aerosol paint to reflect street art and graffiti.
Her work is widely collected and exhibited in such places as the Jordan Schnitzer Museum of Art, the Portland Art Museum, the Tacoma Art Museum, the Missoula Art Museum and the Medici Fortress in Cortona, Italy. She received an MFA in painting from the Pacific Northwest College of Art and an MFA in contemporary art practices at Portland State University. At Liberty is open from 11 a.m. to 6 p.m., Wednesday through Saturday.