Sponsored Content 
Coming to the office looks a little different for the employees of Bend's Century Insurance. Maybe it's the two-tap kegerator next to the flatscreen TV or the comfy leather furniture. Or maybe it's the flex desk arrangement, which allows employees to come and go throughout the week and use any desk they please or settle into a conference room for some quiet work time or a meeting. "We really wanted an environment that was welcoming and flexible, but also fun," said Jason Epple, a principal who has worked with Century Insurance for twenty-three years.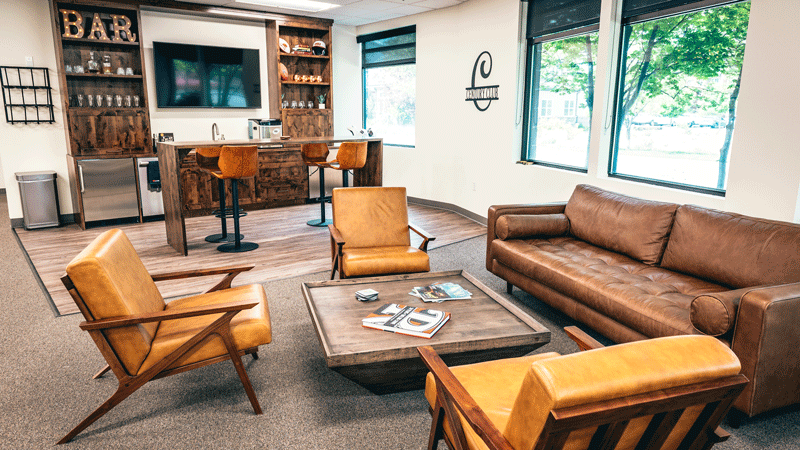 Epple said that when the pandemic hit, the insurance company's thirty-ish employees headed home to work remotely. For years, the company had talked about making the office more of a flexible coworking space than a strict office environment that people were required to be at each day, and the reset during the pandemic became the push to make it happen. With a lease ending at the company's 11,000-square-foot office, they took the opportunity to move into a smaller space on the first floor of The Bulletin building on Southwest Upper Terrace Drive. 
The company worked with designer Jennifer Gooding of Domaine Design House to design the new office and with Kellcon Construction to execute the tenant finishes on the space, which prioritizes flexibility and fun. "We loved to be able to transform this company into a more modern style of working," Gooding said. "Employees no longer sit at their desks all day. Offices are now a base for a hybrid-style of work—a mix of virtual, collaborative, focused, home-based and on-the-go, and businesses need to design their workspaces to support these different working needs."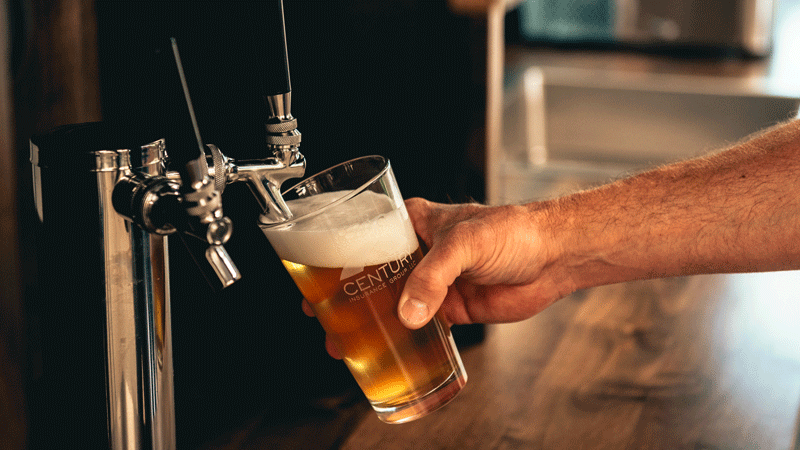 Highlights of the newly designed space include a floor-to-ceiling built-in bar area with two keg taps, fridge and dishwasher on the left and a full bar on the right, with the beverages tucked away behind slide up doors. A flatscreen TV in the center of the bar is best viewed from the barstools that sit around a high-top waterfall table in the bar area, or from an adjacent seating area of leather furniture.
Inside the office, agents and account managers pop in and out, between visiting clients and working from home. Together, the team at Century Insurance provides turn-key insurance solutions for individuals and companies around Bend, throughout the state and in several neighboring states. Established in the 1990s by a group of agents with more than 100 years of experience at the time, Century Insurance today is one of the longest-running, locally owned agencies in the region. 
"We love what we do and we love being here—and this space has made it really great," Epple said. "As long as our customers are happy and we're productive, that's the key. And we've found that we could do it even better while having such flexibility."
Century Insurance | 320 SW Upper Terrace Drive, Suite 104 | centuryins.com | 541-382-4211