Browse around internet apps like TikTok, Pinterest and Instagram, and it doesn't take long to stumble across an aesthetic that's seeing a rise in popularity among teens and young adults. Characterized by wicker baskets filled with wildflowers and fresh baked bread, rolling countryside hills and long linen dresses, the "cottagecore" style has taken hold.
Cottagecore is the romanticization of a rural lifestyle that gives specific nods to Victorian era English villages. As an aesthetic, it can influence fashion and food, as well as architecture and interior design. Despite all the different applications of the aesthetic, there is a common theme woven throughout—cottagecore is known to invoke warm, safe and nostalgic feelings from those who experience it.
Translated into home design, a cottagecore home would include aspects that make people feel nostalgic and cozy, with a mix of old and new pieces. Neutral walls, old wooden furniture, a wood-burning fireplace, casement windows with light drapes, exposed wood and brick, vases of wildflowers and greenery, and small reading nooks with antique finds can all add cottage style to a home. Think of a grandmother's house, but somehow trendy. 
Bend-based designers Sarah Phipps and Anna Stringer worked together several years ago on a cottage remodel on Bend's west side that Stringer now runs as an Airbnb rental. The 1934 structure was looking worse for the wear when the pair of friends first began revamping it. To begin the remodel, the two stripped the house down and discovered the original lap siding, still preserved, and an old brick chimney.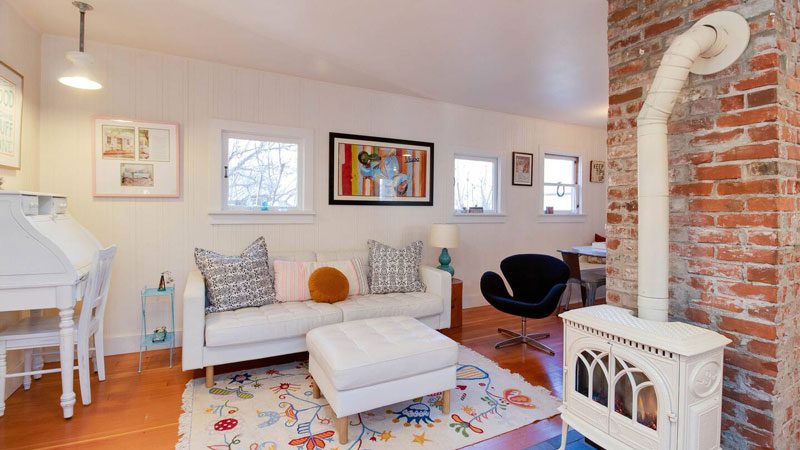 The interior was painted an off-white mascarpone color with a bright white trim and the floor was given new life with a hardwood upgrade. The furniture in the cottage is now a mix of old and new, a modern couch right next to the exposed brick chimney, as well as the old fireplace and an antique davenport, both painted the same white as the trim. A retro-style pink refrigerator from Smeg provides a splash of color.
While the finished space is a great example of cottage design, even Phipps and Stringer are still figuring out exactly what cottagecore is, and how it differentiates from some more established styles. Phipps describes her own style as "OG Cottage," which can mean different things, depending on the age of who you're talking to, she said. "Every generation has nostalgia for the past, but the dateline isn't static," Phipps said. "We have to realize each new generation takes up the reins and makes what is old their own."
In short, what is considered cottage style to Phipps could be completely different from what her 17-year-old daughter considers cottagecore, based on what each generation considers to be nostalgic and comforting. Theories online suggest that more time spent at home last year because of the pandemic spurred the popularity of cottagecore, along with the idea that isolating yourself can be enjoyable. Many of the pandemic trends, from baking sourdough and experimenting with homebrewing to starting an herb garden or taking up sewing, can all be considered part of cottagecore. 
While the cottagecore aesthetic overall is popular with Gen Z, the interior design style is enjoyed by all ages. Stringer said most of the guests staying in the cottage Airbnb love the interior, even if they don't know what to call it. "I would say people seek it out even if they don't realize it at the time. Demand has grown substantially over the last few years and renters love the uniqueness of a cottage style rental," Stringer said.
While a wide variety of colors, textures and items can work as part of a cottage design, there are certain strategies to achieve the look, including a mix of older and newer items. Phipps recommends thrifting for interior decor, as well as checking Facebook Marketplace and antique stores for older pieces to accompany newer ones. She suggests local stores such Lark, furnish., Roundabouts Home Consignments and Iron Horse Second Hand. For inspiration, search for cottagecore on online platforms such as Pinterest, Instagram and Tumblr, and find ways to embrace the design in any space.