The owners of a steep lot in North Rim challenged architect, builder and subcontractors to execute their vision of a modern, industrial-style home that incorporated metal and steel in starring roles. The result? A stunning custom home.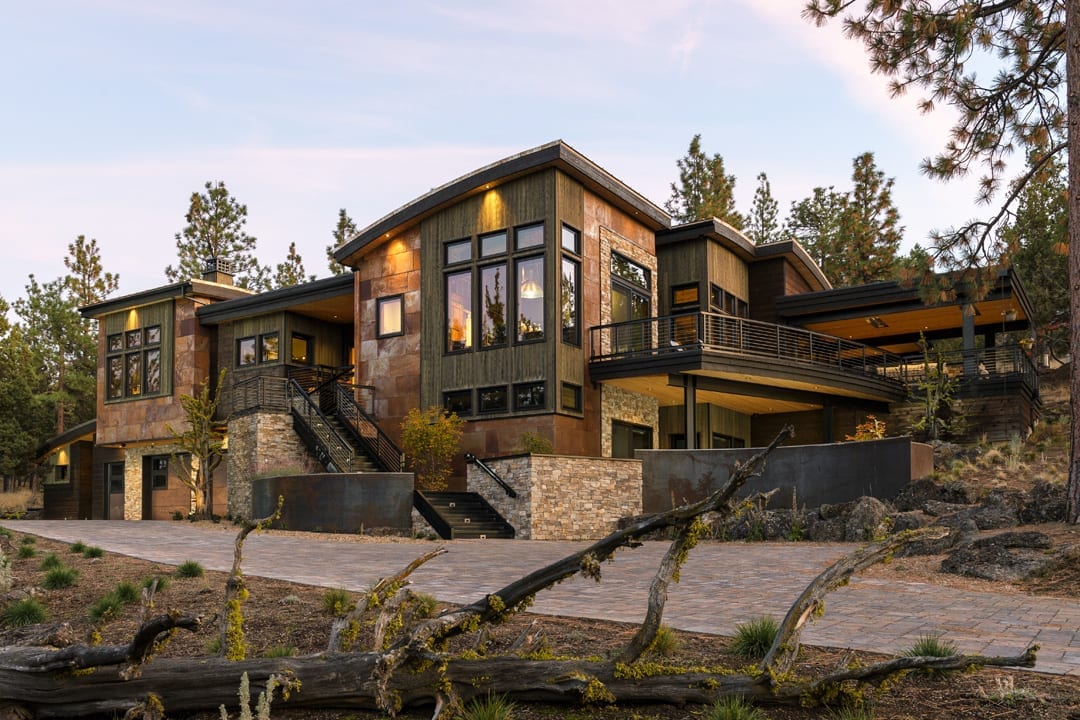 The aesthetic unfolds from the front doorstep, where the doorbell is made with an engine bearing from a Porsche race car, embedded with a red button that says, "engine start." A 1970s restored vintage motorcycle sits in the entry hall. An interior sliding barn door is actually a facsimile of a jailhouse door complete with a pass-through. These are among the fun and quirky features of the home in Bend's North Rim neighborhood.
Custom built by Dennis Staines Construction between 2015 and 2017, the 4,080-square-foot residence incorporates wood, stone, concrete and other materials common in today's contemporary styles. But it's the metal work that sets it apart. And there's plenty of it.
The owners, Marnye Summers and Kevin Reynolds, both create art from metal, so it's not surprising they chose to incorporate it in structural components and as artistic flourishes around the home.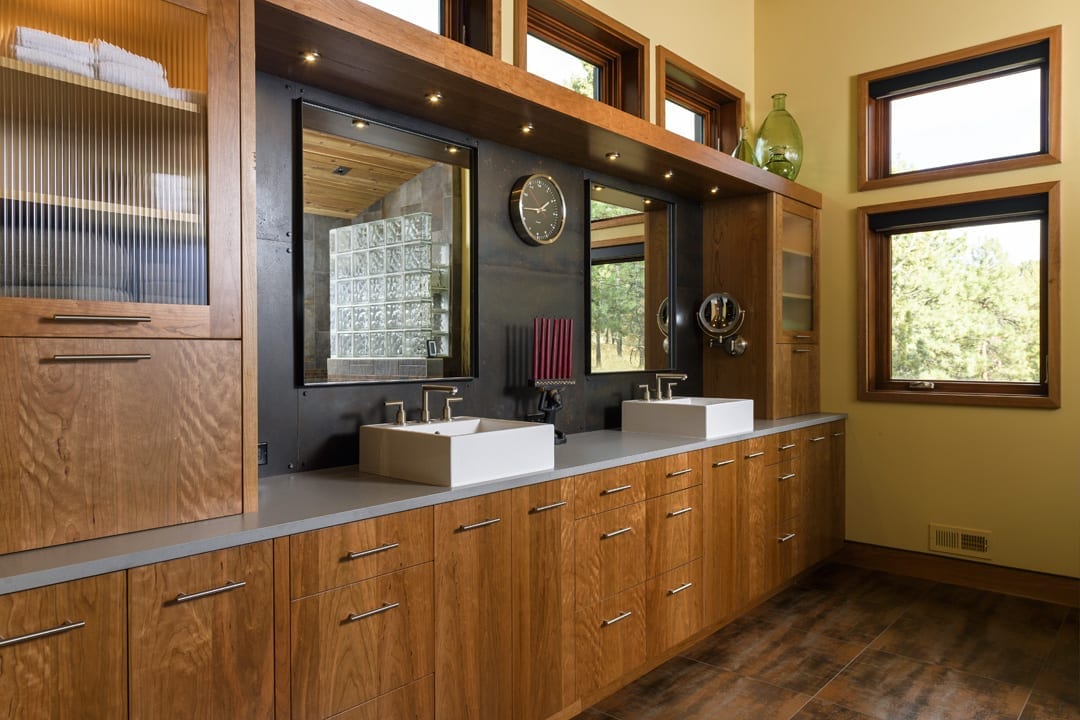 "Heating, smelting, forming, twisting, forging hot metal is bending nature's raw materials to form structures that support and enhance our dwelling," said Summers. "It is like magic to me. I love it!"
Reynolds restores vintage motorcycles and shares a downstairs studio with Summers. In her main floor studio, Summers creates dog-themed art by painting flat pieces of steel that she's fabricated with a plasma cutter. These colorful pooches are frozen forever in dynamic poses affixed to walls throughout the home and sold to clients who commission her work. Flesh-and-blood rescue hound Ratty Rat, a pit-bull mix, is one of fourteen dogs the couple has rescued over the past thirty-four years. She keeps a guarded eye on her masters and spends time in her own custom-designed indoor and heated outdoor kennels.
An Urban Loft in Bend's Foothills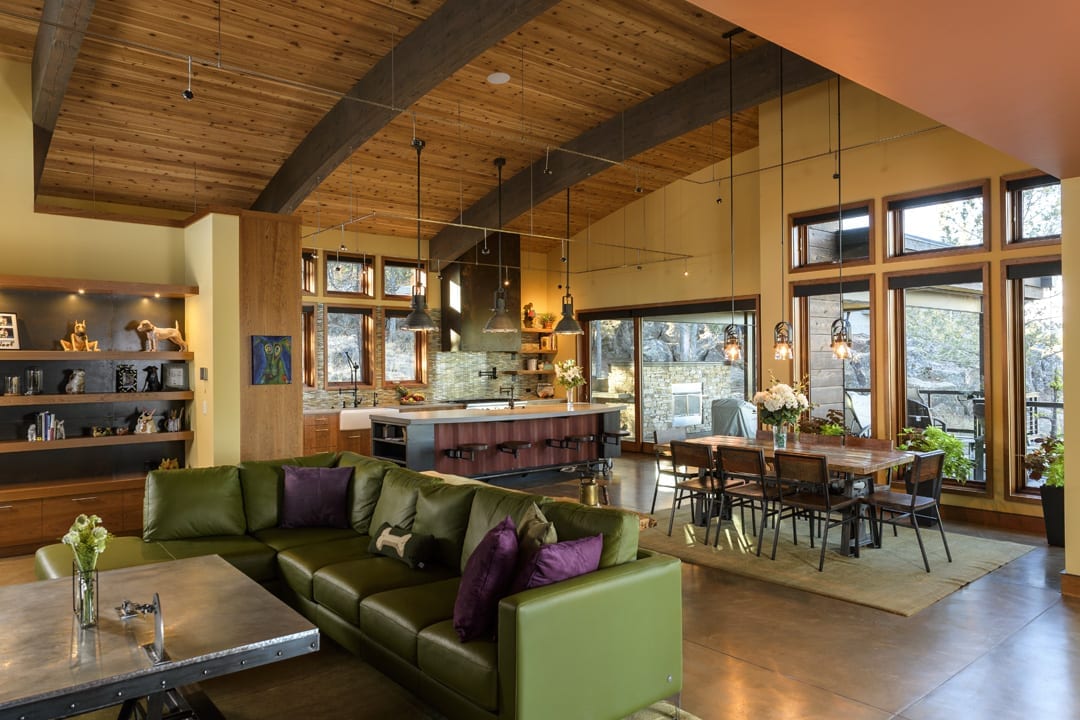 The home's main living space on the upper floor has high ceilings, oversized, industrial-style light fixtures and radiant heat beneath concrete floors. "There's an urban loft atmosphere," said Bend architect Scott Gilbride, who worked with the couple on designing the two-story home. "We got close to building an urban loft in the foothills of Central Oregon," he joked, adding that "[Summers and Reynolds] don't have the city, but they have the feel of it."
The kitchen island and front door illustrate his point. The island's Caesarstone quartz countertop is supported by a shipping container on steel castors (which don't actually roll) and metal seats that swivel. The metal panels of the front door are constructed in what Gilbride describes as "steampunk" design, which plays out in this house as scrap metal put together in a quilt-like pattern with exposed fasteners.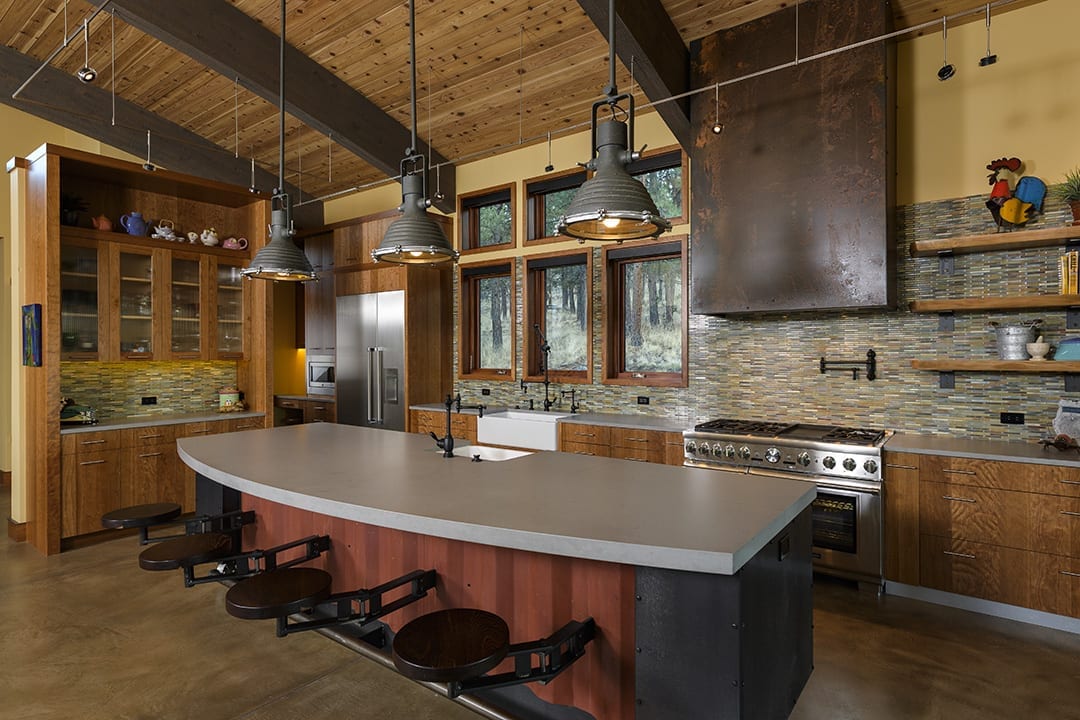 Doug Wagner of ModernFab in Bend built the metal panels for the front door, as well as the jailhouse barn door that separates Summers' main-floor studio from the living, dining and kitchen area. "Marnye was persistent that the jail door have an opening where she could be fed," he said, adding that she gave him a lot of freedom in creating the design. Working with the couple was fun because they were open to experimental approaches, he said. Another unique feature is a space high above Summers' studio where salvaged, dilapidated windows of varying sizes and colors hang from metal railings constructed by Wagner.
A key design concept was to locate Summers' and Reynolds' studio and office spaces close together and adjacent to the great room. "We've been married thirty years and like to be close," Reynolds explained. His office, like his wife's studio, has a standing-height workstation on wheels.
Industrial Meets Contemporary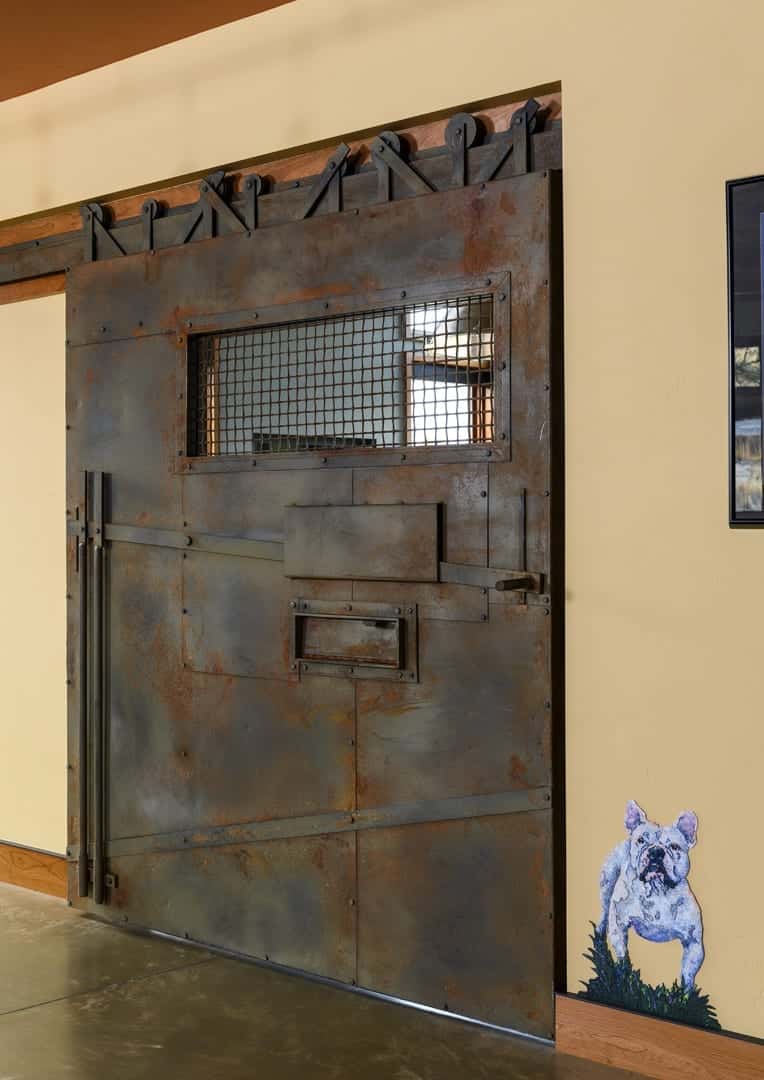 Despite the inclusion of one-of-a-kind metal touches (for example, all the wood baseboards and door trims are edged with steel, painstakingly incorporated by Elevado Metalwork), the industrial aspects are tempered by curved, knotty cedar ceilings, farmhouse sinks in the kitchen, rustic cherry wood doors and cabinets, bold colors and a wood-burning fireplace in the living room.
The master suite sports less metal, more wood and is a tribute to African art collected during the couple's travels. The large, open bathroom with windows to the backyard features towel-warming racks, an open shower with no door to squeegee and a head-to-toe body dryer.
But the standout architectural feature is the huge closet. Three walls of floor-to-ceiling cherry cabinets hide clutter and every thread of clothing. (A meticulous streak apparently competes with Summers' anything goes, artistic impulses.) A peek inside one of the cabinets confirms that shoes and sweaters do, indeed, reside there. The closet also includes an island and mirror to reflect its purpose.
City Style Outdoors
From the rusted metal panels that form the roof to the landscaping, the Reynolds-Summers industrial style found expression on the home's exterior as well. Two local metal workers, Hunter Dahlberg of Orion Forge and John Herbert of Iron West, shaped steel into metal walls in the landscaping and forged exterior staircase railings and gates. Troy Stone and others of Bend Heating & Sheetmetal created rusted panels for siding. "They showed us different 'recipes' for rusting metal," said Reynolds. The home is also sided with stone and a wood product that replicates the look of barn wood.
In the end, this couple moved directly into the house from Southern California and got exactly what they wanted: an industrial modern home that reflects their love of metal and space to pursue their creative visions.