Cuban Kitchen Reopens in Bend
The Cuban Kitchen has reopened its doors and is better than ever. With a new location on N.E. Third Street, this beloved Cuban restaurant is once again delighting guests with its vibrant atmosphere, kind hospitality and authentic cuisine.
Stepping through the doors of Cuban Kitchen, you'll feel transported to the Caribbean Island. Bright bursts of color evoke the lively streets of Havana, vintage cigar boxes hang about, and art and photographs depicting Cuban culture are pressed into the wooden tables. The joyful and laid-back ambiance complements the warm, attentive and knowledgeable service, creating the ideal atmosphere for a memorable and satisfying culinary journey. Whether you're looking for a casual lunch or an evening of indulgence, Cuban Kitchen is the spot to relax and enjoy a delicious meal in good company.
Guided by owners Cristina and Chris Rojas, Cuban Kitchen offers a menu inspired by cherished family recipes brimming with flavor and authenticity. Each dish, from the iconic Cubano sandwich to the Tropical Bowl, is carefully prepared by the talented chef team and explores traditional Cuban flavors and ingredients.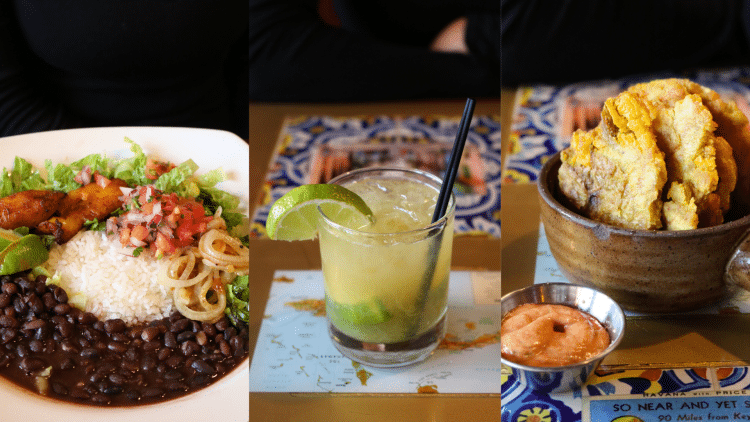 The Cubano sandwich is a can't-miss with succulent roasted mojo, tender garlic pork, flavorful smoked ham, melted Swiss cheese, and tangy dill pickles, all pressed between perfectly toasted Cuban bread slices. It's hard not to scarf the whole thing down in just a few bites. For those seeking a lighter option, the Tropical Bowl offers a combo of fluffy white rice, hearty black beans, zesty pico de gallo, crisp lettuce, sautéed onions and sweet plantains. It's a simple yet wholesome dish that allows the natural flavors of each ingredient to shine.
Complementing exceptional mains are sides such as sweet plantains and double-fried tostones, accompanied by an irresistible mayo ketchup sauce. No visit to Cuban Kitchen is complete without immersing yourself in the tropical vibes by sipping on the refreshing mojito or classic piña colada.
With the reopening of Cuban Kitchen, Bend's culinary scene receives a vibrant infusion of Cuban culture and cuisine in the heart of Central Oregon.
Find them at 1600 NE 3rd St, Bend, OR 97701 | Cuban Kitchen website
Open: Tuesday-Saturday, 11:00 a.m.-9:00 p.m.
---
Click here to read more about our local food and restaurant scene.