Beginning with skills passed on from his grandfather, Bend furniture maker Daniel Laudenslager of dl_dzine keeps mid-century style alive.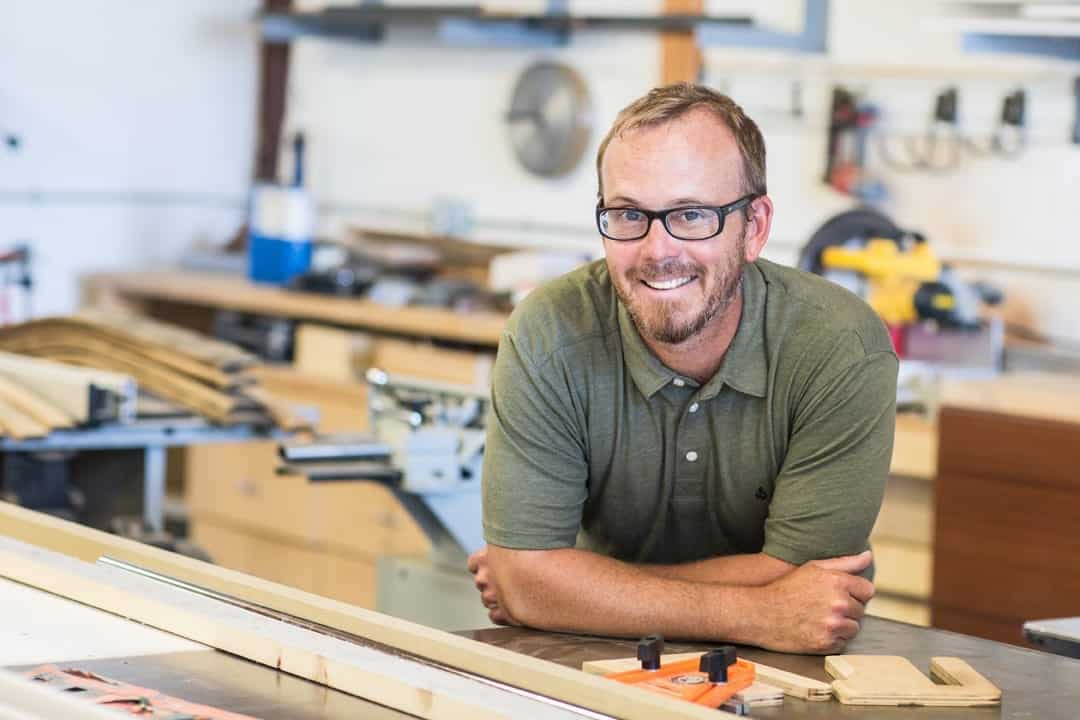 When one thinks of plywood, beauty isn't usually the first thing that comes to mind. But the work of Bend-based furniture designer Daniel Laudenslager can turn that concept upside down.
Laudenslager's tables and cabinetry often include a layered edge grain plywood, cut at an angle and varnished to a high shine. The result reveals the plywood's contrasting layers of brown, dark brown and white wood, eliciting texture, color and style on the edges of the finished piece. The occasional imperfection that might emerge from the plywood's layers only makes the furniture even more interesting.
Plywood isn't Laudenslager's only medium, nor are tables and cabinets his only product. His design interests could be defined partly by their diversity. Most of his work is custom furniture, mainly privately commissioned, under the umbrella of his company dl_dzine. Dining tables, credenzas, armoires and cabinetry are his specialties, but he also created a garden planter, a tool to treat plantar fasciitis, fireplace facades and more. Throughout, his work emanates a classic, sleek, high-style aesthetic.
"I consider my style to be somewhat contemporary and very organic," he said.
Laudenslager calls his works "functional art," and loves the process of dreaming up a design, figuring out how to make it work and creating an object that will be appreciated for its beauty and used for its function.
"I love gathering people's ideas and forming them into a piece they will love for years after."
Originally from Pennsylvania, Laudenslager, 43, earned a degree in architecture from Kent State University in Ohio and moved with his family to Bend sixteen years ago. His interest in functional design germinated much earlier, when he was a young child.
"My grandfather built furniture and did upholstery. He made work benches for me when I was small, first offering me plastic tools to work with alongside him. Eventually, he made me three generations of work benches, some I still use today. He also passed down tooling that I also still use today."
That legacy contributes to the traditional style in his work.
"I use a lot of wood, glass and steel," he explained. "I incorporate a lot of traditional methods, such as joinery as opposed to fasteners."
A signature Laudenslager piece resides at Legum Design in Bend. The large boardroom table sits on a blade steel base, fabricated through his partnership with Bend company Modern Fab.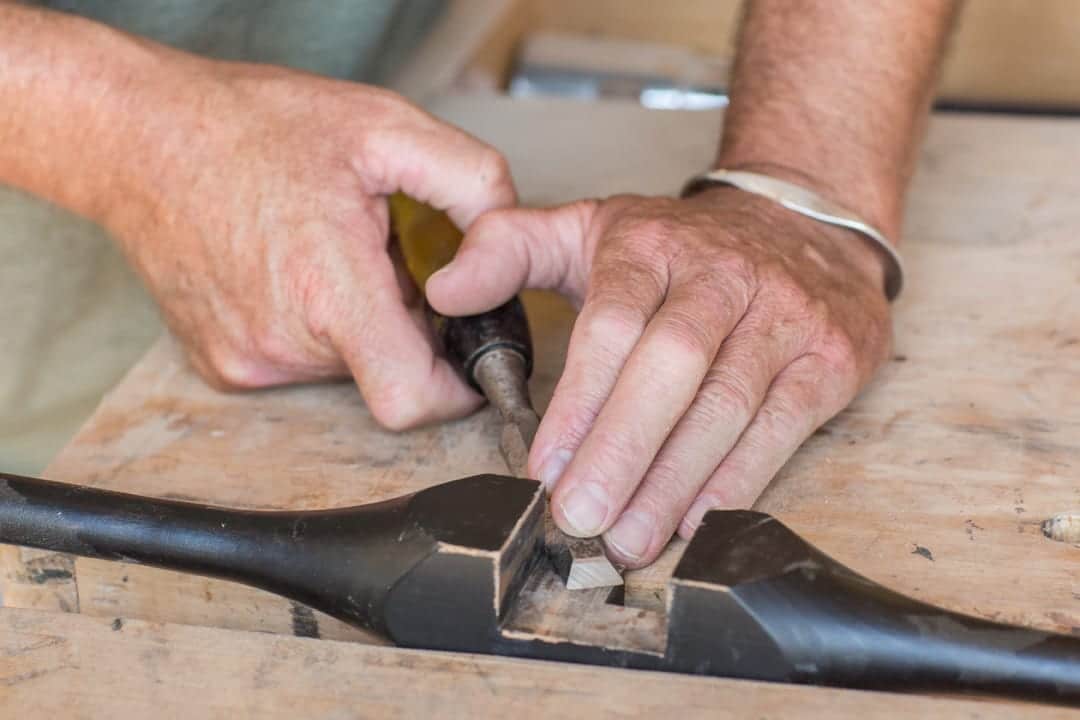 "It's very heavy steel designed to feel light," he said.
The top is layered edge grain plywood, inset with a specific design element.
"I'm a big ocean person," Laudenslager said. "Surfing is my passion. Down the center of this table runs a spine, to replicate surfboard style."
A recent table is designed with the local brewpub scene in mind. The project's inspiration came by way of Laudenslager's 12-year-old daughter, who studied traditional Japanese origami folding. Laudenslager watched her at work and decided to "fold" a table base.
"The rectangular steel base is a replication of the angles and structures you can get with paper folding," he said. The top is solid white oak inlaid with a functional steel channel. "The channel is designed to accept inserts, like a lazy Susan or a beer tasting tray."
Laudenslager's cabinetry was on display at the Tour of Homes in July. Scandinavian high-gloss laminate in white oak was paired with a quartz countertop in a clean modern style, all Laudenslager's design and produced by Bladt Woodworking of Bend.
"I love to collaborate with other artists," he said. "Seeing the puzzle pieces come together and bringing a project to fruition is very satisfying."