Gary Nolton allowed the land to inform his decision to build a compact, energy efficient showcase outside Terrebonne.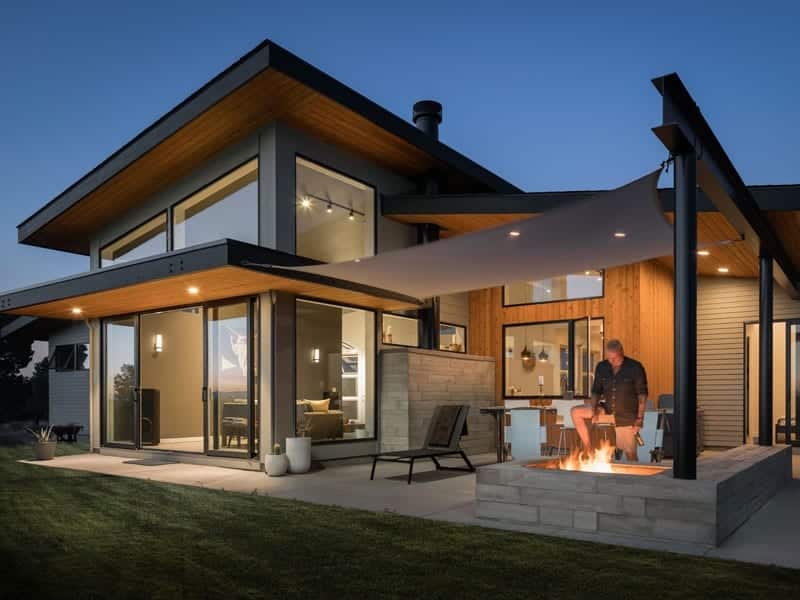 It might have been the sunset over the Cascades, or maybe the steep drive past junipers to a knoll overlooking lush farmland, or maybe it was a connection to something unseen and unexplainable. Whatever it was, from the moment Gary Nolton set foot on 10.75 acres listed for sale west of Terrebonne, he felt "right at home." He came to a quick decision, called his real estate broker and told her, "I'm buying it." He wrote an earnest money check the next day. And then he sat on the property for seven years.
"I had to figure out financing, and I wanted to get the lay of the land," he recalled. "Siting is super critical. Where's the best view and light? Where's the wind coming from?" To answer those questions, he drove from Portland where he lived and worked, and camped on the property all four seasons for years. He often invited friends and family to join him to experience the property. They saw meteor showers in a sky with no light pollution and observed the 2017 total solar eclipse over Central Oregon.
In Portland, he went to Powell's Books and began amassing reference materials on home design, construction and energy-efficient building practices. He took inspiration from Frank Lloyd Wright's approach to creating structures in harmony with their natural surroundings. And as a cinematographer at Limbo films, a company he founded in 1992 to produce digital media for commercial clients across the country, he applied his creative force to planning his future home. By 2017, he was ready to start the process. "I realized I could build something unique to me," he said.
He took his ideas to Mike and Cindi O'Neil, owners of Solaire Homebuilders in Bend, who specialize in high-efficiency healthy homes. Among the many things Nolton had learned was that the summers "could be brutally hot." He knew he'd have to mitigate heat and direct sunlight by building a home with as many energy efficiencies as possible.
"Gary came to us to wanting an efficient dream home that would perform well in the high desert climate," Cindi said. "It was a perfect marriage for us. We loved his ideas for an open bright home that blended indoor and outdoor spaces. He also knew exactly where to place the home on his land."
The design concept came next. Solaire recommended Bend architect Neal Huston whose firm has 30 years of experience in designing homes on the high desert. Because of Nolton's busy travel schedule, he and Huston were never able to meet in person. "We exchanged emails, calls and images," Nolton said. "Neal took all my materials, notes and ideas. It shocked me that he abbreviated the process without any push and pull. He hit the nail on the head right off the bat. What you see today is the result of his original ideas."
Huston's thoughts were similar. "I feel that from the beginning, Gary and I were on the same page for this story," he said. "He understood the relationship between amount of square footage and cost, and that smaller can work if efficient and thoughtfully conceived."
Solaire broke ground in May 2018 on a three-bedroom, two-bath home with 1,753 square feet. The orientation is toward the Cascade Mountains. "Taking advantage of his incredible view was paramount, both for indoor and outdoor living spaces," Huston said.
"Low maintenance materials and energy conservation were both concerns of Gary's," he continued. Nolton had considered solar panels and wind turbines to be off grid. But rather than generate power, the more affordable solution was to incorporate energy efficiencies, such as 8-inch thick exterior walls, high-efficiency windows, blown-in fiberglass blankets in interior walls and ceilings to achieve insulation values 50 percent above code and large overhangs to shield west-facing rooms from the intense sun.
Solaire's attention to efficiencies in the home shell combined with the installation of high- performance windows led to a nearly airtight dwelling. To maintain healthy air exchanges, the company installed a Lifebreath ventilation system to bring in fresh air and expel stale air. A filter system removes dust, pollen and smoke.
Cindi said that the home is certified Earth Advantage Platinum for its superior energy efficiency, healthy air quality and responsible use of natural materials. 
"It's all about building a super-insulated home shell, creating a healthy indoor environment, conserving the earth's resources and ensuring the home meets our client's aesthetic goals," she said.
The home's architecture and view stand out immediately on arrival. Without blinds or curtains to impede the first impression, guests can gaze straight through the sliding doors, great room and out the backside to the mountains. Two of the three bedrooms also face the Cascades, and a covered outdoor eating area is perfect for gathering on a summer evening.
Nolton served as his own interior decorator, selecting mostly white walls, with a couple of accent walls. Tile colors, lighting fixtures and cabinets are contemporary but muted. The simplicity of the inside strongly complements the stunning views outside the home. Pieces of art punctuate the walls and fun Western touches are a nod to his inner cowboy.
After several seasons as a visitor on his own property, Nolton moved into his desert hilltop home in May and says he loved being an integral part of the design and all the steps along the way. "It's been a big lifestyle change," he said. "I've always lived in the 'hoods. It's amazing to walk to a stream and throw a fly rod in, but I can't walk to restaurants." All in all, he says it's the right size for him. "I love the house so much," he said. "It feels like a warm hug."