Growing up poor in Mexico City, graduating to working amid the glamour of celebrity chef restaurants in Las Vegas in the '90s, and then fighting in Iraq after 9/11 hardly seems a logical path to opening a French-inspired bistro in Redmond. Yet it is a telling mélange behind the daunting drive of Moises Becerra, who's aiming to raise the standard for dining in Central Oregon with Becerra's on 6th Bistro.
This military and kitchen veteran recognizes that his visceral connection with Gallic cuisine is derived from his love of the traditional Mexican comfort food that his mother made for him and his four siblings, as well as from his father, a hospital cook.
"I'd come around the table when she was mixing tamale dough with a big spoon, especially during Mexican holidays," he said. "It was a thing that personally made me happy, to see an abundance of food, a big mound of tamales, as well as the everyday food, like handmade tortillas. We were raised very poor, so we'd rarely eat meat, and when it did make it to the table, we were very excited. So, yes, food was very important." Becerra wanted to be a petrochemist but couldn't afford the requisite education. Instead, he went to work, came to the U.S. in the early '90s, and earned an associate's degree in tourism and hospitality management from Lane Community College in Eugene. He went to work as a server at Spago in Las Vegas, just as Wolfgang Puck began launching his empire.  "In Vegas, it's very glamorous, there's a lot of money, and you meet beautiful people from all over the world, but the restaurant competition is ferocious, so you have to have quality of service," he said. "You're not just a food carrier or order taker, you're a sales manager, trained in customer service. It's a phenomenon in Vegas and they push hard for it." After the 9/11 attacks, however, he set aside his vision of managing a glittering restaurant and enlisted in the U.S. Army infantry, despite being in his early 30s.
In 2010, after returning from two deployments in Iraq, he decided to pursue his passion for cooking, attending LCC's culinary program for a year, and completing the second year of the associate's degree at Central Oregon Community College's Cascade Culinary Institute. He worked at 900 Wall and Brasada Ranch for a summer then returned to Vegas to cook at Le Cirque and Mon Ami Gabi. "One of our ideas was how to bring that level of customer service to Redmond," Becerra said. "I created a matrix of the nineteen steps of service in which we train servers, based on the American Culinary Federation book, Remarkable Service." Employees must complete two days of training including a Powerpoint detailing why he and his wife, Sheila, started the business.
"We had been retired already, and now we're coming back to open a restaurant," he said. "It's crazy, it's so much work, why not enjoy retirement?" He didn't want to have regrets. "We do things, we're doers."
His mission is to make the food and atmosphere as remarkable as the service, striving to use excellent organic, local ingredients. For instance, Redmond is historically a potato growing region and yet he rarely found potatoes on local menus, so he's changing that.
"We are meat and potato people here, we like beautiful French mashed potatoes," he said. "We mix in butter and milk from Eberhard's just three blocks away."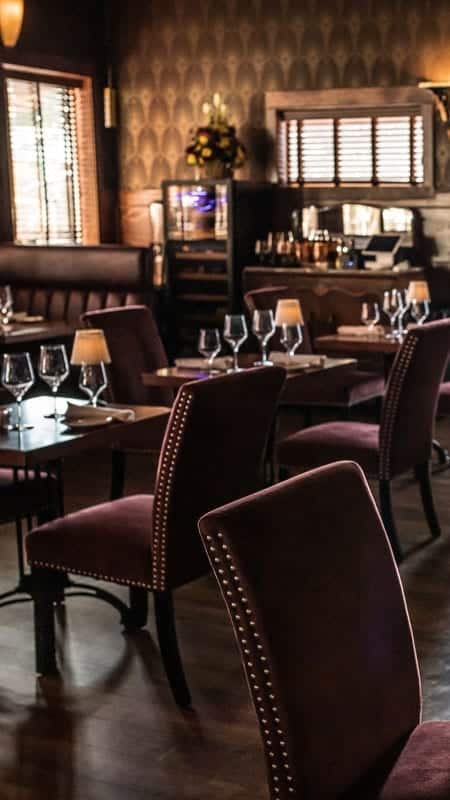 Aside from potatoes, the menu boasts an amuse bouche of housemade baguette with compound butters and salmon mousse, appetizers including charcuterie, four-cheese casareccia pasta with brie cheese foam, escargot and flatbreads. A roasted red beet salad is dressed with a Champagne vinaigrette and pine nuts.
There's a traditional French onion soup, lemon-brined heirloom chicken, beef Wellington, roasted pork chops brined in beer and tamari with apple compote brandy, grilled lamb chops, beef Bourguignon and wild mushroom pasta.
Their pastry chef creates desserts such as maple bread pudding with house-made bourbon vanilla ice cream with toffee sauce and maple pecans and a dark chocolate mousse cake with black current mousse, black currant curd and whipped cream.
The couple's goal is for the art deco ambiance to mesh with the downtown design and transport guests to another place and time. From the feel of a doorknob, a wine glass stem, a seat cushion or the splendor of a chandelier, Becerra has considered it all.
He knows that tourists come and go, but he wants to offer a year-round escape for locals, even if it's just to relax with wine and dessert.