When it comes to imbibing, move over hops and barley, there's a bean brewing in town. While Central Oregon is known for the ale trail, per capita, it's coffee that reigns supreme. It's not just a local phenomenon either. Coffee consumption in the U.S. reached an all-time high in 2022 according to the National Coffee Association. Whether found at a drive-through kiosk, or at an independent coffee house, estimates from Deschutes County put coffee locations at close to seventy in Bend alone. Here we take a look from source to sip, of what arguable might be Bend's favorite brew.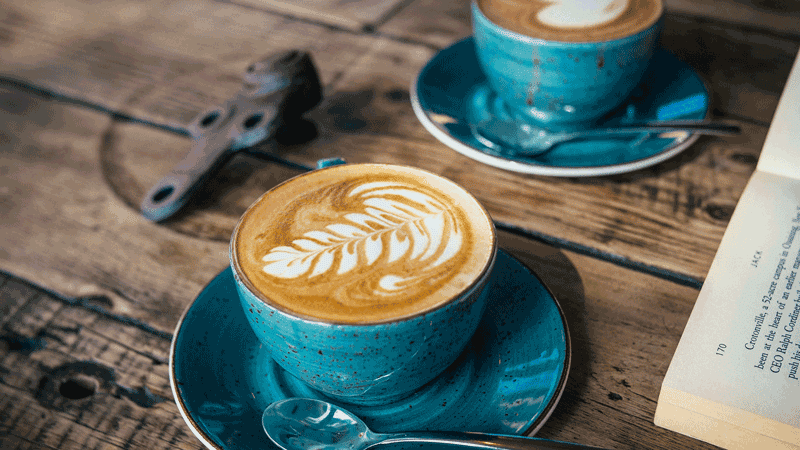 SOURCE
As the sun begins to creep across the high desert, sleepy Central Oregonians step to the counter of their local coffee purveyor to order their favorite morning brew. While the customer's path may take them from home to the barista and on to work, Backporch Coffee Roasters owner Dave Beach knows the coffee bean's journey is significantly longer.
Most Januarys, Beach travels to El Salvador in search of flavorful beans to roast in his Loring Falcon Roaster. Alongside a few chosen co-workers and guests, he lands at the airport and drives to the Menedez family ranch in Ahuachapán. The fifth-generation coffee farmers own or manage eight farms and a coffee bean processing mill in the area. Beach and friends, escorted by the Menedez family, ascend the rutted, dirt roads to view beans grown at various elevations. After a morning of inspecting farms, Beach, who has been roasting coffee beans for more than twenty years, heads to the mill for blind tastings of forty various beans, roughly ten at a time. "My goal is to choose the best beans and develop them properly," said Beach, who has lived in Central Oregon all of his life, save for four years studying at the University of Oregon in Eugene.
Coffee beans are harvested in the morning and sent at night to the mills where workers remove the fruit for a month of drying. Next, the beans are de-shelled and packaged in burlap sacks at the dry mill for shipping across the world. Relationships like the one Beach has with the Menedez family ensure not only a quality bean, but a strong connection between Central Oregon and Central America. This friendship provides the foundation for plantation direct purchasing and fairness amongst the farmers, ranch managers, and those who sell the coffee beans.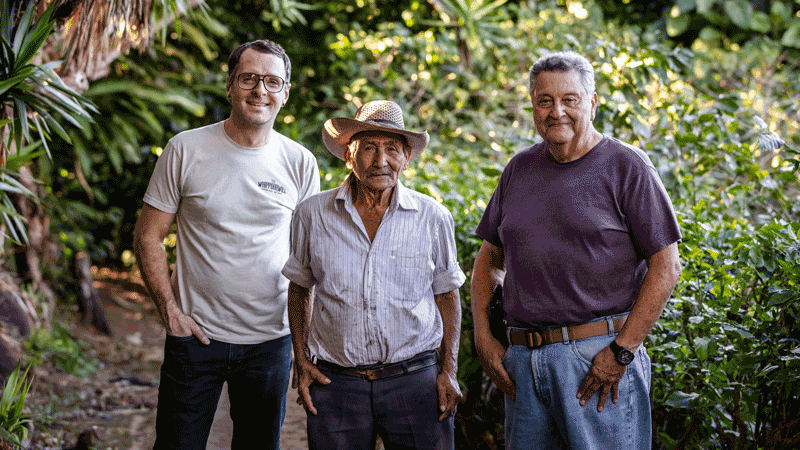 Stewart Fritchman, owner of Bellatazza in downtown Bend, also follows this approach to sourcing quality coffee and travels to Guatemala a couple of times a year. "We've used plantation-direct purchasing in Guatemala for twenty years. It allows me to build the necessary relationships with the people of Guatemala," he said.
Traveling deep into the jungle of Central American countries is not without danger. Often times, airplane runways seem to appear out of nowhere and need to be cleared of grazing animals. Other times, armed guards patrol jungle mansions and drivers must vary their route home for safety. And of course, COVID-19 added a new level of concern to international travel.
But in the end, tackling bugs, animals and light rebellion are all worth it for quality beans and lasting friendships. In early 2020, Fritchman realized the Guatemalan tourist economy had plummeted so he took to social media and promised to shave a mohawk and dye it blue if he raised $5,000 in support. After surpassing his goal and donning his new hair style, Fritchman sent the money to his Guatemalan friends who made 328 care packages and passed them out to those in need. "Economics are important, but I'm in it for the emotional connections," explained Fritchman.—written by Gregg Morris
Explore the world through coffee:
Strictly Organic Coffee Co.: Since 1999, Richard and Rhonda Steffensen have been leaders in sustainable business practices and offer 100% certified Organic and Fair Trade coffee.
Coffee4Kids: Sourced from sustainable plantations, proceeds support Mi Casa International, the founder's family-run orphanage in El Salvador.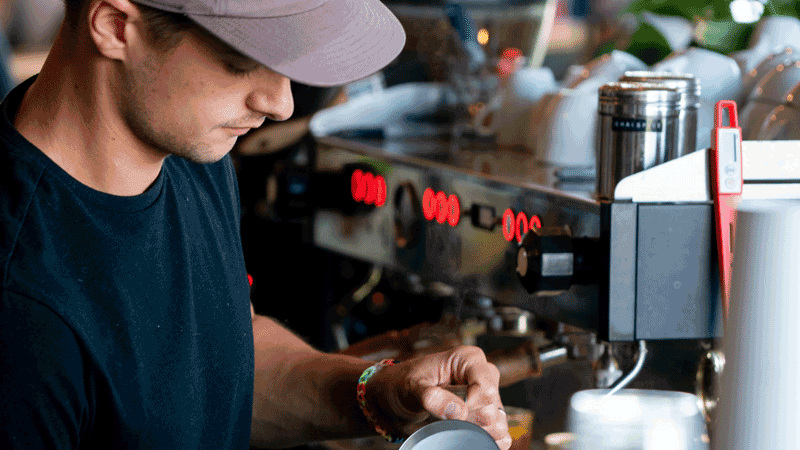 ROAST
The subtleties of coffee taste are even more pronounced when beans are freshly roasted, which is why many local coffee houses choose to roast their own beans. "Coffee is a science when you really dig in," said Mitch Thisius, co-owner with Bo Olsen of Junction Roastery in Redmond. Expert roasters must learn temperature and timing standards, a roast color spectrum, and a set of new terminology such as going from "First Crack" at 412°F, through "City" to "Full City+," then "French" to "Burnt" at higher temperatures of 455°+. The range of a roast-master's stylistic process produces coffee beans with a wide array of outcomes. When coffee beans are roasted in-house, there's also an opportunity for a visual tour to see (and smell) the process live. 
Sample the beans:
Still Vibrato: Specialty roasts include Top Hat and Squid Ink.
Lone Pine Coffee Roasters: View coffee roasting Tuesdays and Thursdays at their westside location.
Junction Roastery: See the 1.5 kilo Ozturkbay roaster at work in their historic building which was once the first medical center in Redmond.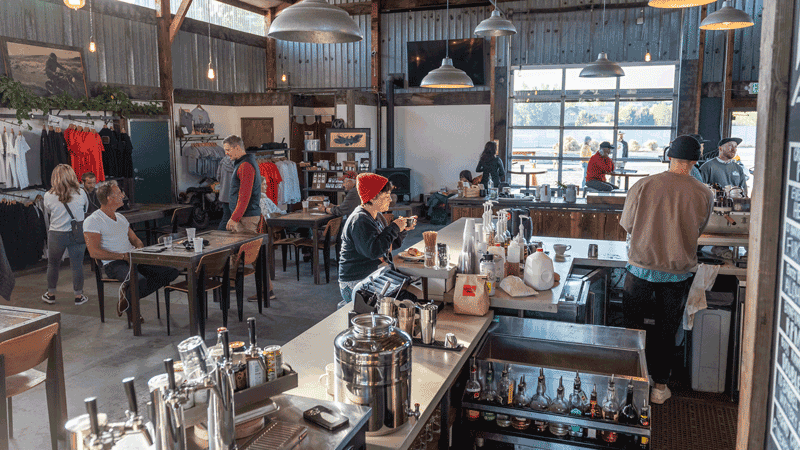 BREW
Brewing and pouring is an art in itself with a barista orchestrating each step. Creative choices for steeping range from a low-fi pour over, slow Chemex drip or the use of a high-end European espresso machine depending on what will end up in that final cup. Baristas train to learn the subtleties of coffee creation, not to mention the art of foam. Jodi Groteboer, co-owner with Jason Rhodes of Palate a Coffee Bar in Bend, says consistency is key. "Steaming milk, pulling espresso and pouring drinks all day" combined with a  "love for learning" are the secrets to being an excellent barista. Then there are the tools of the trade: "In our cafe, you will find our baristas using digital scale, measuring spoons, and even cute little mini whisks to get it right," Junction Roastery's Mitch Thisius said. 
Find art in a cup:
Palate a Coffee Bar: Have co-owner Jodi Groteboer make an Italiano, a six ounce americano. "It's the perfect size to sip on for a bit and taste the full expression of the espresso."
Thump Coffee: Barista Hilary Harvey said, "We all have our latte art specialties," from foam hearts, tulips and rosettas to even animals.
SIP
The taste notes in a cup of freshly roasted and brewed coffee are an array so vast they have their own flavor wheel. That spectrum and variety is equally colorful in the coffee shops of Central Oregon. It's in these environments, we see the wide range of settings for the range of how we live our lives: there's a coffee stop to start the day, meet a friend, hold a business meeting, clock in time at a remote job, or fall in love. Try having your coffee served with distinctive personalities:
Start here to sip:
Spoken Moto: Set amidst a collection of vintage motorcycles in a former mechanic's
 

shop.

 
Looney Bean: Front row seats to Mirror Pond.
---
Click here to read more about our local food and restaurant scene.