With summer officially underway, here's a little cheat sheet that can help you get the most out of your urban floating experience. From river safety, floating etiquette, shuttle and rental information, this is a one-stop guide to help you float the Deschutes like a local this summer.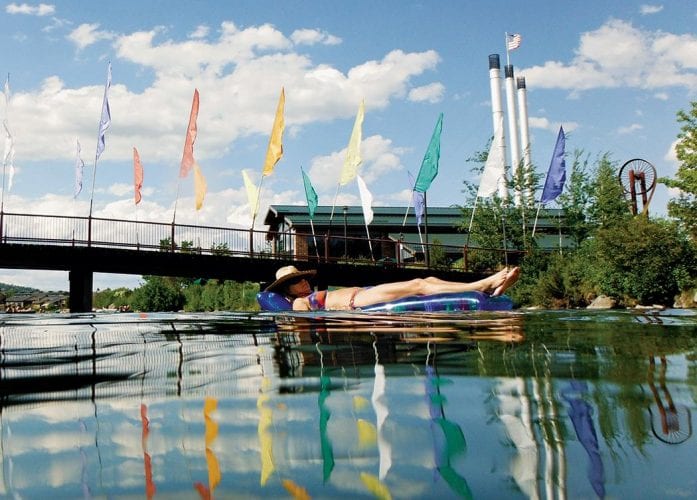 Enjoy Protect Respect
The popularity of floating the river has surpassed what anyone envisioned when Bend's Park and Recreation District formally opened the river for business. Every summer, boaters, stand-up paddlers, floaters and swimmers flock to the river for activities. The demand for getting on the river in recent years has grown significantly—an estimated 240,000 floaters passed through Bend during the summer of 2017 alone.
The Deschutes River provides an excellent way to get outside, stay active and cool down in the hot summer months and the river is a major attraction for visitors traveling to Bend. However, this influx of river-goers over recent years has produced hundreds of pounds of garbage and unsecured personal belongings that make their way into the river during the summer season.
The amount of trash, from lost clothing to littered cans, has ballooned in proportion to the increased use of the Deschutes. Last year's annual summer river clean up claimed over 1500 pounds of trash. Yet, rather than curtail floating, the Bend Parks and Recreation District and its partners—including the Old Mill District and Tumalo Creek Kayak & Canoe—are asking locals and visitors to consider their impact when they set sail from Farewell Bend Park.
The product of this collaboration is the Enjoy Protect Respect Movement, which is a call to set a higher standard for behavior on the Deschutes.
Enjoy the river safely by wearing a life jacket and securing your gear properly.
Protect the river by picking up your trash and belongings.
Respect the river by only entering and exiting at approved access points.
These are at the core of long-term river conservation and protection. The Enjoy Protect Respect committee came to life with shared interests in launching a public awareness campaign to encourage locals and visitors to practice river stewardship by enjoying it safely, protecting the habitat and respecting the experience.
Krystal Marie Collins of Tumalo Creek Kayak & Canoe recommends that every floater have a conversation with their group about the core terms of Enjoy Protect Respect so that everyone can learn the proper ways to float the Deschutes. Only when everyone in the party acts responsibly, we can all share a clean and safe river.
Get Out of Town
Tumalo Creek
An easy way to enjoy, protect and respect the Deschutes is to redistribute traffic i.e. just float down in a different area than the Old Mill. If you're looking for something with a little more adventure, dropping in and taking off from Tumalo State Park to Twin Bridges is perfect. This float is located about 15 minutes outside of Bend and is well worth the effort.
You'll be able to enjoy a few hours on the water, with some parts acting like a waterpark's lazy river that gives you a view of some of the amazing homes and architecture built into the scenic cliffsides, while other portions send you through light rapids and tight turns, so be sure to hold on tight! If you're lucky, you might catch a glimpse of one of the High Desert's favorite critters, the elusive northern river otter.
The rules of the Enjoy Protect Respect committee still apply outside of the Bend city limits, so be sure to enjoy the river safely with a life jacket and proper floating equipment fit for light rapids. Protect the rivers beauty by holding on to your trash, especially when the water gets choppy, and respect the river by entering at the state park, and exiting right before the bridges. You'll know to exit when the water gets extremely shallow and the obvious bridge is approaching you. Go ahead and pull your rafts out to the right, and remember to leave one car at this exit in advance so you have a ride back because there won't be shuttles.
Sunriver
Another great option to get on the river and beat the crowds is about thirty minutes south of town in Sunriver. The Sunriver area is an off-the-beaten-path destination for those who are serious about floating the river. The upper section of the Deschutes River winds through the Sunriver area and offers incredible mountain views and Class 1 rated water with minimal waves and no obstructions. Keep in mind that the Deschutes is spring-fed and, particularly around Sunriver, the water rarely exceeds 60 degrees in temperature.
Here, you can make an entire day of it by putting in at the Harper's Bridge and floating this section of the river for three and a half hours to the pull-out at Benham Butte. If you're looking for a shorter ride, or need a place to come ashore and take a break for lunch, hop out at the Sunriver Marina only an hour and a half float from Harper's Bridge. Here you can rent your canoes, kayaks and rafts and grab a drink and bite to eat all within Sunriver Resort.
Tumalo Creek Kayak & Canoe offers a shuttle service for visitors that don't have a way to transport their boats. You can take their shuttle to La Pine State Park where they'll drop you off and will later, pick you up at the Big River Campground. The shuttle costs $15/person in addition to rental costs. Floating this stretch of the river generally takes about two and a half hours at a relaxed pace.