Photo Toby Nolan
When second-generation family owners of an Idaho/Oregon railroad construction company were looking to design a new fireplace for their home, they turned to Paul Shepherd at Bend's Forged Elegance to get the job done. Shepherd worked with homeowner Gail Sines to design an electric fireplace that embodied the family's railroad industry history, using wood from historic railroad spikes and rail cars, and a forged steel door. Shepherd even sourced historic date nails from 1922, each labeled "22," and used them as accents on the fireplace to signify its date of creation in 2022. "I've known Paul for years and asked him if he could make me an electric fireplace," Sines said. "I really enjoyed working with him on my railroad-theme decor."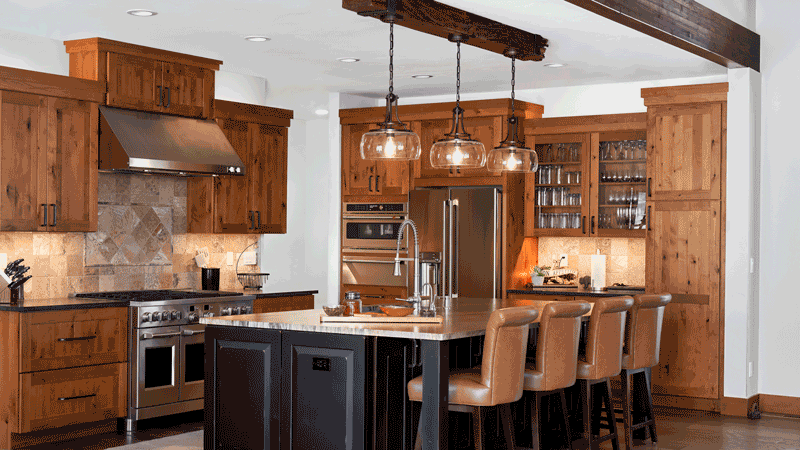 Approaching each project with a spirit of creativity, with knowledge of forging and metal work and with materials exuding historical character, Shepherd is making a name for himself through his steadily growing company, Forged Elegance. 
Elegant Takeoff
The idea for Forged Elegance was conceived in 2020, when Shepherd, a second-generation sheet metal worker and owner of Shepherd Heating & Air Conditioning, began to pursue custom furniture and decor projects using metal and aged barnwoods. In the three years since, the variety of products has grown, and now includes more custom designs, built-ins and fixtures. "Forged Elegance has evolved beyond our wildest dreams," Shepherd said. "We have advancements in new designs and techniques that have developed into an array of various styles to satisfy every homeowner's needs. Not only are we able to produce rustic, old designs, but we have incorporated modern contemporary and mountain modern designs into our collection."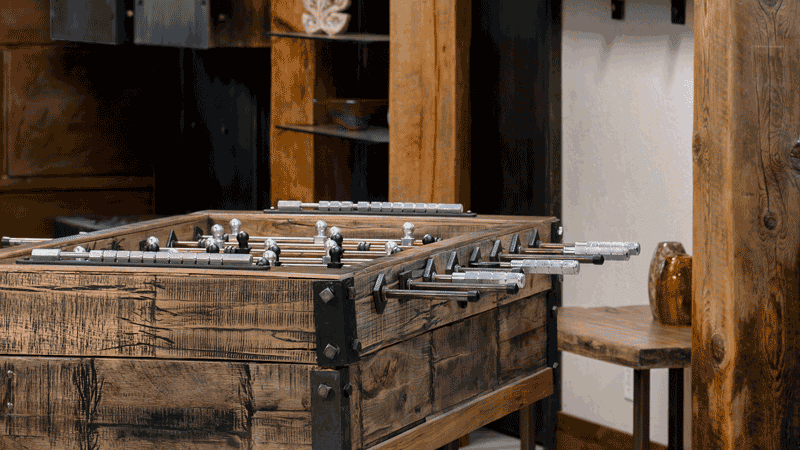 At Northeast Lytle Street in Bend, visitors to the Forged Elegance showroom (open by appointment) can find some of the latest furniture and decor in the company's collection, custom pieces and one-of-a-kind creations such as a rebuilt foosball table originally manufactured in West Germany in the 1960s. The foosball table was deconstructed and new details were built on top of the original interior assembly. The finished product incorporates historic barnwood, forged steel and custom handles and decking. In addition to the original interior structure from the 1960s, the original ball collection drawer and coin receptacle were also kept. "This game table has been in my family for generations, so to see it transform is an honor," Shepherd said. "It will make a great addition to any game room." 
History at home
The furniture, decor and built-ins designed and created by Forged Elegance are special not only because of the expert craftsmanship, but because of the storied history of the materials used to create each piece. Wood is sourced from a Civil War-era barn, a historic Oregon ranch, railroad cars and a redwood water tower using lumber from 800-year-old old growth redwood trees. "Hand-selected barnwood is hand sanded to a very fine grit, leaving the rustic wood behind with a smooth finish," Shepherd said. Once wood is selected, cold rolled steel is then used to enhance the wood furniture, producing an Old World look and feel. "This combination sets us apart from traditional furnishings, and elevates it with history and artistry," Shepherd said. 
For Bend interior designer Leah Hendrix, it's the stories behind Shepherd's work that make his finished products so impressive. "Forged Elegance is absolutely the best source for unique custom furnishings in Bend. What I enjoy most about working with Paul and his team is the true passion that they have for the beautiful, historic wood that they source," Hendrix said. "Any time you visit his showroom, he is excited to tell you the story of each piece that he has created. Paul is truly a visionary artisan combining rich, reclaimed historical wood and his modern blacksmith-style metal work." 
The newest aged-wood collection that Forged Elegance has sourced is from pylons used to hold up buildings in the coastal town of Astoria, Oregon. In the 1880s and again in the 1920s, Astoria was devastated by fire. Afterward, buildings were constructed off the ground on wooden pylons. In recent years, some of these pylons that are no longer used as structure support were dredged up from several feet under the ocean floor. "The covering of mud and sand preserved this beautiful wood that still contains unique, colorful striations throughout each piece," Shepherd said. "We repurpose this historic wood into captivating furniture with solid steel accents."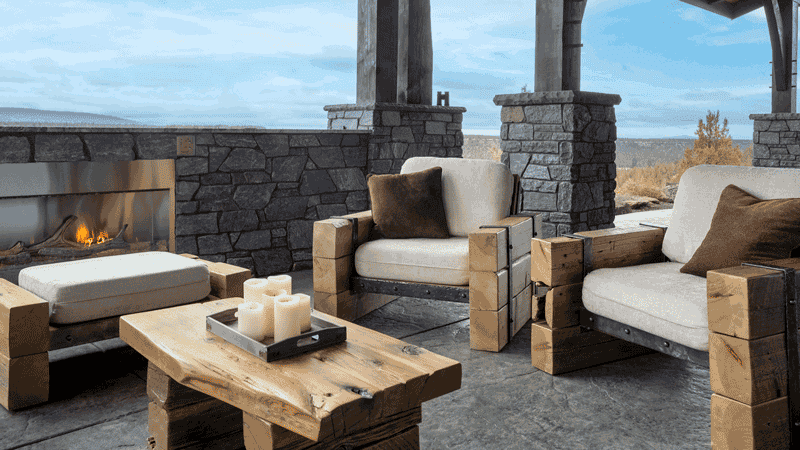 Design Delight
As Forged Elegance has completed more projects over the past few years, the company's following of customers, builders and designers has grown, and with that comes testimonials that speak to the quality of craftsmanship provided by Forged Elegance. Often builders and homeowners learn of the company after working with Shepherd Heating & Air Conditioning on heating and cooling for a new construction project. That was the case for Pat Wood, who met Shepherd to talk about heating and cooling for a project in Sisters, before learning about Forged Elegance. "I met with Paul at his shop in Bend to discuss business over a set of plans. Unbeknownst, we started a tour of his second business, Forged Elegance, where I realized I had just found Paul's true passion and talent," Wood said. "As a woodworker myself, I knew the quality and hard work that is required for such beautiful artwork." Wood connected his custom-home client with Shepherd, who went on to create a series of pieces for the new home, including a bar in the garage, dining room table and bathroom mirror and vanity. 
Another builder who champions Forged Elegance is Tye Farnsworth, owner and general manager of Pacwest Builders, a Bend-based home construction company. Farnsworth said he appreciates Forged Elegance's selection of handmade products in stock, as well as the made-to-order pieces the company creates. "They are amazing in their creativity and in the selection of the material they use," Farnsworth said. "Each piece has a story to tell from where it originated. Ask Paul to share the history behind the materials he uses."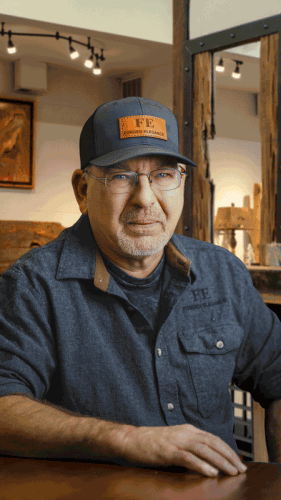 Next Steps
As Forged Elegance continues to grow, Shepherd said he's excited to continue experimenting with new styles and items, with a goal to always outdo himself. "I always strive to build bigger and better pieces that exceed our clients expectations," he said. "I encourage new ideas and out-of-the-box designs." Shepherd said he'd be particularly interested to try creating a pool table and matching forged steel light fixture someday. 
In the near future, Forged Elegance is focused on keeping up with orders and demand, and preparing for upcoming opportunities to meet new customers. The company will be at the Pacific Northwest Sportsmen's show in Portland, February 15 to 19, and the Central Oregon Sportsmen's Show at the Deschutes County Fair & Expo Center, March 9 to 12.
Forged Elegance  | forged-elegance.com | 541-771-6554
---
Click here to read more about our vibrant BUSINESS community.