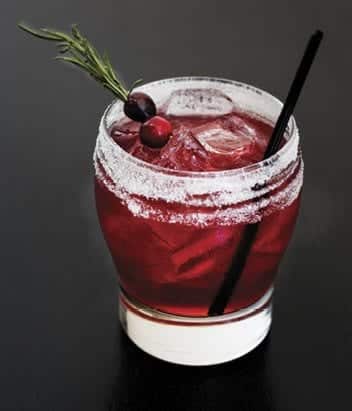 The subterranean 10 Below at the chic Oxford Hotel in downtown Bend has a de facto speakeasy feel. With a retro-inspired cocktail list, the restaurant and lounge has a Pacific Northwest modern meets the Jetsons aesthetic. Veteran bartender and cocktail creator Maia Jackson said, "The incredible flavor combinations that are at our fingertips [here] inspire me to revise and polish the wheel and perhaps create my own classic cocktail." Jackson sees rosemary and cranberry as a definitive winter flavor combination. The use of those fresh ingredients in the Frosty Jalisco is intended to capture the feeling of stepping outside on a brisk winter day. Tequila compliments a more acidic flavor profile and real cranberry juice adds a bite like that of fresh lime. Reposado, which is aged for six months in a barrel, is soft enough to blend well in a cocktail.
Frosty Jalisco
1 ½ ounces Herradura Reposado tequila

½ ounce Clear Creek Distillery cranberry liquor

½ ounce Cointreau

¾ ounce rosemary simple syrup

1 ½ ounce Knudsen "Just Cranberry" juice

Spring of Rosemary and a few whole cranberries
Dry muddle whole cranberries and rosemary sprig in shaker. Add remaining ingredients and ice, shake, strain over fresh ice into a sugar-rimmed rocks glass.