Seeking a change of pace, a deeper connection to nature and a sense of slowing down, Mandy Davis and her husband Josh made the decision to leave the bustling Bay Area behind and relocate their family to Central Oregon. Settling on 10 acres of picturesque countryside near Powell Butte, the Davis family embraced a modern homesteading lifestyle, which includes homeschooling their three young children. With the desire to create a dedicated space for education, the couple worked to transform their garage into a bright homeschool classroom.
Mandy, a former school principal, envisioned an environment that would nurture growth, creativity and a love for learning—a space that would reflect a home's warmth rather than a conventional schoolhouse. With their children's ages spanning 10 years, Mandy wanted a multifunctional room that could cater to individual workspaces, a communal table for shared activities, sensory areas to stimulate engagement and space to move around. The project was a collaborative labor of love for both parents, who share a passion for do-it-yourself projects. "My husband and I were both born with the 'How hard can it be?' gene. We love to DIY and take on large projects together," said Mandy.
"Every step of the way was a check-in with my children. 'What are you loving?' 'What do you need in the space?'" 
Mandy's background in education played a vital role in shaping the design choices for the couple's remodeling project. It was crucial to Mandy that her children had input regarding the project. "Every step of the way was a check-in with my children. 'What are you loving?' 'What do you need in the space?'" she asked, keeping their needs and preferences at the top of her mind.
Josh, a skilled builder, took charge of the construction and turned Mandy's design ideas into reality. "Our ongoing joke is that there isn't anything he can't build," said Mandy. "But really, it is so true. I would share my stick-figure drawings, and he would scale it up and build it." The transformation only took about three weeks to complete. The work began by bidding farewell to the garage door and elevating the flooring. Next came the drywall installation to improve insulation, along with French doors and large windows to provide natural light and a seamless connection to the outdoors. The project also included selecting new flooring, applying fresh coats of white paint, crafting custom cabinets and creating a fully enclosed patio to expand the learning possibilities.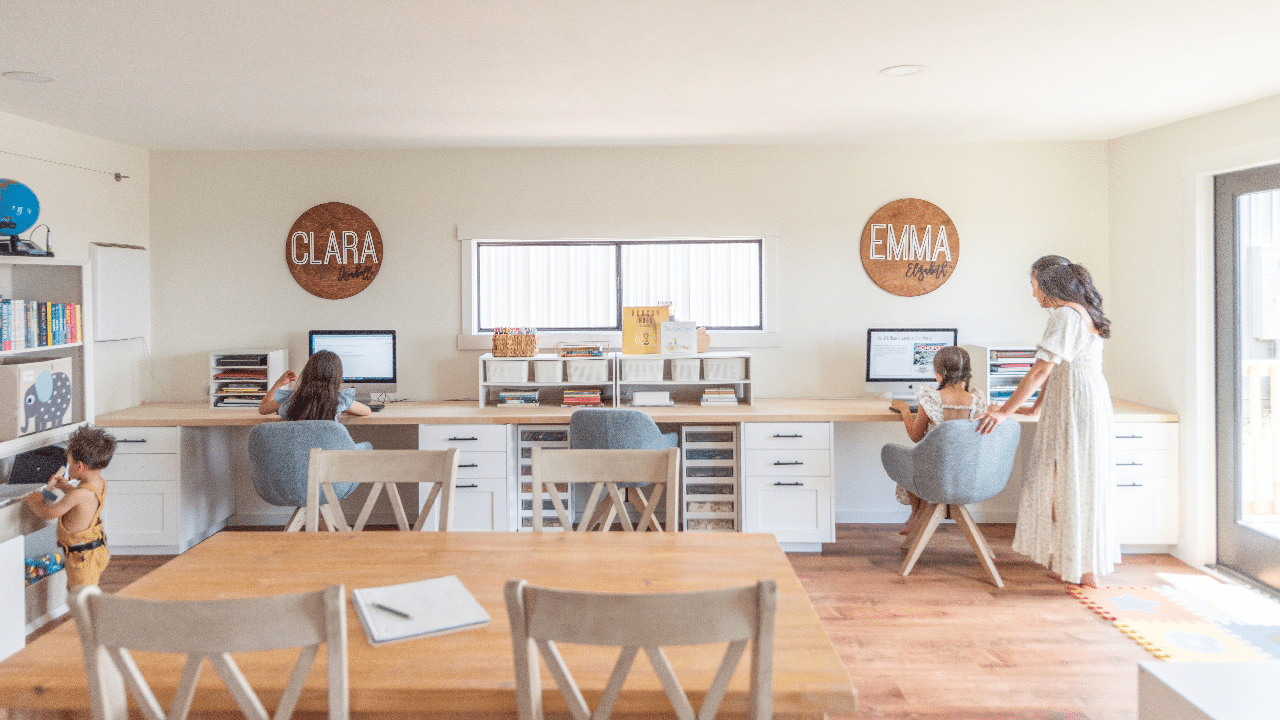 Stepping inside the homeschool classroom, one will find an array of cherished features that both the children and Mandy adore. Butcher-block desks create sturdy workspaces; custom cabinets offer storage for curriculum materials and books; and a large rug encourages movement and play. These elements enhance the room's functionality and contribute to its inviting atmosphere—a true embodiment of Mandy's vision, who describes the space as warm, functional, bright and, most importantly, theirs.
While the homeschooling experience extends beyond the classroom into the family's entire home and homestead, the dedicated space serves as the heart of the children's educational endeavors. For Mandy, the homeschool room provides structure and organization, smoothing the flow of their daily routines and acting as a central hub for learning.
Mandy's vision for a home learning space was realized but believes that having a designated homeschool room is not a prerequisite for successful homeschooling. She feels the essence of homeschooling lies in the freedom to personalize the educational approach, creating learning experiences in a variety of environments and embracing the world as the classroom.
---
Click here to read more HOME + DESIGN stories with us.