When Tyler and Adrianne Baumann started making cider in 2015, the husband-and-wife team was admittedly nervous about public reaction. After all, neither had made cider before—Tyler's only industry experience came as a bartender—and both were intimidated by big-name competitors throughout the Pacific Northwest.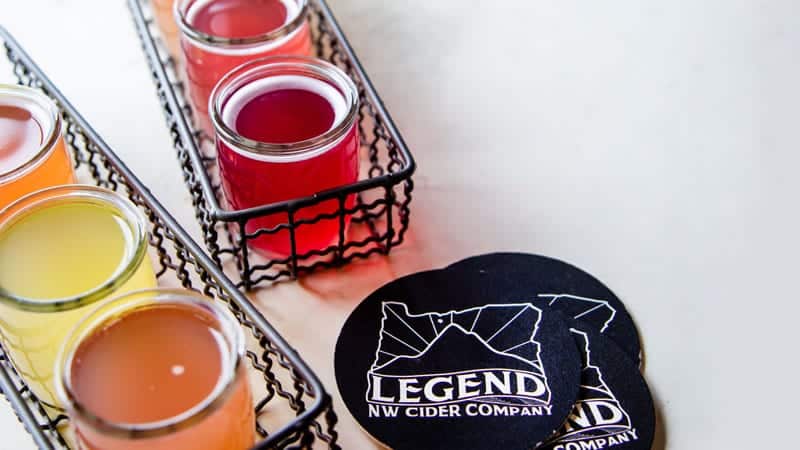 In a way, though, Adrianne Baumann said that outsider mindset gave them free rein to take a different approach. "We were looking at the cider market with a fresh perspective," she said. "We didn't go to school for this or come from a long line of brewers. We're just looking at it with fresh eyes and creating something new."
Clearly, the Baumanns are onto something. In August 2019, the co-owners of Legend Cider Company opened a taproom in La Pine—beating a brewery to the city, a rare occurrence in beer-crazy Central Oregon—and have since earned a loyal following for their tap list of balanced, yet fruity flavors.
Adrianne believes that acclaim reflects the cidery's continued desire to do things differently. For instance: Legend uses beer yeast, rather than cider yeast, to create more complex flavors. "People can kind of pick up on it," she said. "It has that more mellow finish."
Legend also abstains from artificial sweeteners, flavors, or fruit concentrate—using only 100 percent fruit juice in a move that Adrianne said creates a cleaner, crisper, juicier finish. "A lot of people are surprised when they try our cider," she said. "They take their first sip and say, 'This tastes like juice.' And that's because it is juice."
Those flavors show up in Legend's lineup of fruit-forward beverages—like the PCT (Pineapple, Coconut, and Tiki) Punch, a tropical, piña colada-like cider, and the Columbia Gorge Grape cider. "That's like a grape juice box, but all grown-up, and with all-natural ingredients," Adrianne said. "People get the real grape taste and are like, 'This is really good!'"
Legend Cider Company |
52670 US-97, La Pine |
Legendcider.com