Getaways around Central Oregon are easily found. Deciding which of the many options to pursue is the real Central Oregon dilemma. Nonetheless, you neither have to look nor go very far to embark on a vacation near at hand. The trick is choosing an adventure to suit your mood.
We asked four people to share their cool local getaways in hopes that they would inspire your own. Their favorites range from intimate music venues to adrenaline-doused downhill biking to solitary wilderness retreats. Adventure begins as a stirring, a yearning. Let these ideas be your spark.
Camping Getaways Around Central Oregon
LOCAL GUIDE: Pam Stevenson, entrepreneur coach and outdoor adventurer
Every fall, Pam Stevenson takes a backpacking trip into the postcard beauty of the Mt. Jefferson Wilderness. "The views of Mt. Jefferson are fantastic, and the foliage is all red," she said. There are five or six routes to access the wilderness area by foot. Stevenson usually opts for the Whitewater Trailhead, which is about a six-mile hike. Once there, she has many options. Jefferson Park is home to Scout, Bays and Russell lakes, all of which have several designated campsites. "I make a full weekend trip of it," she said. "It's a bit chilly come October, but the upside is that there are no mosquitoes." A Bend resident for sixteen years, Stevenson is a committed outdoor adventurer. That spirit led her to a 1968 vintage Shasta compact trailer that she bought this summer to extend her camping season. Her favorite trailer camping destination in the Cascades is Crescent Lake. "I love the sandy beaches, warm water, and views of Diamond Peak," she said. "It's my go-to." The former director of marketing for Kialoa Paddles appreciates the water recreation at Crescent Lake. There are several campgrounds around Crescent Lake, some of which are open year-round and include yurts for rent.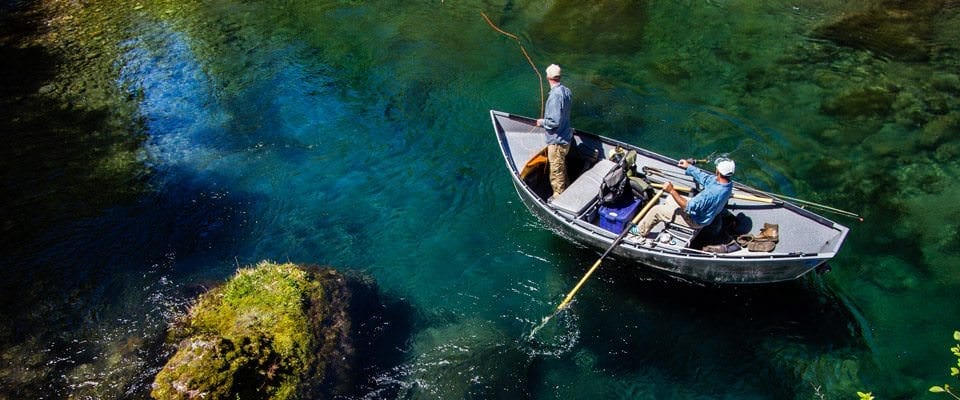 Fly Fishing Getaways Around Central Oregon
LOCAL GUIDE: Becky Johnson, President, OSU-Cascades
Becky Johnson has been fly-fishing Hosmer Lake since the 1980s. "It was a lot less crowded then, just some hard-core canoeists and fishers." Bird watchers and others soon discovered this gorgeous alpine lake tucked behind Elk Lake off of Cascade Lakes Highway. Despite its increase in popularity, it's still Johnson's favorite place to fish. "You turn one way, there's Mt. Bachelor, turn the other way, there's South Sister, you look down, you see the fish, you look up, you see the reeds along the banks," she said. Johnson, who has led the direction and growth of Central Oregon's first four-year college campus, has caught both Atlantic salmon and brook trout on the lake. "I usually use a transparent line and a wooly bugger with two droppers," she shared. From her pontoon boat, Johnson likes to ply the canal that connects the two main portions of the lake. Another favorite is the Upper Deschutes River between Crane Prairie and Lava Lakes, but Hosmer Lake still has her heart. "I always think, if I'm going to go, let's make it here. Just let the lightning strike me now."
More Great Fishing Spots
LOWER DESCHUTES RIVER
Legendary fishing for trout and steelhead plays out along this ribbon of cold, clean water running through a rimrock basalt canyon in northern Central Oregon. Expect crowds during the high season.
MCKENZIE AND METOLIUS RIVERS
For the experienced fly-fisher only, these two rivers will test your mettle with clear water and savvy fish. Bring your smallest flies and your biggest dose of patience.
PINE NURSERY PARK POND
Within this 159-acre park in northeast Bend is a fishing pond, open to all ages and well stocked with rainbow trout, bluegills and bass.
CROOKED RIVER
Trout love swimming the Crooked River between Bowman Dam and Prineville, making this a great classroom for the aspiring fly-fisher. The river is particularly accessible—no bushwhacking required.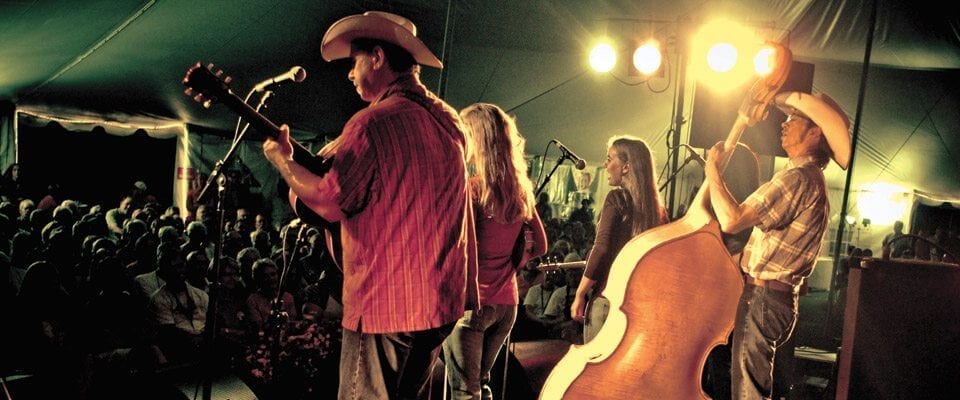 See Live Music in Sisters
LOCAL GUIDE: Brad Tisdel, Creative Director, Sisters Folk Festival
As a twenty-year resident of Sisters and the creative director of the Sisters Folk Festival, Brad Tisdel has witnessed the small city's gradual evolution into a regional music mecca. Tisdel points to a number of creative stages around Sisters as his favorite places to see music acts. As the annual folk festival grew over the years, it spawned many small intimate venues, he noted. Many of these stages are active outside of festival season, offering music lovers diversity and opportunity. "Each has a unique community feeling and provides a special experience," said Tisdel. A few of Tisdel's favorites include The Belfry, The Open Door, The Depot Café, FivePine Lodge and the backyard of Angeline's Bakery. "Angeline's started hosting 'festive Fridays' maybe fifteen years ago in a sweet space in their backyard that quickly became a welcoming community gathering place. It's kid-friendly with exceptional performances and a feel-good vibe." Others followed suit, often adding a stage to an existing business. The Depot is a café; FivePine is a resort; and Open Door is an alter ego of Clearwater Gallery. "Open Door is an intimate, art-focused space with great food and an Italian café atmosphere," Tisdel offered. The Belfry is a larger newcomer that Angeline Rhett of Angeline's Bakery converted from an old church to a hip music venue that hosts acts such as Iris Dement and Brothers Comatose. "It contributes greatly to the mellow, talented, welcoming local music scene," observed Tisdel.
 Places in Bend for Live Music
HAYDEN HOMES AMPHITHEATER
Bend's biggest venue, Hayden Homes Amphitheater accommodates 8,000 people for concerts and other events on the banks of the Deschutes River in the Old Mill District. It hosts a growing list of big-name acts beneath pastel sunsets.
MCMENAMINS OLD ST. FRANCIS SCHOOL
The McMenamins brothers have a relentless passion for renovating old buildings into fun, psychedelic, and creative hotels, movie houses and taverns. This former Catholic school is a great place to catch live music in Bend.
CENTURY CENTER
Live music acts and festivals pop up here at Bend's Volcanic Theater Pub, the spacious garden at GoodLife Brewing, and other indoor and outdoor venues on this mixed-use property.
SILVER MOON BREWING
This oldie-but-goody local brewery features live music on Friday and Saturday nights year-round in its industrial space in downtown Bend.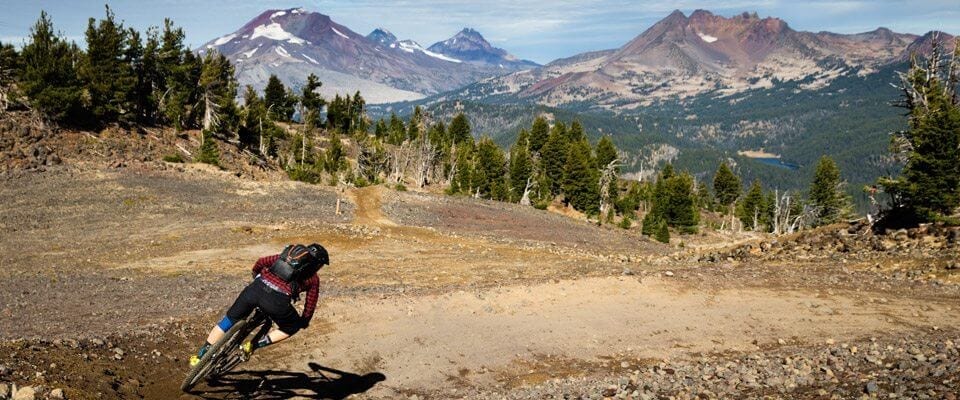 Ride Downhill at Mt. Bachelor
LOCAL GUIDE: Arlie Connolly, Miller Elementary third-grade student
Arlie Connolly started mountain biking before he started school. These days, he takes on trails that would strike fear in most adults. Some of those are at his favorite destination— the Mt. Bachelor Bike Park. At the new bike park, ski lifts hoist mountain bikers and their bikes up the hill, leaving them to plummet down developed trails on their own. The park now has thirteen miles of developed trails with more to come. Connolly counts himself as one of the first to try the park in 2014 and has participated in Mt. Bachelor's weeklong Gravity Bike Camp for two summers. The elevation change is what sets the bike park apart, said Connolly. "It's really different than riding down a regular trail." He admitted that it took him some time to get used to the idea. "It's kind of scary when you haven't done real downhill mountain biking." He started with FTL, or First Timer Line, on the Sunshine lift. "It's a beginner trail with no rocks and nice flowy turns," he said. His current favorite, Hanger, off of the Pine Marten lift, is a bit more challenging. "There are a couple of ditches, and when I come down that one hill on Hanger, I'm never confident." The young rider became such a familiar face in the park that park managers featured him in a promotional video called "The Kids of Gravity Bike Camps." When he's not in camp, he screams down the mountain with his dad, Nate, and sometimes with his mom, Trish. The Connolly family often makes a day of it with a tailgate picnic in the parking lot after a day of riding. "It's fun to have lift access and not have to climb," said the youngest Connolly. Open seasonally.
More Trails to Ride
MASTON TRAILS
Between Tumalo and Redmond is a network of terrific trails on gently rolling terrain with incredible views of the Cascades. Sheltered by old-growth juniper trees, these trails are popular for winter riding.
PETERSON RIDGE TRAIL
At the south edge of Sisters across Whychus Creek is a twenty-five-mile trail system composed of playful, flowing singletrack through a pine forest. Good for varying abilities.
PRINEVILLE GRAVEL
Crook County is home to hundreds of miles of gravel and dirt roads, perfectly suited to off-road riding and touring. Get off the grid and into the stunning forests of the Ochoco Mountains.
MCKENZIE RIVER TRAIL
An epic twenty-five-mile descent through a green forest and along a spring-fed river, the first eight miles are technical. The rest are more manageable and terminate at Belknap Hot Springs, where you can soak your aches away.
---