The first frost has arrived, the leaves have fallen from the trees, Christmas lights are up and is that, wait, holiday music creeping into the background noise? Yep. There's no denying that shopping season is upon us. But let's forget the retail madness for a minute and focus on something that matters, gathering up friends and family to share a meal and maybe a great glass of wine. Now is the time to indulge; we can count the calories in January when we're working on New Year's resolutions. If that sounds like a plan, we've put together a list of can't-miss fine dining experiences that consistently deliver on food, ambiance and service. Your table awaits.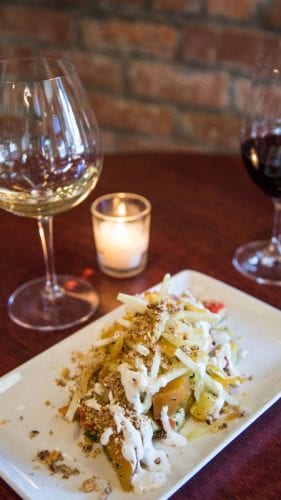 900 Wall (left)
A pillar of downtown Bend, 900 Wall serves up a traditional and reliable menu of new American fare. Among the best options are the beef tartare and beef carpaccio, deviled eggs prepared perfectly, outstanding quality oysters and impressive thin-crust pizzas. For entrees, the flat iron steak is a go-to, the duck confit is like candy it's so tasty, but the burger infused with bacon and served with onion jam is a favorite. Hard to go wrong with anything there. A private dining area on the second floor overlooks the large dining room and makes this a great choice for small groups, or large families needing a reserved space for private celebrations.

Ariana (above)
Tucked into a bungalow on Bend's westside, Ariana is about as romantic and delicious as Central Oregon dining gets. Chefs Andres and Ariana Fernandez opened for business in 2004, bringing their fresh perspectives to classic dishes. Expect local products and Northwest produce included in each immaculately prepared fine dining dish. Dine on entrees including filet mignon, salmon and rabbit surrounded by white tablecloth service and ambiance. The wine list is a particular treat, with bottles from the Northwest as well as all around the globe. Ariana is open for nightly for dinner Tuesday through Saturday.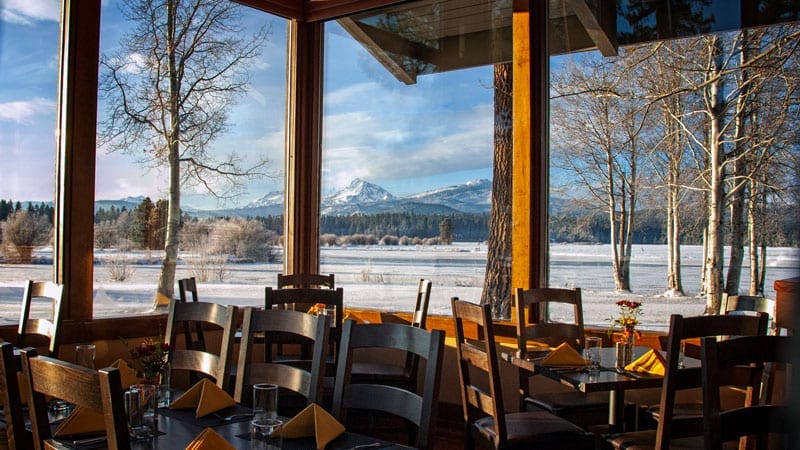 Black Butte Ranch Lodge Restaurant (above)
Tucked at the foot of the Cascade mountains on an expansive footprint that features forested hills and open meadows, Black Butte Ranch is a jewel that has beckoned visitors from around the Northwest for nearly half a century. The dining options are as varied the recreational offerings. From grab-and-go deli food to comfort casual and fine dining. When it come to the latter, look to the Lodge Restaurant where resort guests and visitors can indulge in chef James Healy's menu that transforms traditional steaks, salads and chops into haute ranch cuisine,  like the cocoa-rubbed pork tenderloin with bacon bourbon jam and cider reduction. Open for Thanksgiving, Christmas and New Year's eve. Reservations recommended.
Bistro 28
It's been several years since Steve and Cheri Helt took over management of the former Scanlon's grill inside the Athletic Club of Bend. Owners of downtown's popular Zydeco restaurant, the Helts remade the Bistro 28 menu with some of Zydeco's popular dishes, incorporating that eatery's Cajun and nouveau American cuisine influences. But there are differences between the two establishments, beginning with the ambiance. The downtown restaurant is a bustling urban eatery, while Bistro 28 is tucked into a quiet corner of the club. Diners will find differences in the menu as well, notably the wood fired pizzas at Bistro 28 that make for a personal meal or dish to share. With overflow space in an adjacent lounge area, the restaurant offers a great place for small groups and larger families. It also continues Scanlon's longstanding tradition of being open on Christmas Eve when many other restaurants close their doors.
Pine Tavern
The Pine Tavern's hot scones with honey butter taste great year-round, but the fresh baked treats are especially delicious when you're tucked indoors in this cozy, historic restaurant as the snow flies outside. Opened in 1936, the Pine Tavern has anchored downtown Bend for 80 years. The restaurant is open for both Thanksgiving and Christmas Day, with seafood, steak, pasta, ribs and more on the menu. Make a reservation ahead of time, and perhaps you'll even earn a seat in the main dining room, where a Ponderosa pine tree grows right through the center of the action. Beginning at the end of November, a giving tree will sit in the lobby, inviting donations for the Bethlehem Inn, a local organization that helps those experiencing housing challenges. Also keep your eyes open for the annual Breakfast with Santa event, benefiting the Assistance League of Bend. A warm breakfast, a toy for each child and a photo with Mr. and Mrs. Claus are included in admission.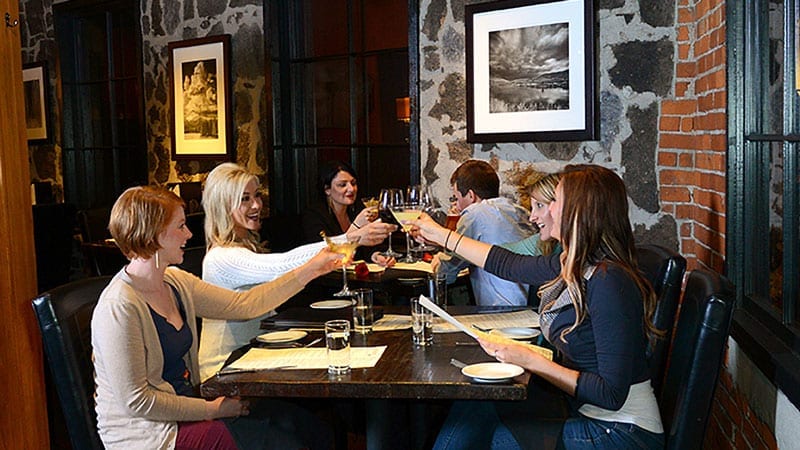 Blacksmith Steakhouse Bar and Lounge (above)
Blacksmith is primarily a steakhouse, but it offers more than that. The pork chop is a standout and the Northwest ribeye served with a roasted mushroom bordelaise and horseradish mashed potatoes topped with crispy red onions might be the best cut in town. It's a dark, comfortable dining room, a welcoming, large wrap-around bar and a great happy hour menu, including some impressive sliders. Their signature mac and cheese with a choice of smoked cheddar, bacon, or truffle is worth sampling all. Executive Chef Bryan Chang nails it on all counts.
Zydeco
Many Bend restaurants have come and gone, but Zydeco has stood the test of time for a couple of decades. Beginning at their first location on 3rd Street, and, since 2005, in a classy space downtown, Zydeco is a crowd pleaser serving Northwest cuisine with a Southern twist paired with amazing cocktails. Chef Steve Helt and his team have landed on many "Best Of" and awards lists during their long run. Visit Zydeco for a special holiday-season date night or a very special family gathering. Make reservations and sink into an evening of delicious food, including the much-loved redfish in zydeco sauce topped with crab meat, or the New Zealand rack of lamb with pumpkin seed romesco. Don't forget room for the flourless chocolate cake.
Brickhouse
With locations in Bend and Redmond, Brickhouse has been entertaining diners around Central Oregon for almost a decade. The atmosphere is metropolitan cool in Redmond where the steakhouse enjoys a location in historic downtown Redmond. In Bend, Brickhouse settled nicely into the renovated downtown Bend firehouse on Minnesota Avenue. While the ambiance may vary based on location, the menu does not. Both locations serve classic Pacific Northwest fare with an emphasis on its aged cuts of prime grade meats and fresh seafood.
Broken Top
Once the sole province of club members, the restaurant at Broken Top now welcomes the public at large to dine. Open Wednesday through Sunday, the restaurant offers cozy, lodge-like setting in the expansive clubhouse overlooking the golf course. The menu includes many fine dining staples, as well as a few surprises like bison short ribs and shrimp and andouille sausage rigatoni. It's all prepared with the same attention to detail that goes into every element of the Broken Top experience.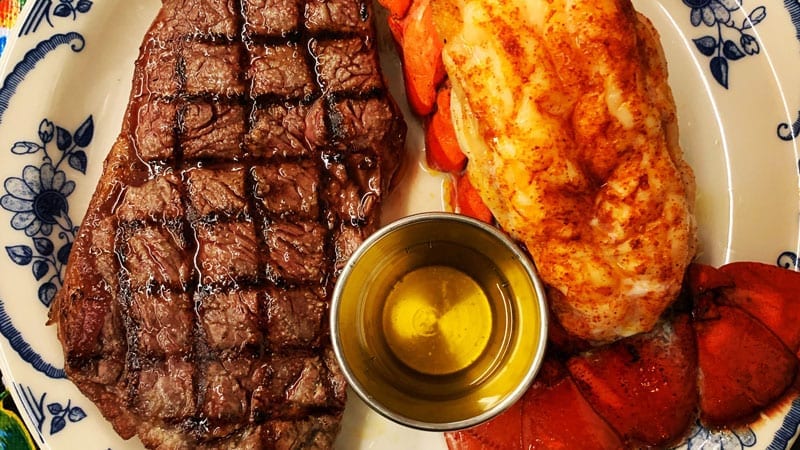 The Tumalo Steakhouse (above)
Formerly the Tumalo Feed Company, this Central Oregon institution has been undergoing a modest makeover since new owners took the helm in 2018. There's been a few exterior renovations and small changes to the menu, but most of what makes this place an iconic eatery remains, from the clapboard feel to the wealth of historic and Western memorabilia. While the service is great, don't expect all the trappings of fine dining—this is a real country steakhouse. But if you're looking for a perfect porterhouse and a ton of fun, well then, dust off your boots, hang your hat by the door, and dig in.
Solomon's at Tetherow
Located adjacent to the popular "Row" pub, Solomon's takes the dining experience to another level at Tetherow. With views overlooking the David McLay Kidd golf course and distant mountain peaks, Tetherow offers a one-of-a kind setting. But it's the menu that really takes center stage at Solomon's where fine dining staples like rack of lamb are transformed into gastronomical greatness. An extensive wine collection and expert staff will help provide the pairing to make a perfect meal.
Brasada's Range Resaurant
The uber-popular Powell Butte Resort offers year-round casual dining at its Ranch restaurant in the main lodge. However, its Range restaurant that showcases chef Doug MacFarland's fine dining menu operates on a seasonal basis with operations typically wrapping up around Labor Day. Of course, there's always the exception to the rule. In this case, the Range re-opens temporarily for special seatings on both Thanksgiving and Christmas Day. While we haven't seen the menu, you can be sure it will be rich in locally sourced ingredients and thoughtfully paired with regional wines and craft beers.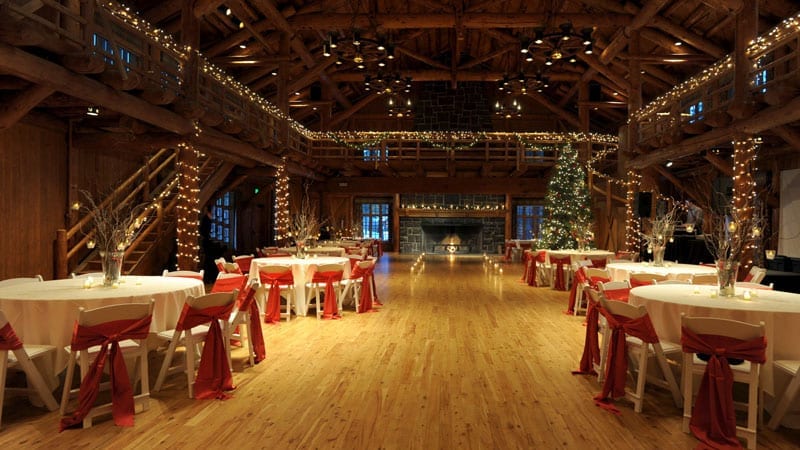 Carson's American Grill and the Great Hall (above)
Sunriver Resort has the holidays down. The resort's month-plus-long Traditions event hosts a myriad of events that scream "holiday" and "family." When it comes to food, the attention to detail is no less exacting. Carson's American Kitchen, Sunriver's fine dining destination in the main lodge, is open for Thanksgiving Day and Christmas Day with a special menu and plated dinner. If you're more of a buffet-style-family, you're in for a treat. Sunriver's grand historic Great Hall serves a special buffet on those two holiday days. Roasted turkey, blackened salmon, pumpkin soup, deviled eggs and much more are on hand, with tiered prices for adults and children (and free for children under age 5). Planning to party the night away at Sunriver for New Year's Eve? Fuel up with dinner at Carson's beforehand.